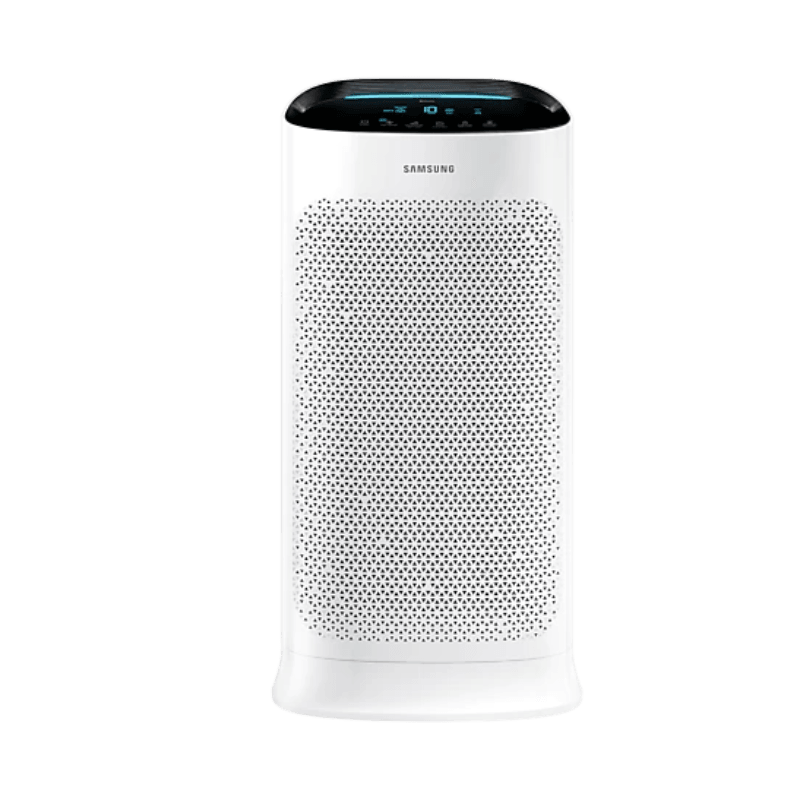 Samsung Versatile Air Purifier AX60 with Wi-Fi
Description

Specifications

Reviews

Shipping & Returns
The Samsung Versatile Air Purifier AX60 with Wi-Fi lets you monitor and control your air quality in your home or office from anywhere with the SmartThings App*
Recommended by CHOICE and given the National Asthma Council's Sensitive Choice tick of approval, the Samsung Versatile Air Purifier AX60 is excellent at purifying indoor air. Perfect for medium to large-sized rooms including lounge rooms, bedrooms, offices and waiting rooms up to 60m². 
Delivering a 467m3/hr Clean Air Delivery Rate¹, your air will soon be more hygienic and free of irritants and allergens that are irritating to the eyes, sinuses, and lungs, including dust, pet dander, pollen, harmful gases, mould, bacteria, smoke, and more. Its powerful fan disperses clean air in multiple directions for super-fast cleaning at the touch of a button.

The Samsung AX60 has a multiple-stage filtration system that ensures your indoor air is the cleanest it can be, including a TRUE HEPA Filter that captures 99.97% of 0.3um ultrafine dust particles, which also inhibits bacterial spread*.

By using the SmartThings app on your smart device you can remotely control your Samsung AX60 air purifier from anywhere². On top of that, you can also monitor your air quality in real-time.

Samsung Versatile Air Purifier AX60 Standout Features
High Efficiency HEPA Filter and 3 Stage Filtration System
1. Three layers of protection stand between you and the unwanted pollutants in your air. The first line of defense is a durable and washable pre filter that traps large contaminates like hair and bigger dust particles.
2. Next is an activated carbon filter that removes odours and harmful gasses* such as toluene, xylene, benzene, ethylbenzene, styrene & formaldehyde. This filter also helps get rid of smoke smells, cooking smells and other unwanted odours from your air.
3. Finally, a high efficiency True HEPA filter traps the microscopic nasties that you can't see by eye, right down to 0.3 microns in size. This filter also helps to inhibit bacteria from from growing inside the filter***
Maximum Air Distribution With 3 Way Air Flow
Using multiple vented outlets, the Samsung AX60 distributes clean through out your room more efficiently with its 3 way air flow design. Air flows from the top and both sides ensuring it reaches all corners of your room quickly.
Utilising a front inflow design for contaminated air allows you to place your unit up against walls without effecting performance or air flow.
Remote Wi-Fi Control with the SmartThings App
No matter where you are, easily monitor and control your AX60 air purifier using the SmartThings app. View your air quality or change settings with a touch of your screen or with voice activation. So smart and simple.
Whisper Quiet Sleep Mode
Be sure to get a good nights sleep without being disturbed with the Samsung AX60 Sleep Mode Function. When selected the unit slows the air flow rate down to a whisper quiet level and automatically turns off the LED display lights. Giving you or your little ones a restful nights sleep.
Duel Air Quality Sensors
With built-in Dust PM 1.0/2.5/10 and Gas Laser Sensors the Samsung AX60 continuously monitors your air for contaminants. When detected it will automatically adjust itself to quickly clean and filter your air. Just select Auto Mode and let the AX60 take the guess work out of keeping your air clean.
Precision Monitoring
Get accurate, real time data about your air quality with the digital numerical display. The built in sensors translate what they detect onto the display so you can monitor the level of PM1.0/2.5/10 sized air pollution in your air. With the handy 4 colour LED air quality lights, you can quickly see how your air is looking with just a glance. 
Concealed Castor Wheels For Easy Moving
Moving the Samsung Versatile Air Purifier AX60 couldn't be easier. Hidden castor wheels make moving the unit from room to room a breeze, without detracting from the units stylish looks.
Quick and Easy Filter Replacement
With the 2 in 1 filter design and front access filter location, changing filters is quick and simple. Just pop open the cover, remove the pre filter and used filters, swap over and away you go. Depending on your air quality, filter life typically ranges between 6-12 months with normal use.
Samsung AX60 Air Purifier Summary
Ideal for medium to large rooms of up to 60m², this unit is packed with features and smart technology, making it easy for anyone to use. Compact, lightweight and easy to move with built in castor wheels. The AX60 is the perfect medium sized machine for those who are serious about wanting clean air all year round.
Click here to View all Air Purifiers
*Tested on the AX80K7580WFD for toluene, xylene, benzene, ethylbenzene, styrene & formaldehyde gases in the National Test Institute of Korea.
**The filter media has over 99.97% dust collection efficiency, based on a particle size of 0.26㎛, as specified by 42 CFR part 84. Tested in the National Test Institute of Korea.
***Tested on the filter media of the dust collecting filter in the National Test Institute of Korea.
(1) CADR greater than 467m3/h. Tested in the KACA (Korea Air Cleaning Association).
(2) A Wi-Fi connection and compatible phone/device is required.
Brand: Samsung 
Model: AX60
Air Treatment Type: Purifier
Colour: White
Connectivity: Wi-Fi
Timer: Yes
Wattage:60W
Compatible Room Size: Suitable for rooms up to 60m2
Filtration: Washable Pre-filter, Activated Carbon Deodorisation Filter, True HEPA Filter
Settings: Auto Mode, Sleep Mode
Product Width (mm): 360
Product Height (mm): 783
Product Depth (mm): 293
Weight (kg): 11.2
Additional Features:
Digital numerical display and four colour LED air quality indicators
Quiet 21dBA night mode to 50dBA on high fan speed
3 way air flow
Replacement filter alarm
Child lock
Concealed wheels
CADR 467m3/hr
What's In The Box: AX60 Air Purifier, Pre-filter, 2-in-1 Filter, User Manual
Manufacturer's Warranty:1 Year