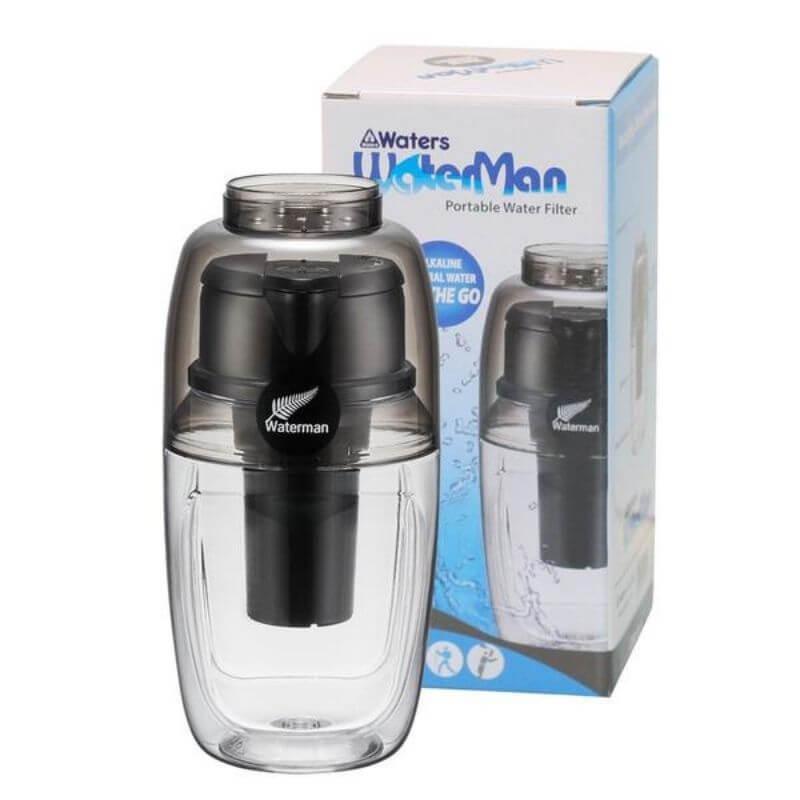 Waters Co Waterman 600ml Black Portable Water Filter + 3 Pack Of Filters
Description

Reviews

Shipping & Returns
Enjoy the benefits of fresh alkaline water anywhere with the Waters Co Waterman 600ml Black Portable Water Filter + 3 Pack Of Filters
Water is crucial for our survival. But in order to stay healthy, you need to make sure that your water is safe and clean to drink.
But think of all the things that can contaminate the water. From the chlorine induced in most water systems, to the chemicals from pesticides, and to the animal fecal matter that could all sip through the source of your water.
All these things just make your tummy churn and make you decide not to use tap water ever again for drinking. Avoiding it sounds good at first until you are faced with the reality that relying on store-bought purified water is devastating to your wallet.
Save money and make use of your tap water again using the state-of-the-art Waters Co Waterman 600ml Black Portable Water Filter + 3 Pack Of Filters. This amazing product turns tap water into drinkable safe and clean Alkaline water.
It comes with three additional replacement filters so you can be of ease that it will last you for a long time. For just an affordable price, you can have all these awesome benefits below.
What the alkaline mineral cartridge can do?
This Black Portable Water Filter contains an Alkaline mineral cartridge that converts your regular tap water instantly into fresh-tasting Alkaline water.
Alkaline water helps neutralize the acid in your body so you could avoid health risks like heart and chronic disease.
Bioceramics and negative ions
The patented Bio ceramics produces far-infrared energy into the water thereby creating negative ions and improving the taste of water.
These negative ions help reduce the size of water molecules for faster hydration and helps lessen the acidity that builds up within your cells.
Removes Chlorine and Toxins

This Portable Water Filter features Activated Coconut Shell Carbon that removes Chlorine, Lead, Copper, Mercury, and other harmful chemicals by up to 99%. 
Bacteria and other microorganisms also don't stand a chance against the silver that is equipped in the filter. Silver is famous in the water purification field for its antimicrobial properties.
So whether it's nasty germs or filthy chemicals, the Waterman Black Portable Water Filter can always be trusted.
Portable and Longer Lifespan
With its compact and lightweight design, this water filter is easy to take with you anywhere and anytime. Perfect for safe and clean hydration when you are on the go.
It also comes with 3 replacement pack of filters that has a lifespan of 400 Liters each or 4 months each to ensure longer usage of this awesome portable water filter.
Specifications:
Height: 190mm/5.75 inches

Weight: 350g

Materials: ABS plastic and Triton bottle

Diameter of base: 80mm

Capacity: 600ml
Filter Life Cycle: Up to 400 liters or 4 months*
*Filter life span based on typical Australian municipal water and may vary based on average daily usage & quality of water being filtered.
*Products purchased prior to Feb 2017 will not remove fluoride. Some resellers may still be carrying non-fluoride removal stock until sold. Non-Fluoride removal products are discontinued, however, they remain compatible with new filter cartridges.