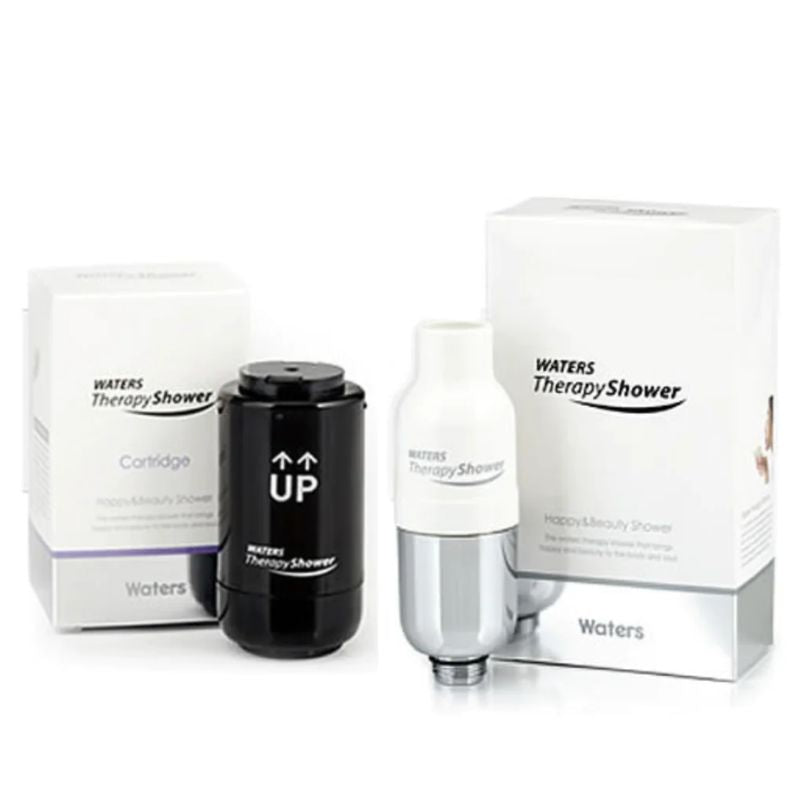 Waters Co Therapy Shower Filter - Neutral
Description

Reviews

Shipping & Returns
Enjoy nourished skin every time you bath using the nutrient-field filters of the Waters Co Therapy Shower Filter - Neutral
The Waters Co. Therapy Shower Filter - Neutral is a ground-breaking addition to your home shower solutions. This is not just an ordinary shower filter; it represents an ingenious marriage of high-performance filtration technology and therapeutic elements, all designed to take your everyday bathing ritual to an unparalleled level of cleanliness and wellness.
Efficient Elimination of Chlorine and Chloramine
At the heart of our Therapy Shower Filter lies its impressive capability to eradicate chlorine and chloramine from your water. These chemicals, often found in municipal water supplies, are known for their potential health hazards. Long-term exposure can cause skin irritation and hair loss. Our Therapy Shower Filter effectively eliminates these detrimental substances, assuring your showers are not just invigorating but also promote the health of your skin and hair.
Chlorine, in particular, can have a harsh oxidizing effect on the skin and hair, potentially leading to premature aging and dryness. Extended exposure to chlorinated water may also contribute to more serious health concerns. Thankfully, the Therapy Shower Filter provides protection against these adverse effects, encouraging healthy, radiant skin and hair.
Learn More about the Potential Harm of Chlorine and Chloramine
Nourishes your skin with Vitamin C and Collagen
Bath in the luxurious goodness of the Waters Co Therapy Shower Deluxe. It showers you with water that's laced with vitamin C and Collagen that is extremely nourishing to your skin and hair.
Vitamin C fights the harmful effects of free radicals and neutralizes Chlorine while Collagen aids in skin firming and flexibility to slow down the signs of aging.
Contains Membrane Sediment Filters
The Waters Co's leading filtration system eradicates harmful impurities in your water like Chlorine, rust, and other sediments thus removing the risk of absorption into your body.
Magnetizes water for nutrients absorption
With its powerful water magnetization feature, water molecules are reduced to a smaller size. This means it's now easier for the body to absorb the Vitamin C and Collagen that are mixed into the water.
Produces negative ions
This shower filter releases massive amounts of negative ions that are 50 times that of an average waterfall. Negative Ions help regulate your mood and sleep. It also helps you relieve stress and boost your energy.
Water-saving

Save 50% water consumption compared to using a regular shower.
Also, the rate of average water-saving shower filters in the market is 9Liters/minute while the Waters Co Therapy Shower Deluxe only utilizes 8Liters/minute. This means that this Shower Filter can help you lessen your water and energy bills,
For any queries or for more information, feel free to Contact Us.
Further Reading
Other Features:
For use with Flex hose shower systems only
Negative ion effect shower head produces around 250,000ea negative ions around 50 times that of an average waterfall.
NB. Does not remove Fluoride