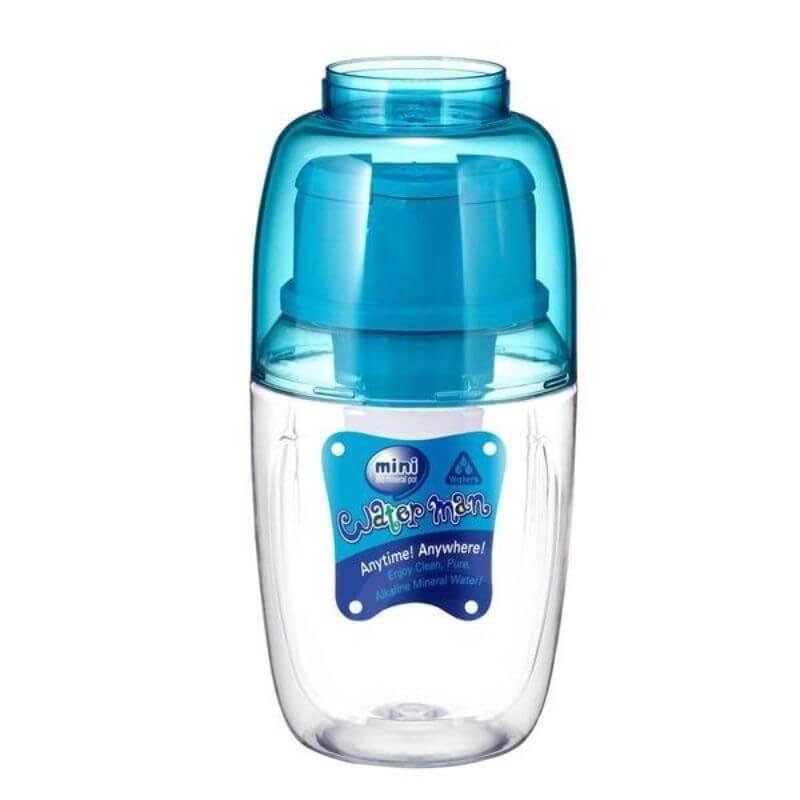 Waters Co Mini Waterman 600ml Blue Portable Water Filter
Description

Reviews

Shipping & Returns
Stay hydrated with Alkaline water – anytime, anywhere using the Alkaline mineral cartridge of the Waters Co Mini Waterman 600ml Blue Portable Water Filter
Reusable water bottles are undeniably a traveler's best firend. But imagine being in a place where you are not so sure about the quality of the tap water.
Staying hydrated where clean drinking water is not available means you will have to buy expensive bottled water. This isn't ideal for your wallet or the environment.
But with the Waters Co Mini Waterman 600ml Blue Portable Water Filter, keeping yourself hydrated is a piece of cake. This mini water filtration allows you to transform ordinary tap water into safe Alkaline mineral water so you can quench your thirst anywhere you are.
Simply fill it with 600ml of water and you are ready to drink. Take it anywhere you go, work, travel or sports. It's lightweight andf compact so is easy to carry or store in your bag or backpack.
Each filter set has an extra long lifespan that gives you a filter cycle of 400 liters or approx. 4 months of regular use.
See below on it's features and benefits.
What does the mineral cartridge do?
This Portable Water Filter contains an Alkaline mineral cartridge that raises the water's pH level between 7.4 to 8.5. It converts your regular tap water instantly into fresh-tasting Alkaline water. 

Drinking Alkaline water regularly helps reduce your body's acidity level, leaving you to feeling healthier and more energised.

Removes up to 99% of Fluoride
Overexposure to Fluoride can affect your health and cause discoloration to your teeth. The Waters Co Mini Waterman 600ml Portable Water Filter features nano-activated carbon that efficiently reduces Fluoride in your tap water by up to 99%.
Contains Activated Coconut Shell Carbon and Silver Duo
Activated carbon made from coconut shells are by far the best organic element to use in water filtration and are what you get in this  Portable Water Filter. It filters out chlorine, heavy metals, and other toxins found in the water.
It is bonded with silver that is known for its antimicrobial and water purification ability. It kills bacteria and germs and prevents them from building up in your filter.
Environmental-friendly and economical
By using this Portable Water Filter you are helping to reduce the amount of plastic waste that is impacting the environment. By not using single-use bottled water you are not only saving the environment but also saving money. Each filter set will give you up to 400 liters or fresh, clean, alkaline water which is around 4 months of regular use.
There couldn't be a better time to get yourself one of these brilliant water filters. 
Portable and can be carried anywhere
Whether you're going out for a leisurely walk, going to the gym, or off camping, this Waters Co Mini Waterman 600ml Portable Water Filter is easy to carry and ensures you will always stay hydrated, anywhere, and anytime!
Specifications:
Height: 190mm/5.75 inches 
Weight: 350g
Materials: ABS plastic and Triton bottle
Diameter of base: 80mm
Capacity: 600ml
Filter Life Cycle: Up to 400 liters or 4 months*
*Filter life span based on typical Australian municipal water and may vary based on average daily usage & quality of water being filtered.