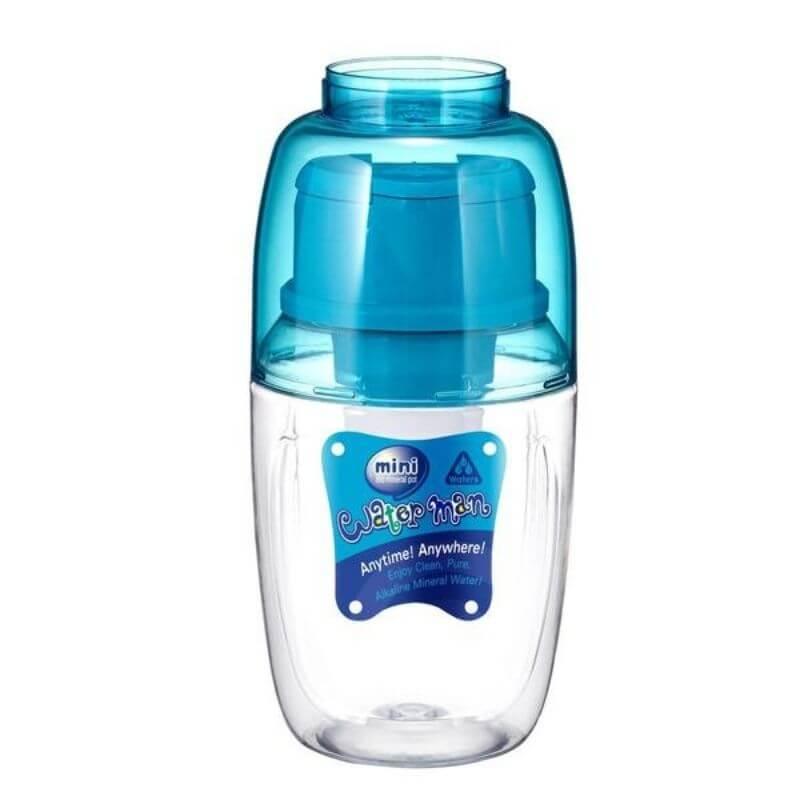 Waters Co Waterman Blue 600ml Portable Water Filter + 3 Pack Of Filters
Description

Reviews

Shipping & Returns
Remove Chlorine and Toxins from your water wherever you are with the lightweight, compact and easy to carry Waters Co Waterman Blue 600ml Portable Water Filter + 3 Pack Of Filters
Tap water remains the most cost-effective and convenient way to stay hydrated especially when you don't want to waste your money buying premium bottled water.

But the flavour and potential health issues caused by drinking tap water isn't something very appetizing. 
Chlorine, Fluoride and heavy metal can all be found in our tap water. But with your Waters Co Waterman Blue 600ml Portable Water Filter you can transform tap water anywhere into fresh, clean and great tasting drinking water.
This Portable Water Filter is the easiest way to convert ordinary water into healthy Alkaline water while on the go. Literally fill it up with any tap water and in a few seconds you have great tasting and super safe water to drink. 
Lightweight, compact and easy to carry

With a capacity of 600ml, it's easy to take with you anywhere.  Take it to sports events,  travelling, camping and hiking. It's handy size makes it easy to carry or store in you hand bag or backpack.
With the Waters Co Waterman Blue 600ml Portable Water Filter you will never have to buy bottled water again.
Turns tap water into Alkaline water
Enjoy fine tasting Alkaline water using just the tap water. This is made possible by the alkaline mineral cartridge that raises the pH level of ordinary tap water. As a result, this can help to reduce acidity in your body that can lead to a number of positive health benefits.
Removes Chlorine, Fuoride and Toxins
Remove the unpleasant taste and smell of chlorine from your water with the Activated Coconut Shell Carbon that is featured by this portable filter.
This carbon eliminates various toxic chemicals like Chlorine, Fluoride, Lead and Mercury to up to 99%. 

It also features a small amount of silver that is robust enough to kill bacteria in your water.
Environmental Friendly
By using the Waters Co Waterman 600ml Portable Water Filter every time you are going out, you are able to help lessen single use plastic pollution as well as saving money from buying bottled water.
It is also made from an environmentally friendly BPA-free material that is reusable and safe to use.
Comes with 3 Pack Of Replacement Filters
The Waters Co Waterman Blue 600ml Portable Water Filter comes with a 3 pack of replacement filters that have a lifespan of 400 liters each or 4 months each. It ensures that you can enjoy its benefits for a long time before needing purchase more filters.
Specifications:
Height: 190mm/5.75 inches 

Weight: 350g

Materials: ABS plastic and Triton bottle

Diameter of base: 80mm

Capacity: 600ml
Filter Life Cycle: Up to 400 liters or 4 months*
*Filter life span based on typical Australian municipal water and may vary based on average daily usage & quality of water being filtered.
*Products purchased prior to Feb 2017 will not remove fluoride. Some resellers may still be carrying non-fluoride removal stock until sold. Non-Fluoride removal products are discontinued, however, they remain compatible with new filter cartridges.