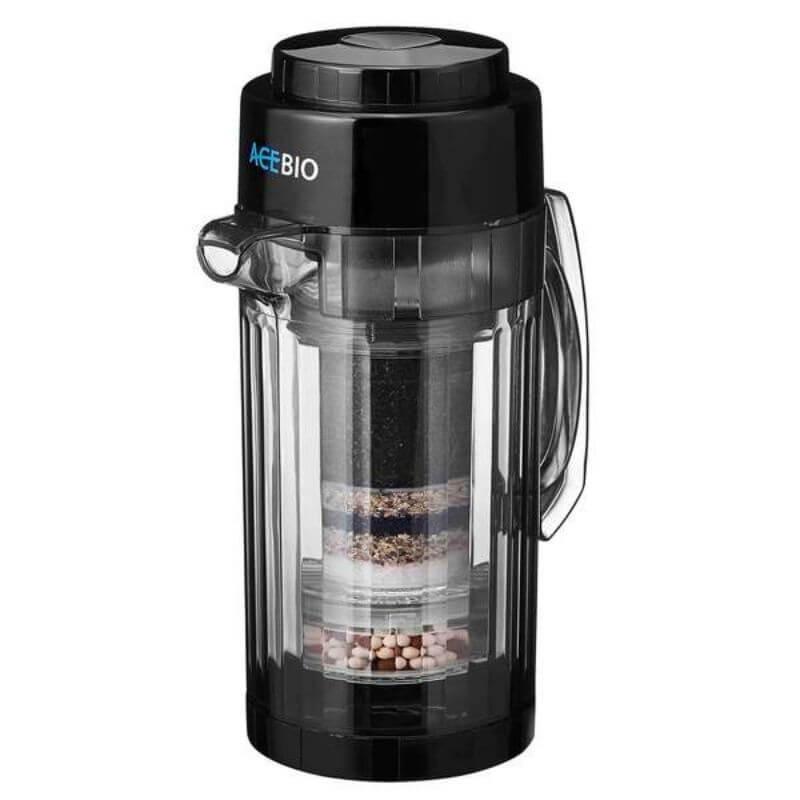 Waters Co Bio Ace 1.5 Litre Replacement Filter Set
Description

Reviews

Shipping & Returns
Ensure safe drink
able
 water
 using the Special Bio-Ceramic balls of the Waters Co Bio Ace 1.5 Litre Replacement Filter Set
Water is the source of strength that helps people not to be dehydrated. But are you sure that your water is completely safe?

Imagine the struggle of every city about keeping their water supply clean. With the inevitable risk of tank leaks, this could cause water contamination especially when e.coli, toxic algae, sulfur, and dirt will make their way in the water.
You may stay hydrated but are still at risk of being infected.

Prevent harmful diseases that come from dirty water, with the Waters Co Bio Ace 1.5 Litre Replacement Filter Set. It is the ultimate solution to safe drinking water and to avoid waterborne illnesses.

This filter helps to remove impurities and turns your tap water into safe and clean alkaline mineral water. It's a replacement filter and is compatible with your Waters Co Bio Ace 1.5 Litre Jug.
What is special about Bio Ceramic balls?
Bioceramic balls for water treatment are made from various functional ceramic materials. It produces far-infrared Ki that purifies water and has an activated surface property that helps in pollutant entrapment to make your tap water safe to drink.
Pre-filter membrane
This pre-filter membrane acts as a barrier to separate contaminants from your water and remove the particles contaminating it. This means that it lets the water flow through, while it catches suspended solids and other substances.
Contains Silver and Activated Carbon from Coconut Shell
Activated carbon made of coconut shell is a highly porous substance that kills bacteria and removes 99% of chemicals like Chlorine, Lead, Mercury, Cadmium, and other heavy metals that are a threat to your health. 
It also contains silver which does an excellent job in preventing the growth of waterborne diseases and prevents it from sticking in your replacement filters. This means your water is now toxin and chemical-free.
Removes Fluoride up to 99%
Too much Fluoride causes bone issues and staining in your teeth. Good thing, the Waters Co Bio Ace 1.5 Litre Replacement Filter Set does wonder in eliminating 99% of this substance so your teeth are safe from the damaging effects of Fluoride overdose.
Quickly turns water into Alkaline water
This filter has Bio Mineral Pot (BMP) that contains essential minerals like calcium, magnesium, and other silicas that re-mineralize tap water and turn it into a great tasking alkaline water.
Alkaline water carries a higher amount of pH levels than regular bottled water which contributes to reducing the acidity levels in your body. 
Contains organic germanium 
This filter also contains a safe amount of Organic Germanium that helps improve your immune system and the oxygen supply in your body. 
Note: Jug NOT Included
Other Features:
Clean, fresh, great-tasting water
Filter set included lasts up to 4,800 liters or 24 months and has replaceable filter cartridges
Compact size, lightweight - no electricity or tap connection required
Filter kit contains:
Submicron prefilters x 60
1st stage carbon resin filters x 4
Main filter x 1
Sub mineral cartridge x 1
Please note Jug not included, only replacement filter kit, jug illustrations are for product identification only.
*Filter lifespan based on typical Australian municipal water and may vary based on average daily usage & quality of water being filtered