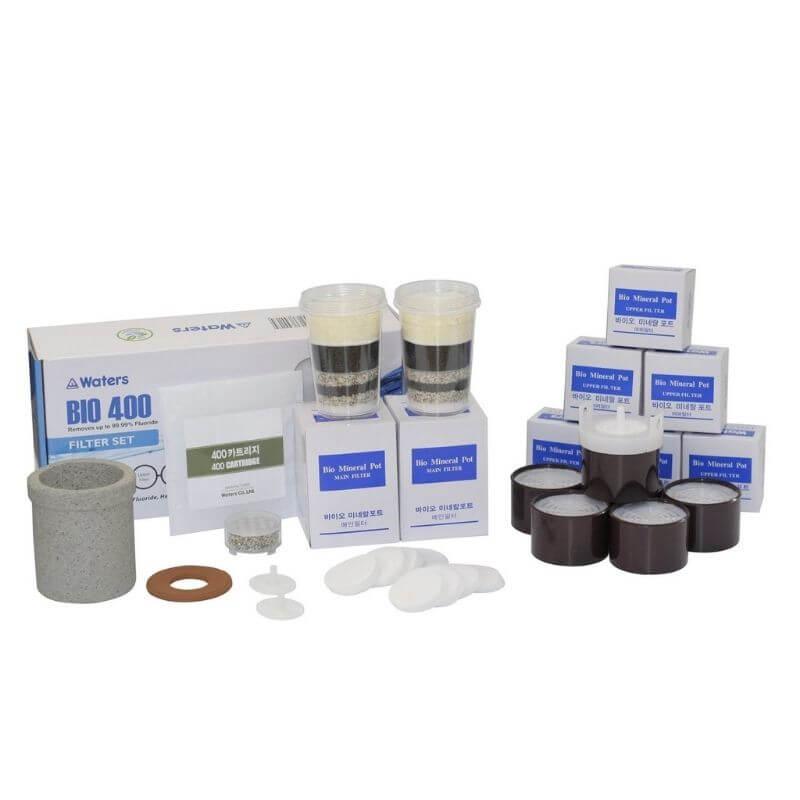 Waters Co Bio 500 Replacement Filter Set
Description

Reviews

Shipping & Returns
Transform your tap water into a deeply cleaned Fluoride-free using the ion exchange resin compound of the Waters Co Bio 500 Replacement Filter Set
Water Fluoridation is common in public water systems which aims to reduce tooth decay. But anything that is too much is not good. Imagine the risk of swallowing Fluoride treated water consistently. 
Alarmingly, too much fluoride may cause damage to the developing bones and teeth of children. And for adults like you, overexposure to it can stain your teeth which is a deduction to your beauty points.
Transform your tap water into a safe fluoride-free drink with the Waters Co Bio 500 Replacement Filter Set. This replacement set can be used in your existing Waters Co BIO 500 5.25 Litre Bench Top Water Filter.
This Filter Set is not only good at removing 99% of Fluoride in your tap water but is also excellent at cleaning your water by removing impurities and toxins. The overall set is guaranteed to be long-lasting and can last up to 12,000 liters or 4 years.
What the ion exchange resin compound can do
Afraid of teeth discoloration that arises from overexposure to Fluoride? This Replacement Filter Set contains a specialized ion exchange resin compound that can eradicate 99% of Fluoride in your tap water.

So now, you won't feel cautious in showing your pearly white teeth as you smile on the camera.
Activated coconut shell carbon and silver combo
These replacement filters set are equipped with Activated Coconut Shell Carbon that removes 99% of chlorine, heavy metals, and other impurities found in the water.

These activated carbons from coconut shells are then bonded with silver to remove bacteria and algae and prevent them from building up in the filter. So from now on, you will be assured that you will never ever drink unsafe water again.
Turns tap water into alkaline mineral water
Help reduce the acidity levels of your body by drinking water from this filter. Its multi-stage filter increases the pH level of regular tap water and quickly transforms it into ready-to-drink Alkaline water.
Special Bio-Ceramic disc
Waters Co invented a specialized bio-ceramic disc that produces far infrared Ki (Life energy) to help balance the pH level of your water to moderately alkaline.
Infrared Ki helps improve your physiological activity, prohibits the growth of bacteria in your body, and helps you sleep better.
Compact size and lightweight
Compact and lightweight, this filter set when installed to your Waters Co BIO 500 5.25 can easily fit any top and does not take large space as compared to the usual large bottles of purified water that are bought from stores.

It also does not require electricity so it is convenient to use and economical.
Filter set contains:
Submicron prefilters x 80
1st stage carbon resin filters x 6
Main filter x 2
Sub mineral cartridge x 1
* Filter life span based on typical Australian municipal water and may vary based on average daily usage & quality of water being filtered.