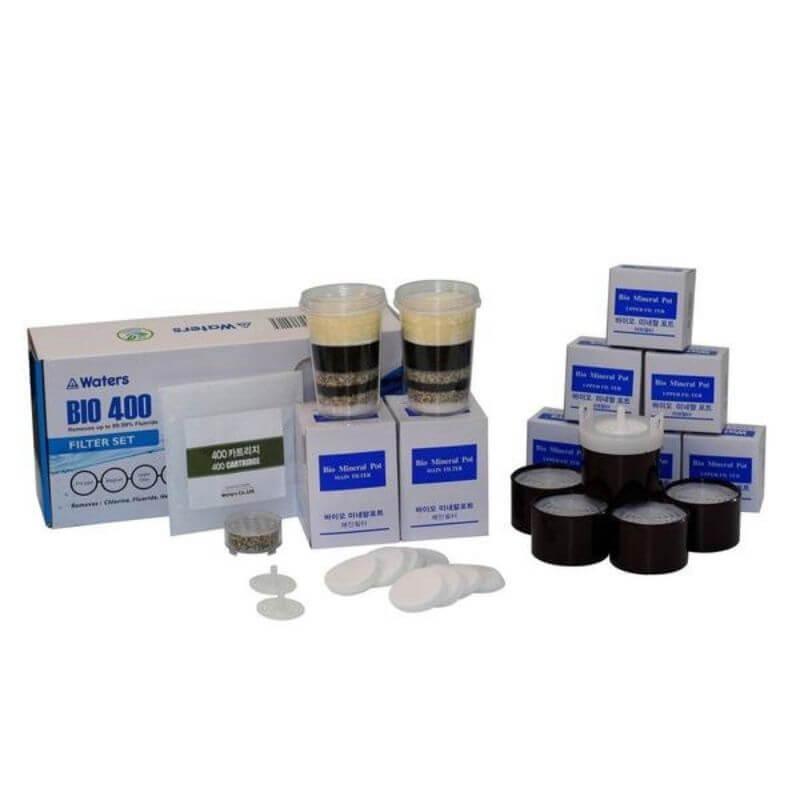 Waters Co Bio 400 Replacement Filter Kit
Description

Reviews

Shipping & Returns
Kill the bacteria and turn your tap water into safe and chemical-free drinkable water with the nanotech silver ionized coconut shell carbon of the Waters Co Bio 400 Replacement Filter Kit
Imagine having the luxury to turn your tap water into a great tasting, clean, and safe Alkaline water at the comfort of your own home.
Whenever you and your kids took a sip from your glasses, you feel secure that what you drink has been thoroughly filtered. No amount of germs nor chemicals can ever invade it and it makes you smile knowing you are much protected.
 Make that possible, using the Waters Co Bio 400 Replacement Filter Kit. This filter set can be used in your existing Waters Co BIO 400 5.25 Litre Bench Top Water Filter. 
It removes impurities in tap water and enriches it with traces of essential minerals that can help boost your health.
Check out its awesome features below.
What the nanotech silver ionized coconut shell carbon can do
With almost 40 years of experience in manufacturing top-grade water filtration products, the Waters Co company created the world's first nanotech silver ionized coconut shell carbon.
This effectively removes up to 99% of toxins like Chlorine, Cadmium, Mercury, Copper, and other heavy metals. It also kills bacteria and germs while filtering out solid particles that are not visible to your naked eye.
Removes Fluoride up to 99%
Did you know that consistent exposure to Fluoride can lead to teeth discoloration? The good news is that this Replacement Filter Kit contains nano carbon compounds that can remove up to 99% of Fluoride.
Quickly turns water into Alkaline water
The multi-stage filter process of the Waters Co Bio 400 raises the pH level of your ordinary tap water and instantly transforms it into great tasting Alkaline water.
This means you can now enjoy the awesome benefits of Alkaline water at the comfort of your own home. This newly transformed water effectively reduces the acidity levels of your body.
Special Bio-Ceramic Disk and Organic Germanium
The Bio-Ceramic Disk re-mineralizes tap water with calcium, magnesium, and all other important silica. These minerals are very vital for the proper functioning of your cells, vital organs, and muscles.
While the Organic Germanium helps remove the free radicals and improves the oxygen supply in your body.
Longer lifespan
The set of filters are guaranteed to last long up to 12,000 liters or 4 years. This gives you the assurance that this product is a quality worthy of your investment.
Filter set contains:
Submicron prefilters x 80
1st stage carbon resin filters x 6
Main filter x 2
Sub mineral cartridge x 1
* Filter life span based on typical Australian municipal water and may vary based on average daily usage & quality of water being filtered.