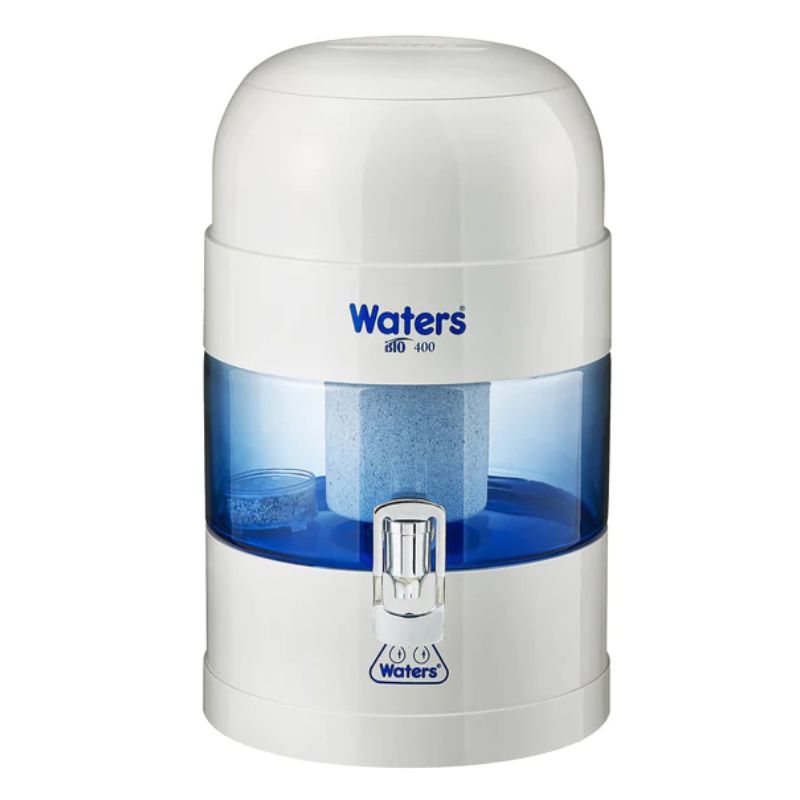 Waters Co BIO 400 MAX 7 Litre Bench Top Water Filter
Description

Reviews

Shipping & Returns
BIO 400 MAX 7 Litre Bench Top Water Filter: Elevating Hydration to New Heights
Hydration is a cornerstone of health, and the BIO 400 MAX 7 Litre Bench Top Water Filter is revolutionizing the way we hydrate. More than just a water filter, it's an investment in wellness, designed to provide clean, mineral-enriched, and activated water that's conveniently accessible right from your benchtop.
Salient Features of the BIO 400 MAX 7 Litre Bench Top Water Filter
Natural Alkaline Mineral Water With Bio 400 MAX
BIO 400 MAX isn't just about purifying water; it's about enhancing it. This remarkable device transforms your ordinary tap water into naturally alkaline mineral water, hitting a pH range of 7.6 - 8.5. This is close to our body's natural blood pH of around 7.36, which is crucial for maintaining a healthy acid-alkaline balance. With every glass of water from the BIO 400 MAX, you are not just hydrating your body but also promoting its overall health.
Empowering Hydration with Bio Organic Minerals
The 'BIO' in BIO 400 signifies the Bio Mineral Pot, which signifies its power to add over 60 bio organic minerals to the water. These include critical minerals like calcium, magnesium, and the ever-crucial silica. Derived from coral and silica sands, these minerals are far more beneficial than the inorganic minerals from rocks that many other filters use. Each sip from the BIO 400 MAX supplies these minerals to your body, nourishing your cells, organs, and muscles.
Infusing Water with Life Energy: Ki
The innovative design of the BIO 400 MAX incorporates Far Infrared Ceramics. These ceramics emit Ki, a life energy that is absorbed and stored in the water. This feature essentially means that with every gulp of water from the BIO 400 MAX, you are also drinking Ki, a life energy that increases physiological activity, regulates perspiration, relieves pain, removes heavy metals from cells, helps sleep, deodorizes and purifies the air, and even slightly alkalizes.
Health-Promoting Anionic Water
The BIO 400 MAX isn't just about hydration. It's about promoting your health with every drop of water. This is why the filter enriches water with anionic particles, which carry a host of health benefits. The BIO 400 MAX features over 1500-2000 anionic particles/cm3. Anions strengthen the immune system, supply oxygen to cells, purify blood, aid in fatigue recovery, stabilize the autonomic nerve system, and improve allergic conditions.
Magnetized and Structured Micro Cluster Water
Apart from being alkaline, mineral-enriched, and anion-loaded, the water from the BIO 400 MAX is also magnetized. This process creates structured micro-cluster water that has been suggested to offer numerous health benefits. From promoting growth and metabolism to aiding digestion and increasing liver function, this magnetized water impacts various aspects of health. Additionally, it has been suggested to suppress the growth of cancer cells due to its unique molecular structure.
The Bio 400 MAX 7L is an Economical Solution to Hydration
BIO 400 MAX offers a significant solution to one of the major environmental issues we face today—plastic waste from single-use bottles. As an eco-friendly alternative to store-bought bottled water, BIO 400 MAX lets you fill a bottle with filtered, enhanced water at home, thus reducing plastic waste and helping conserve the environment. Plus, it offers this high-quality, health-promoting water at about 3 cents per litre, making it a supremely economical choice for hydration.
The Magic Behind the Filter: Unravelling the 13-Stage Filtration System of BIO 400 MAX 7 Litre Bench Top Water Filter
The BIO 400 MAX owes its exceptional water enhancement capability to a robust 13-stage filtration and activation system. Here's a quick rundown:
Prefiltration: This is the first line of defense, removing larger particulates, rust, and sediment from the water.

Activated Coconut Shell Carbon Filter: This stage eliminates chlorine, trihalomethanes (THMs), organic chemicals, odors, and discoloration.

Bio Ceramic Pi Far Infrared Balls: At this stage, the water undergoes an ionizing and rejuvenating effect, with water cluster size reduction for better cellular hydration.

Fluoride Reduction Layer: A patented nano carbon compound is used for a reduction of fluoride levels up to 99%.

KDF55/Catalytic Carbon layer: This stage is designed to remove heavy metals, such as lead and mercury, while inhibiting bacterial growth.

Bio Ceramic Alkalizing Minerals: Beneficial minerals are infused into the water at this stage, while the water's pH level is raised to 7.6 - 8.5, turning it alkaline.

Magnets: Positioned strategically to further enhance the water's molecular structure and absorption capacity.

Alkalite Diskette: This diskette produces far infrared Ki (Life energy), which not only provides hydration but also promotes overall wellbeing.

Bio Ceramic in Tank: This keeps filtered water fresh and alive, eliminating the need for a cooling system.
The subsequent stages involve further filtration, mineral infusion, and pH balancing, resulting in water that's clean, mineral-rich, and perfectly pH balanced.

The Wide-Ranging Benefits of BIO 400 MAX 7 Litre Bench Top Water Filter
Choosing the BIO 400 MAX 7 Litre Bench Top Water Filter is choosing a superior quality of life. From its mineral-rich content to the life energy it provides, every drop from this filter elevates your wellbeing. It brings the luxury of the highest quality water to your home and workplace, ensuring that you enjoy optimal hydration and health benefits. The compact, lightweight design, easy setup, and self-service functionality make it incredibly user-friendly.
With a lifetime warranty* and filter set that lasts up to 12,000 litres or 48 months*, the BIO 400 MAX offers peace of mind alongside exceptional quality. Invest in your health and wellness with the BIO 400 MAX 7 Litre Bench Top Water Filter.