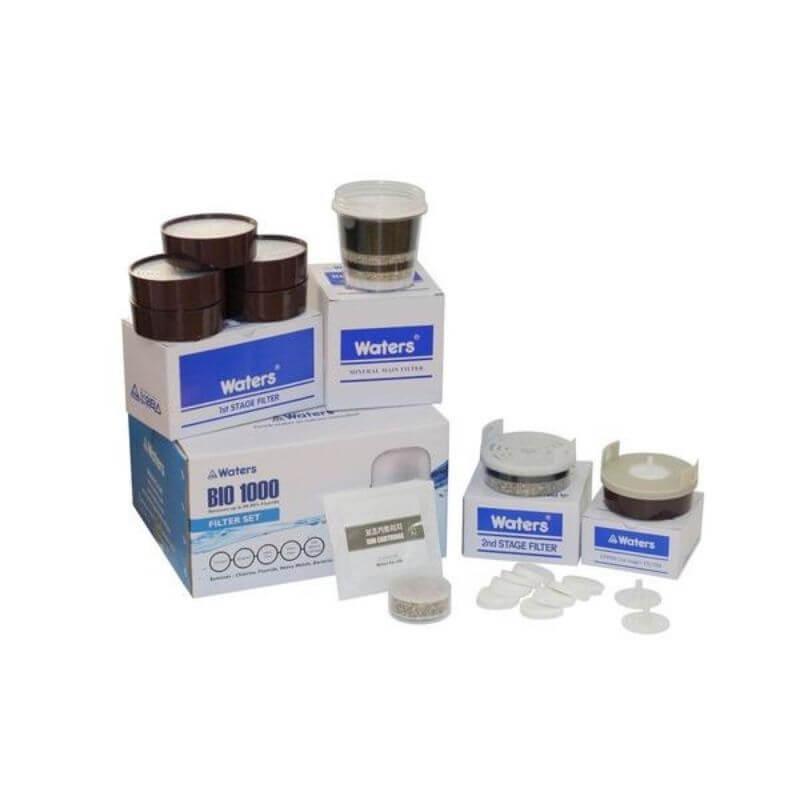 Waters Co Bio 1100 Replacement Filter Set
Description

Reviews

Shipping & Returns
Experience a powerful and long-lasting filtration with the Activated Coconut Shell Carbon and Silver Combo of the Waters Co Bio 1100 Replacement Filter Set
Wish you have another way of drinking safely the tap water in your home so you don't have to keep buying expensive bottled purified water? 
Now you can with the Waters Co Bio 1100 Replacement Filter Set. This filter set can be used in your existing Bio 1100 Bench Top Water Filter. By using it, you can help reduce plastic pollution and can switch to healthier drinkable water.
This filter has unrivalled efficiency in terms of sterilization, filtration and activation of your ordinary tap water and turning it into a clean and great tasting alkaline water. It is long-lasting and could last up to 12,000 litres or 4 years.
Check out these awesome features below.
What the Activated Coconut Shell Carbon and Silver Combo can do
The Replacement Filter Set features a silver activated carbon from coconut shell. Activated Carbon made from coconut shells has better efficacy in diminishing contaminants found in the water than the ones made from coal and wood.
This carbon together with silver can kill bacteria and microorganisms in your water as well as reduce the microplastics, heavy metals, chlorine, dirt and, sand by up to 99%. As a result, you can now have thoroughly clean water that is safe to drink.
Quickly turns water into Alkaline water
The multi-stage filter method of the Filter Set increases the pH level of your normal tap water and quickly transforms it into ready-to-drink Alkaline water.
This means you can now enjoy the healthy benefits of Alkaline water at the comfort of your home, as it effectively reduces the acidity levels of your body.
Removes Fluoride up to 99%
The Replacement Filter Set features a special ion exchange resin compound that can diminish the presence of Fluoride by up to 99%. As a result, you can be of ease that you are safe from suffering a Fluoride overdose that can discolour your teeth.
Special Bio-Ceramic disc
This bio-ceramic disc produces far infrared Ki (Life energy) that helps balance the pH level of your water to moderately alkaline. As a result, it improves your physiological activity, prohibits the growth of bacteria in your body, and helps you sleep better.
Compact size and lightweight
With its compact size, it can easily fit any top and does not take large space as compared to the usual large bottles of purified water that are store-bought.
This filter also does not require electricity so it is convenient to use and economical.
Filter set contains:

Submicron prefilters x 40
1st stage carbon resin filters x 4
Main filter x 1
Sub mineral cartridge x 1
* Filter life span based on typical Australian municipal water and may vary based on average daily usage & quality of water being filtered.