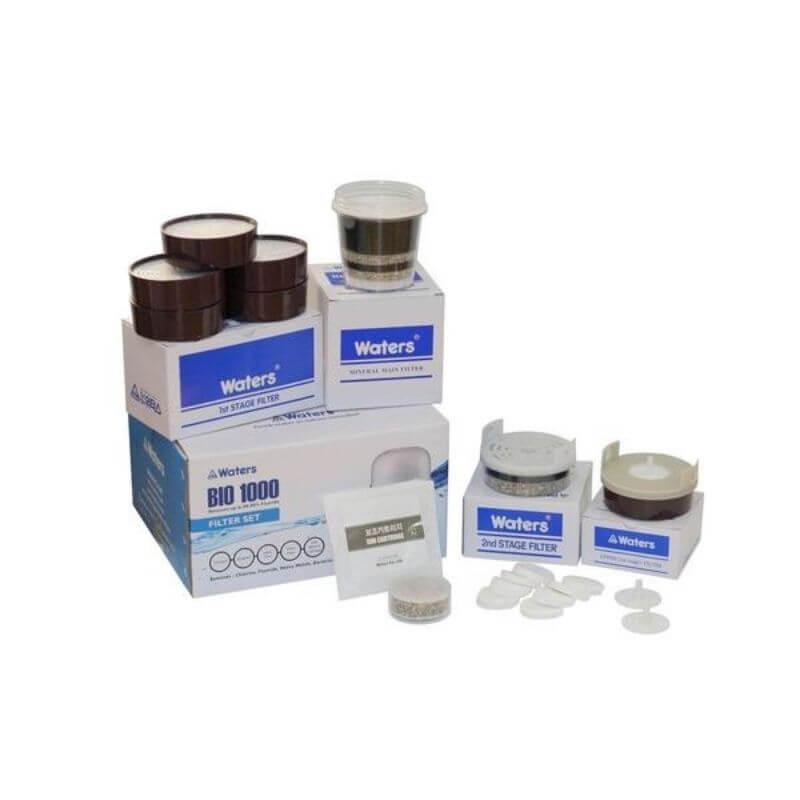 Waters Co Bio 1000 10 Litre Replacement Filter Set
Description

Reviews

Shipping & Returns
Re-mineralize your water with Bio Mineral Pot found on the Waters Co Bio 1000 10 Litre Replacement Filter Set
Nowadays, public water including the ones we use in our house has been chemically treated to remove pollutants. Gone are the minerals that are naturally occurring in tap water. Even store-bought waters lost their nutrients because of too much filtration.

Wish you could stay hydrated with safe water that has lots of minerals? Now you can with the Waters Co Bio 1000 10 Litre Replacement Filter Set.
Aside from deeply cleansing your tap water, it turns it also into an invigorating Alkaline water field with critical minerals that are essential for your body. 
Wanna know how this water filter does that? Then check out these features below.
What the Bio Mineral Pot (BMP) can do
These replacement filters of Waters Co Bio 1000 feature a Bio Mineral Pot (BMP) that comes from coral and silica sands. This BMP contains 60 bio essential minerals that are critically needed by your body like calcium, magnesium, and all-important silica.
These biominerals are gently alkalizing to your body and help improve the performance of your muscles and vital organs. So aside from quenching your thirst, this delicious filtered water does a good job in providing you with organic minerals.
Pre-filter membrane and activated silver ionized carbon
The pre-filter membrane acts as the first line of defense that filters out any solid particles like dirt, dust, and sediments in your tap water.

While the activated silver ionized carbon filters bacteria and reduces the amount of Chlorine, lead, mercury, insecticides, and other heavy-metals by up to 99%.
Removes 99% of Fluoride
Excessive exposure to fluoride can stain your pearly white teeth and may cause some bone issues. To avoid this, the Waters Co Bio 1000 filters are equipped with a specialized ion exchange resin compound that diminishes 99% of Fluoride in your water.

Eco-friendly alternative to bottled water
Using the plastics from the bottled water that you bought from the store are contributing to your society's plastic problem. By drinking water straight from this filter, you can help lessen the waste in the environment.
Long Life Cycle
The Replacement Filter Set has a lifespan of 15,000 Liters or 5 years. This span of time ensures that this product is a quality worthy of your investment.
Replacement filter set contains:
Submicron prefilters x 120
1st stage carbon resin filters x 6
2nd stage carbon resin filter x 1
Main filter x 1
Sub mineral cartridge x 1
*Filter life span based on typical Australian municipal water and may vary based on average daily usage & quality of water being filtered.