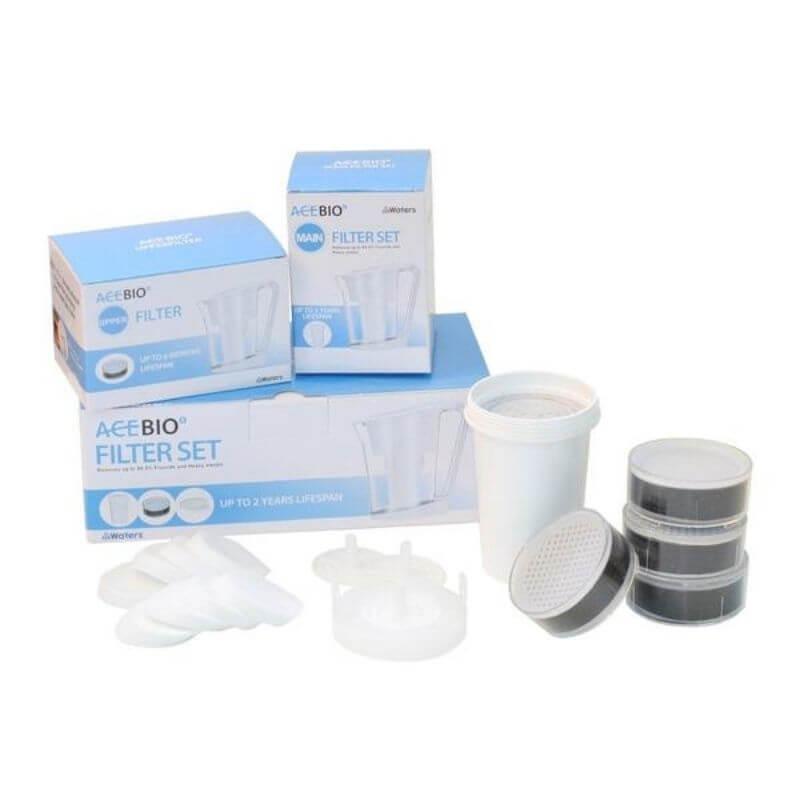 Waters Co Acebio+ 1 Litre Replacement Filter Set
Description

Reviews

Shipping & Returns
*DUE TO HIGH DEMAND ON COURIERS, THIS PRODUCT WILL DISPATCH 1-4 DAYS FROM ORDERING*
Experience advanced water filtration technique using the multi-stage filter cartridge of the Waters Co Acebio+ 1 Litre Replacement Filter Set. Perfect for domestic use
You need to stay hydrated always - that's a fact - but are you 100% sure that the tap water in your home is safe?
Dirt and bacteria in the water are hard to spot on especially when they are in a minuscule size. So imagine your kids getting a drink from this unclean water. Just by thinking it could make your tummy churn in alarm.
Protect your family from the harm caused by dirty water with the budget-friendly Waters Co Acebio+ 1 Litre Replacement Filter Set. 
These filters can be used in your existing Waters Co Acebio+ 1 Litre Jug making it easy for you to purify, ionize, and drink healthy water in your home. With 4800 Liters of usage capacity, this filter set could economically last for up to 2 years.
What the multi-stage filter cartridge can do
For about 3 decades already, Waters Co remains the first and the most trusted brand in Australia that turns tap water into natural alkaline mineral water.
For their Acebio+ 1 Litre Jug, this company launches a multi-stage filter cartridge filter that has efficient stages in ionizing, re-mineralizing, activating and cleansing tap water into safe drinkable alkaline water.
The process just takes seconds allowing you to quickly enjoy your refreshing water. Check out these cool features below to understand each of the filter stages that the Acebio+ 1 Litre Replacement Filter Set undergoes.

Pre-filter membrane
This front line filter lessens dust, dirt, and sediments in your water that are not visible to your naked eye. Even rust that has accumulated from the pipes that accidentally reached in your drink can be removed by the Pre-filter membrane.
Contains Silver and Activated Carbon from Coconut Shell
Activated carbon made from the hard shell of the coconut has a better cleansing ability than the ones made from coal and wood.
It effectively reduces any trace of harmful chemicals that has sip through the water like Chlorine, lead, mercury and other heavy metals that are detrimental to your health.
It also contains silver which does an excellent job in inhibiting the growth of bacteria and prevents it from sticking in your replacement filters.
Removes Fluoride up to 99%
While Fluoride is used in toothpaste, did you know that too much exposure to it from your water can aid in discolouration of your tooth and may lead to bone problems?
Good thing the Replacement Filter Set contains specialized nano carbon compounds that successfully removes up to 99% of Fluoride found in your tap water. So now, your teeth are safe from the dangers of overdosing on Fluoride.
Quickly turns water into Alkaline water
The multi-stage filter cartridge increases the pH level of your regular tap water and quickly transforms it into ready-to-drink Alkaline water. This means you can now enjoy the fresh and healthy benefits of Alkaline water as it effectively reduces the acidity levels of your body.
Contains organic germanium 
The filter set contains a safe amount of organic germanium that helps reduce the free radicals in your body. 
No fancy process needed to execute on your end, all you have to do is pour the tap water into the Waters Co Acebio+ 1 Litre Jug and let the filter do the action in seconds.
Filter kit contains:
Sub micron prefilters x 60 *Up to 3 weeks lifespan
1st stage carbon resin filters x 4 *Up to 6 months lifespan each
Main filter x 1 *Up to 24 months lifespan
*Jug not included
*Filter lifespan based on typical Australian municipal water and may vary based on the quality of water being filtered, 6L average daily usage.
Features:
Special Bio-Ceramic balls giving far infrared Ki (Life energy)
Clean, fresh, great-tasting water
*Filter set included lasts up to 4,800 litres or 24 months and has multiple stage filter cartridges
Compact size, lightweight - no electricity or tap connection required