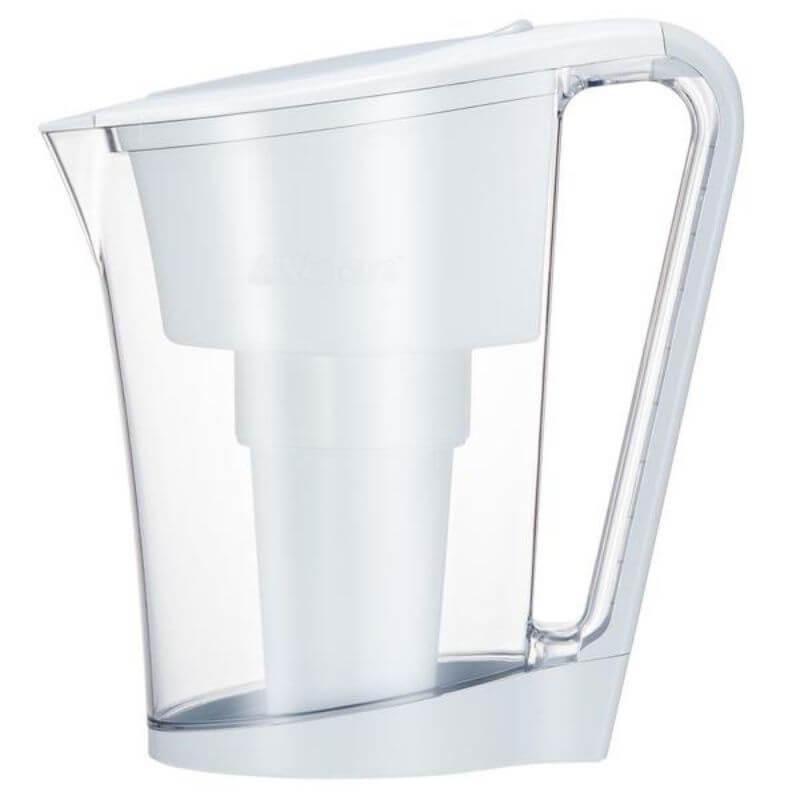 Waters Co AceBIO+ 1.0 Litre Alkaline Mineral Water Filter
Description

Specifications

Reviews

Shipping & Returns
*DUE TO HIGH DEMAND ON COURIERS, THIS PRODUCT WILL DISPATCH 1-4 DAYS FROM ORDERING*
Turn your tap water into safe drinking water with the 10 stage Filtration System of the portable Waters Co AceBIO+ 1.0 Litre Alkaline Mineral Water Filter
Transform your ordinary tap water into filtered, mineralized Alkaline water with the Waters Co AceBIO+ 1.0 Litre Alkaline Mineral Water Filter. It quickly turns tap water into fresh and clean drinking water with a 10 stage Filtration System.
The AceBio+ removes microscopic debris, chemicals, heavy-metals as well as the unpleasant taste and smell of regular tap water. Aside from filtering out the bad stuff, it also boosts your water with minerals for extra vitality.
The 10 Stages Of The Waters Co Ace Bio Filter Jug
The 10 stages include; Pre-filter membrane, activated silver ionized carbon, ion exchange resin, coral minerals, silica, bio-ceramic, far-infrared, magnets, and other filter mediums.
All these processes and filtering techniques turn regular tap water into fine-tasting, alkalized, energized, magnetized, and ionized mineral water.
Ace Bio Pre-filter Membrane and Activated Silver Ionized Carbon
The Pre-filter membrane is a front-line filter that reduces rust, dirt, and sediments in your water that are not visible to the naked eye.
While the patented activated silver ionized carbon lessens bacteria and removes 99% of chemicals like Chlorine, Lead, Mercury, Cadmium, and other heavy metals.
The Waters Co AceBIO+ 1.0 Litre Alkaline Mineral Water Filter Removes Fluoride up to 99%
This Water Filter contains specialized nano carbon compounds that can remove up to 99% of Fluoride. Overexposure to this element can cause discoloration in your teeth, bone and joint issues, thyroid problems, neurological problems and many more health issues. By using a Waters Co AceBio+ 1.0 Litre Alkaline Mineral Water Filter, you are removing the all the bad stuff and leaving only clean and healthy drinking water behind.  
Re-mineralises your water with the Ace Bio Mineral Pot
Enjoy drinking nutrient-packed water every day with the Bio Mineral Pot (BMP) found in the AceBIO Water Filter. This BMP re-mineralises your water with over 60 bio essential minerals like calcium, magnesium, and all-important silica.
These minerals are important for the proper functioning of your body's vital organs and muscles. It also helps in producing Ki (life energy), helps remove harmful heavy metals in your cells, aids in better sleep, and helps in reducing odor and pain in your body.
Far Infrared Ace Bio Ceramics and Organic Germanium
The BMP of the water filter contains Far Infrared Ceramics that creates negative ions (anions) which host a lot of benefits to your body like purifying your blood, strengthening your immune system, aids against fatigue, and much more.
It also contains organic geranium that helps lessen the free-radicals in your body.
Waters Co AceBIO+ 1.0 Litre Alkaline Mineral Water Filter 

Long Life Cycle

The Waters Co AceBIO+ also comes with 3 bonus replacement filters that can filter up to 4800 Liters or last approximately 24 months before needing replacement.

 
Other Features:

Clean, fresh, great-tasting water
Economical and easy hydration – avoid expensive bottled waters
Filter set included lasts up to 4,800 liters or 24 months and has replaceable filter cartridges
Compact size, lightweight - no electricity or tap connection required
BPA, BPB, BPS Free construction
Height: 290mm
Weight: 1100g
Materials: Perspex
Diameter of base: 120mm
Capacity: 1000ml
Filter Life Cycle: 4800 liters or 24 months
*Filter life span based on typical Australian municipal water and may vary based on average daily usage & quality of water being filtered.
Great product!
Happy with my clean, fresh water which is helping me drink more than I was before!
Alkaline water filter
I feel that ir is doing the job that I purchased it for.