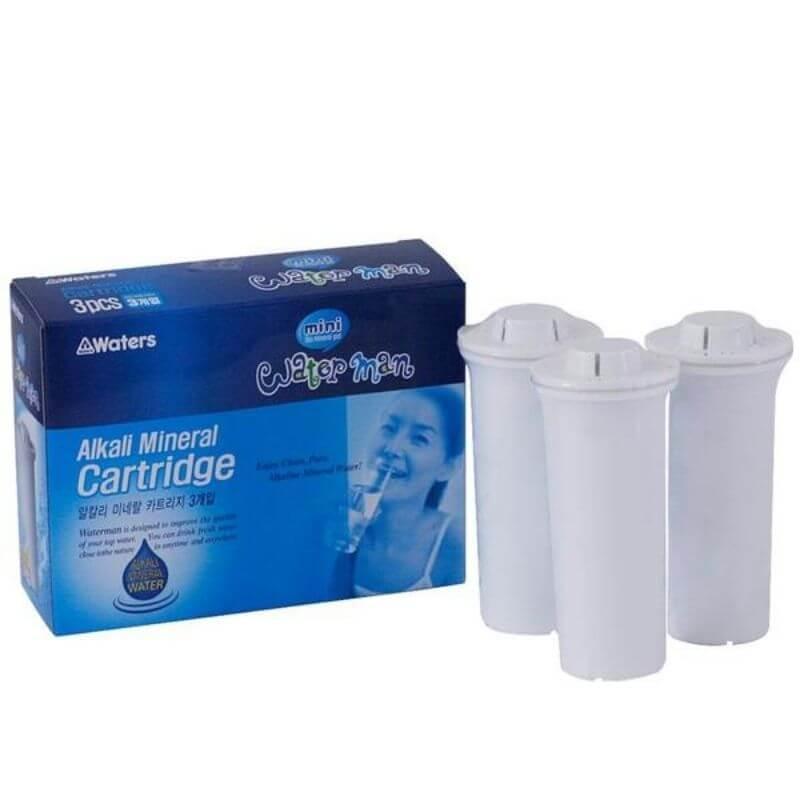 Waters Co 3 Pack Replacement Filters For Waterman 600ml Blue
Description

Reviews

Shipping & Returns
Transform ordinary tap water into refreshing Alkaline water with the
Alkaline Mineral Cartridge

of the Waters Co 3 Pack Replacement Filters For Waterman 600ml Blue

Water is one of the most vital elements for survival next to air. But ensuring that the water you drink is free from all contaminants is not easy especially when you're traveling. Imagine having some microscopic jiggly floating from your glass of water. Yikes!

Stay hydrated wherever you are with the Waters Co 3 Pack Replacement Filters For Waterman 600ml Blue. These filters can be used in your existing Waterman 600ml making it effortless for you to purify, carry, and drink water on the go.

Simply fill your Waterman 600ml Blue with tap water you will be surprised how bland water is transformed into healthy and tasty alkaline water.

So if you want a reliable and handy water filtration that can take away all impurities in your drinking water then you'll love these awesome features below.
Contains an Alkaline mineral cartridge
These replacement filters contain an Alkaline mineral cartridge that raises the pH levels of water between 7.4 to 8.5. As a result, your regular tap water is instantly transformed into fresh-tasting Alkaline water.

Also, drinking it regularly will amazingly reduce the acidity level of your body leaving you to feel great and relax every day.
Contains Activated Coconut Shell Carbon and Silver Duo
Aside from providing you with refreshing alkaline water, these replacement filters are equipped with Activated Coconut Shell Carbon that removes 99% of Flouride and filters out chlorine, heavy metals, and other impurities found in the water.
These activated carbons from coconut shells are then bonded with silver that destroys bacteria and algae to prevent them from building up in the filter. This means that you will be assured that you will never ever drink unsafe water again.
Environmental-friendly and economical
By using these filters in your Waterman 600ml Blue, you are able to successfully ditch the use of plastic bottled water. Every time you go shopping, or when your kids go to school, you are able to save money from buying bottled water.

It helps lessen your plastic waste in the environment plus it makes your wallet happy.
Portable and great to use for your outdoor activity
Do you love having a morning jog or hiking on the trail? Or are you sporty enough to do mountaineering and mountain biking?
No matter where you choose to do your outdoor escapade, this lightweight and handy Waterman 600ml with its filters ensure that you can easily quench your thirst and you'll never run out of safe water to drink.
Long Life-span of Filter

Save more money with its longer life-span. The set contains 3 filters that have the capacity to purify 300 liters or up to 3 months of usage for each filter. 

Filter set contains:
Waterman 600ml replacement filter x 3
*Filter life span based on typical Australian municipal water and may vary based on average daily usage & quality of water being filtered.