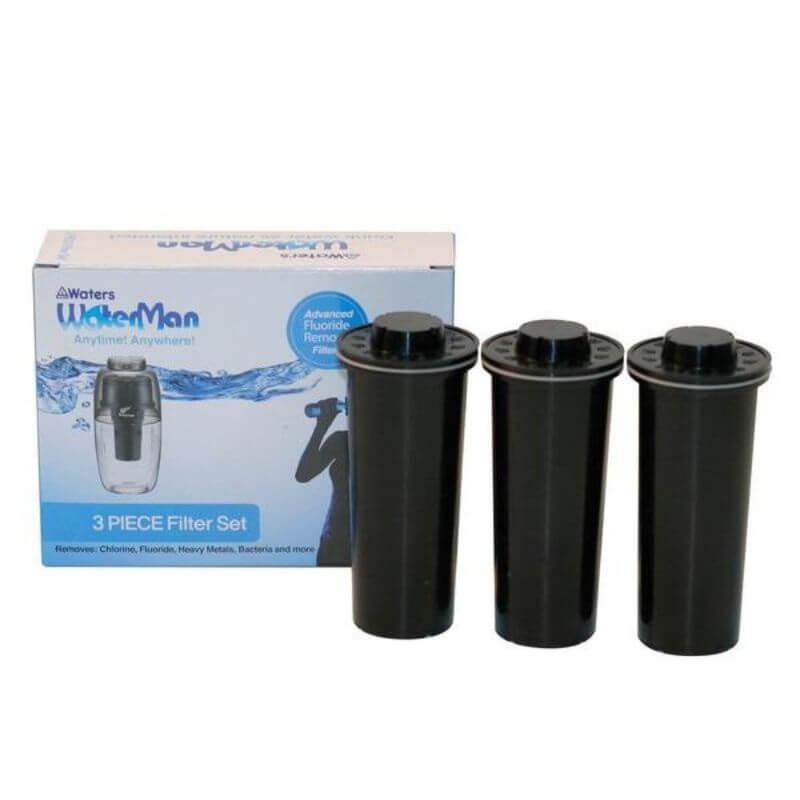 Waters Co 3 Pack Replacement Filters For Waterman 600ml Black
Description

Reviews

Shipping & Returns
Turn any tap water into ultra-safe drinking water with the Activated Coconut Shell Carbon and Silver Combo of the Waters Co 3 Pack Replacement Filters For Waterman 600ml
What if you're traveling, or hiking in a remote place that has a questionable source of water? Being thirsty even for just a few hours is dangerous for your body so would you rather risk drinking from an unsafe water source just to quench your thirst?

Save yourself from that dilemma by using the Waters Co 3 Pack Replacement Filters For Waterman 600ml. These filters can be inserted in your existing Waterman 600ml making it easy for you to clean, carry, and drink water on the go.
Having 3 replacement filters will give you peace of mind that your Waterman 600ml will be usable for quite a long time. It is portable and perfect to bring with you when you hit the gym, jog along nature park, do some hiking or camping in an offroad area.
So if you want your very own portable water filtration system that won't break your bank account, then you'll love these innovative features below.
What the Activated Coconut Shell Carbon and Silver Combo can do
Better than usual Activated Carbon (AC) from woods or coal, the AC made from Coconut Shell provides more superior ability in diminishing contaminants found on the water like chlorine and other harmful heavy metals.
The filter also contains silver that destroys the bacterias in your drinking water and prevents it from building up. 
Together this combo removes 99% of Flouride while it effectively cleanses your water in no time.
Contains an Alkaline mineral cartridge
Afraid that too much filtration removes all the natural nutrients in your water? Well, not the Waters Co filter.
It contains an Alkaline mineral cartridge that enriches your ordinary tap water with minerals and raises the PH level of your water between 7.4 to 8.5. Now you can instantly enjoy fresh alkaline water wherever you are!
Environmental-friendly and easy hydration
Bottled water pollutes the environment, and is bad for your health, and oh on your wallet too. The Waterman 600ml and its filter are reusable so it is economical in the long run.
It allows you to save money by not buying expensive bottled waters anymore every time you're not at home. Simply fill it with tap water and let the filter do the magic.
Long Life-span of Filter

The set comes with 3 pcs replacement filters that have a lifecycle of 300 Liters or 3 months each. This means these filters are long-lasting and worthy of your investment.
Filter set contains:
Waterman 600ml replacement filter x 3
*Filter life span based on typical Australian municipal water and may vary based on average daily usage & quality of water being filtered.