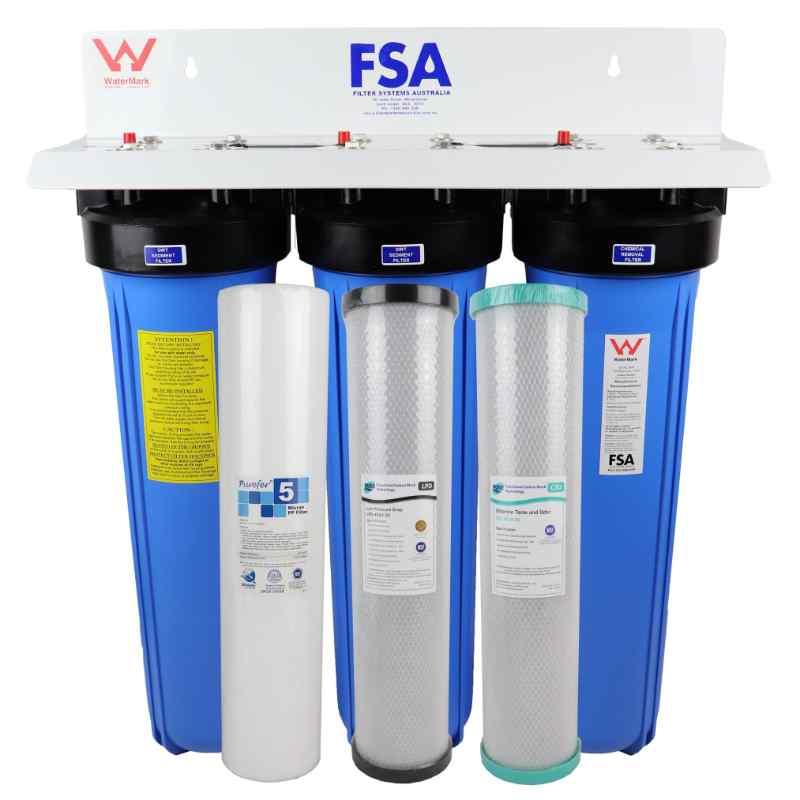 Triple Whole House Water Filter System 20" X 4.5" Big Blue
Description

Reviews

Shipping & Returns
Transform your Water Quality with the Triple Whole House Big Blue Water Filter System
Embark on a journey towards exceptional water purity with the "Whole House Big Blue High Flow Triple 20" Water Filter System". This comprehensive, advanced water filtration solution offers you the unique benefit of accessing clean and safe water from every tap in your house, transforming your showers, baths, and everyday water use. Designed for those who are committed to reducing chlorine and other chemical levels in their water, this system delivers outstanding results, enhancing your household's health and wellness.
Superior 3 Stage Filtration System
Defying the conventional, the Big Blue High Flow Triple 20" Water Filter System offers a significant upgrade from twin-stage systems. Combining a sediment filter's outstanding filtration prowess with a pair of potent carbon block filters, this robust system is tailored for locations that require high flow rates, making it a perfect fit for residential, commercial, or industrial use. It can handle up to 57 litres of water per minute, ensuring that every corner of your home is equipped with clean and safe water.
User-friendly Design: Enhancing Your Filtration Experience
Crafted with user experience in mind, the Whole House Triple 20" x 4.5" Water Filter System employs an innovative design that eradicates chlorine and other chemicals as well as odours from your water supply. It comes complete with a handy tool that makes the bottom housing removal a breeze whenever it's time to replace or inspect the cartridges.
Power-Packed Features: Optimising Filtration Functionality
The system is loaded with high-tech features that optimize your water filtration experience. These include:
A sturdy support bracket attached to the filter housing
An air bleeder valve fitted to each filter
A dedicated slot for installing a gauge in each filter
A standard 1" BSP inlet & outlet with easy size reduction capabilities using a reducer
A comprehensive 12 month housing warranty
Three Stage Filtration Process: Mastering the Art of Purification
The purification prowess of the Whole House system hinges on a comprehensive three-stage filtration process:
Stage 1: 5 Micron Sediment Cartridge
The journey begins with a 5-micron sediment cartridge proficient at removing impurities such as algae, dirt, rust, sand, sediment, and silt. This stage guarantees that your water is devoid of debris and perfectly primed for the subsequent stages of filtration.
Stage 2 & 3: 20 and 5 Micron Carbon Filtration
The journey continues with a 20 micron and a 5 micron carbon filter dedicated to maximum chlorine and chemical removal. These filters leverage top-quality, FDA-compliant raw materials, ensuring optimal performance, reliability, absorption, and flow rates.
Choosing Your Cartridge Set: Optimised Filtration Based on Your Needs
The Triple Whole House Water Filter System offers two sets of cartridge options depending on your locality's chemical additives.
Mains Water Chlorine Filtration Set
This option is ideal for those seeking to improve their standard town water supply. This set includes:
Filter 1: 5 Micron Certified Poly Spun Sediment Filter | GT2-28N
Filter 2: 20 Micron Low Pressure Drop Carbon Block | GT4-19LPD
Filter 3: 5 Micron Coconut Carbon Block | GT4-19P
Mains Water Chlorine and Chloramine Filtration Set
For those looking to maximise chemical removal, this set is perfect. It consists of:
Filter 1: 5 Micron Certified Poly Spun Sediment Filter | GT2-28N
Filter 2: 20 Micron Low Pressure Drop Carbon | GT4-19LPD
Filter 3: 0.5 Micron Chloramine Reduction Carbon | GT4-19CRC
Experience the Difference: Health Benefits and Filtration Results
The aftermath of this meticulous filtration process is water that is free from unwanted chlorine taste and odour. Here are some of the incredible benefits you'll notice:
Softer water for your showers and baths
Elimination of chlorine gas smell during hot showers
Smoother skin and softer hair
Reduced chlorine intake
Trust the Best: WaterMark Certified Kit
Our Whole House Water Filter Kit is certified to WaterMark Standards AS/NZS 3497, which ensures it meets the rigorous safety and performance standards required by law for licensed plumbers in Australia. With this certification, you have peace of mind knowing that your water filter system is compliant with Australian plumbing codes and provides the highest quality and workmanship. Enjoy the benefits of clean, safe, and delicious water in your home with the Whole House Big Blue High Flow Triple 20" Water Filter System.