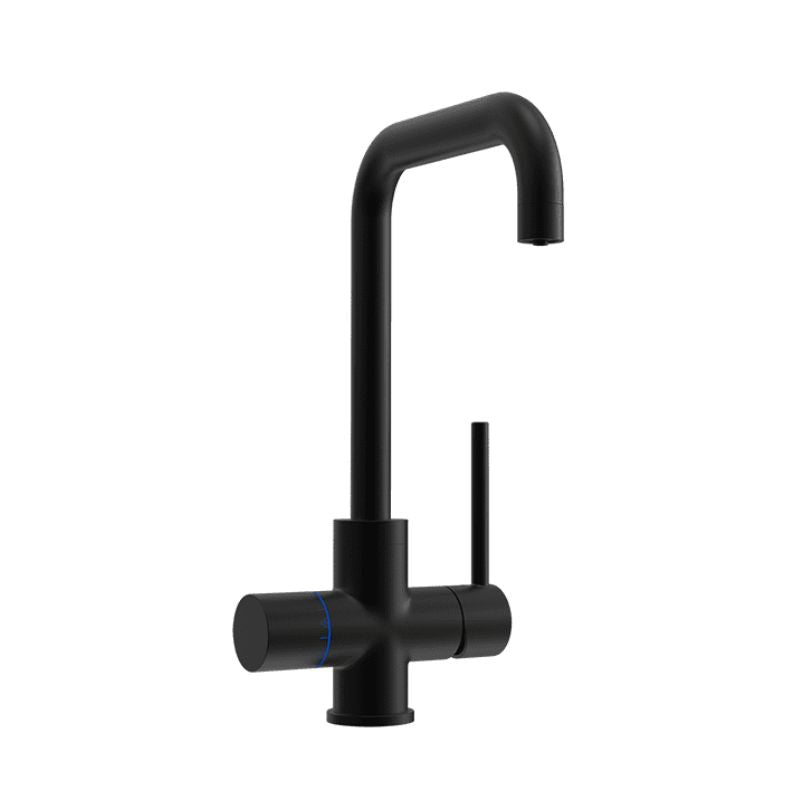 Sodatap 5 in 1 Sparkling, Chilled & Ambient Filtered Water Tap
Description

Reviews

Shipping & Returns
Introducing the Sodatap 5 in 1 Chilled Filtered Sparkling Water Tap System
Experience the pinnacle of hydration technology with Soda Tap's 5 in 1 Tap System. Tailored for those who appreciate the subtleties of life and the essence of convenience, this system is not just a tap – it's a hydration revolution right in your kitchen.
Offering sparkling, chilled, and ambient water through a single, sleek interface, the 5 in 1 Tap System is a testament to Soda Tap's commitment to excellence. With its elegant design and LED-lit rotary dial, it's poised to transform your water intake and culinary exploits.
Enjoy Water, Your Way
With a Sodatap 5 in 1 system you have the freedom to enjoy water how you need it, all in one tap. It replaces your existing kitchen tap, providing all your water needs from the one source, giving your kitchen a sleeker look and feel.
With the Sodatap 5 in 1 you have 5 water choices, which are:
| | |
| --- | --- |
| Filtered Ambient | Ideal for washing fruit and veg, cooking and drinking |
| Chilled Ambient | Perfect for a cool and refreshing drink |
| Chilled Sparkling | Great for kids to have a fun way to enjoy water or to add some bubbles to an adults beverage. |
| Mains Hot | Use the Sodatap for your everyday hot water needs at normal mains pressure. |
| Mains Ambient | Mains pressure ambient temperature water. |
Impress your dinner guests with water that dances on the palate or improve your family's health with contaminant-free water, all while adding a touch of sophistication to your kitchen space.
Sodatap 5 in 1's Aesthetic and Functional Design
Choose a tap that complements the beauty of your kitchen. Soda Tap offers an array of designs and finishes, ensuring that your water system doesn't just perform exceptionally but also serves as a centerpiece in your home.
Enhanced Wellbeing and Hydration With Sparkling Water
Indulging in Soda Tap's filtered sparkling water isn't just a pleasure—it's a step towards better feeling of wellbeing. Studies have suggested that sparkling water can aid in weight loss and improve digestion, all while providing a satisfying alternative to sugary drink.
Zero Calories With Sodatap
By integrating a sparkling water tap from Soda Tap, you're choosing a calorie-free way to stay hydrated and satiated. This switch can lead to better hydration and support in managing weight, thanks to the absence of empty calories found in sodas and juices.
Sodatap's Advanced Filtration Technology
The trademarked Nanoscreen+™ filter system encapsulates innovation, delivering water that's free from up to 90% of chemicals, including chlorine and pesticides, and 99.9% of common bacteria. Rest assured, every sip from Soda Tap's system is safe, pure, and great-tasting.
Great, let's continue with the content, incorporating the provided URLs as internal links for further information and engagement on the website.
Sodatap Will Be The Heart of Your Kitchen
The Soda Tap 5 in 1 system isn't just a utility; it's a statement—a commitment to a healthier lifestyle and a beacon of modern kitchen design. This system is at the heart of a kitchen that values functionality, aesthetics, and the health of its occupants.
A Commitment to Purity and Taste
With the Nanoscreen+™ filtration system, Soda Tap guarantees that every drop of water is not only refreshing but also pure and safe. This advanced technology ensures that water from your tap is free from common contaminants and bacteria, enhancing the taste and quality of your drinks and meals.
Sodatap 5 in 1 System Is The Environmental Choice
Choosing the Soda Tap 5 in 1 system is a step towards a greener, more sustainable future. By reducing the need for bottled water, you're contributing to the reduction of plastic waste—a small change in your home that has a significant impact on our oceans and environment. Learn more about our commitment to the environment here.
Why Choose Soda Tap's 5 in 1 Filtered Sparkling, Chilled and ambient Water System
When comparing Soda Tap's 5 in 1 system to others on the market, the difference is clear. From the unparalleled taste of the water it produces to the sleek design that graces your kitchen, to the affordability, this system stands out.
What's Included
Sodatap 5 in 1 tap
All fittings for instalation
Chiller system and filters
Please note as there are 2 size options, the Co2 bottle is not included and can be purchased separately
Conclusion: Sodatap Is A Future-Proof Investment
| | |
| --- | --- |
| Quality | Unmatched purity with every glass from the Nanoscreen+™ filtration system |
| Lifestyle | Supports a wholesome, active lifestyle with easy access to various water types |
| Design | A statement piece that elevates the aesthetics of any kitchen |
| Sustainability | A sustainable choice that reduces plastic waste and environmental impact |
| Savings | Average cost of only 6 cents per litre of Sparkling Water compared to Sodastream's 25-50 cents per litre |
Embrace a system that delivers not just water, but a promise of purity, health, and environmental stewardship. The Soda Tap 5 in 1 system is an investment in your well-being and the planet's future. It's a choice that reflects foresight and an unwavering commitment to quality.
View the installation manual 

HERE
So much better than our sodastream
Love this tap, it's so much better and easier than using the sodastream. Ice cold soda water on tap and it's filtered too. The best!