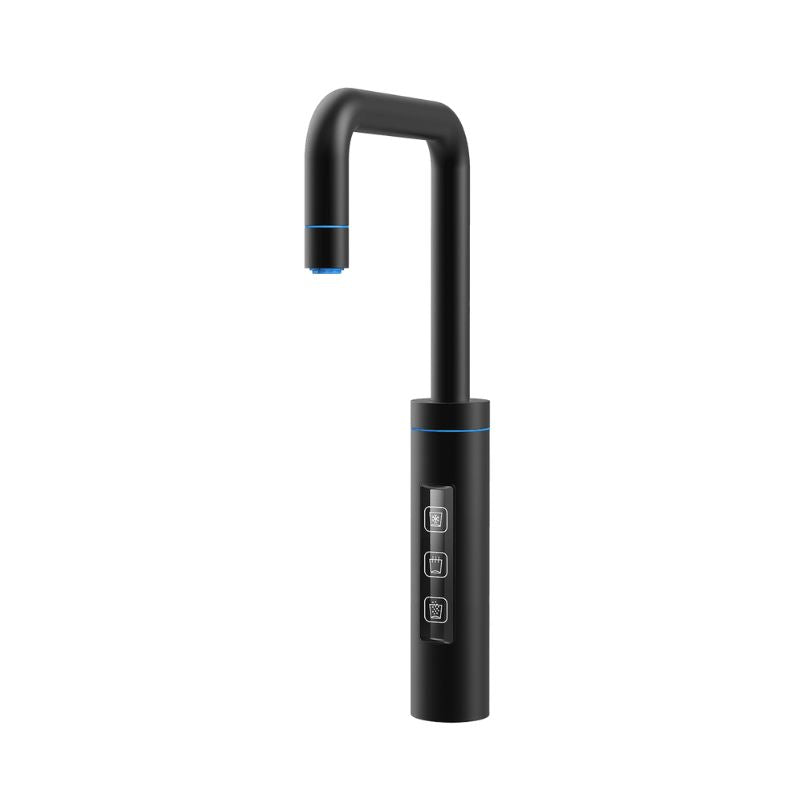 Sodatap 3 in 1 Sparkling, Chilled & Ambient Filtered Water Tap
Description

Reviews

Shipping & Returns
Experience Refreshment Redefined with the Sodatap 3-in-1 Water Filter System
Sodatap Key Takeaways

| Feature | Description |
| --- | --- |
| Filtered Water | Ambient, Chilled & Sparkling Chilled |
| Tap Options | 5 Colours, 2 Styles |
| User Interface | LED lit touch screen selector |
| Installation | Works alongside existing kitchen tap |
| Under-Bench Unit | STM1 for intelligent dispensing |
| Price Range | $1,799.00 – $1,880.00 |
Sodatap 3 in 1 Introduction
Discover a new level of refreshment with the Soda Tap 3-in-1 filtered water system. Sodatap dispenses ambient, chilled, and sparkling chilled filtered water on demand, whenever you need it. A modern and stylish solution for every kitchen, this system is designed to work in harmony with your existing kitchen tap. Unlike traditional water dispensing solutions, the Soda Tap 3-in-1 system embodies modernity and functionality, ensuring clean and refreshing water with every time.
In the bustling market of water dispensing systems, brands like Billi and Zip have established a significant presence. However, Sodatap clearly stands out amongst these brands with its affordability, sleek design and user-friendly interface, setting a new standard for water dispensing systems in Australia.
Design and Varieties
The aesthetic appeal of the Soda Tap 3-in-1 system is undeniable. Available in five different finishes and two attractive shapes, it's designed to complement your kitchen's existing decor seamlessly. The LED lit touch screen water selector is not just a functional feature but a stylish addition that brings a modern touch to your kitchen space.

Colour Finishes: Choose from a range of 5 colours to match your kitchen aesthetics perfectly
Shape Options: Whether you prefer a round or square shape, there's a Soda Tap 3-in-1 system for you personal style and taste
LED lit Touch Screen: A modern touch to traditional water dispensing, ensuring ease of use and a sleek look.
Water Options
The versatility of the SodaTap 3-in-1 system lies in its ability to offer three distinct types of water: 
Filtered Ambient, Filtered Chilled, and Filtered Chilled Sparkling Water
. Each water type caters to different preferences, ensuring everyone in the household has their hydration needs met.
Soadatap Water Varieties

| Water Type | Ideal For |
| --- | --- |
| Filtered Ambient Water | General cooking and drinking |
| Filtered Chilled Water | Refreshing and cooling hydration |
| Filtered Sparkling Chilled | A bubbly alternative to regular water |
Filtration System
The integral Nanoscreen+™ twin filter system ensures your water is pure, clean and fresh, as well as prolonging the life of your Sodatap system. 
Reduces chlorine, fluoride, pesticides and other chemicals by up to 90%
Eliminates 99.9% of bacteria such as e-coli and staphylococcus. The activated, non-toxic nano silver impregnation also prevents bacteria from re-growing
Nanoscreen+™ filters are sustainably manufactured using coconut shells
For optimum results, we recommend replacement every 6 months

 

Premium Quality with Affordable Pricing
The Sodatap 3-in-1 system is a premium yet affordable multi filtered water delivery system, suitable for any kitchen. Priced between $1,799.00 for the chrome version and $1,880.00 for a coloured finish, it offers a high-value proposition compared to other water dispensing systems in the market. It's an investment towards a healthier and more convenient lifestyle.
Sodatap Price vs Billi vs Zip 
Sodatap is 
WMTS-105

 Watermark Certified
WaterMark product certification protects community health and safety. A certified product is fit for purpose and authorised for installation by a licensed Plumber. It's also guaranteed to be suitable for use by you, your family and your friends.
Installation and Use
Installation is a quick and simple process and can be done by a handy person, however we recommend professional installation by a licensed plumber, as incorrect installation can void warranty. If you are not keen on an a DIY install or do not have your own Plumber, we can happily arrange a fixed price installation through our national network of trained and licensed, certified Installers.
Quick Installation: Getting your Soda Tap 3-in-1 installed and operating is quick and non intrusive, typically installed within 90 minutes
Touch Screen Selector: The intuitive touch screen selector coupled with the STM1 under-bench unit facilitates effortless selection and dispensing of your preferred type of water
Maintenance: Keeping your Soda Tap 3-in-1 system in optimum condition is easy with the user-friendly design that allows for simple filter and gas replacement when required.
View the installation manual HERE

What's Included
Sodatap 3 in 1 tap
All fittings for instalation
Chiller and filters
Please note as there are 2 size options, the Co2 bottle is not included and can be purchased separately
 Sodatap Customer Testimonials
Hear from satisfied customers who have made the switch to the Soda Tap 3-in-1 system. Their experiences underscore the convenience, aesthetic appeal, and the refreshing variety of water options available at their fingertips.
"Best thing I ever purchased, refreshing, cold and very economical. Love it." 
-Mike-
 "The Soda Tap 3-in-1 system has transformed our kitchen into a hydration hub. We love the sparkling chilled water!"
-Jane-
"We all drink more water since having a Sodatap installed, my kids now ask for soda water instead of cola and we love the FLAVR drops."
-Renee-
Conclusion
The Soda Tap 3-in-1 system is more than just a water dispenser; it's a lifestyle upgrade. With its sleek design, user-friendly interface, and a variety of refreshing water options, it's a valuable addition to any modern kitchen. Experience the convenience and refreshing taste of filtered ambient, chilled, and sparkling chilled water with the Soda Tap 3-in-1 system. Upgrade your kitchen and hydration experience today!
Amazing. It's a game changer
This tap is amazing. Cold sparkling soda water right out the tap. It's a game changer.