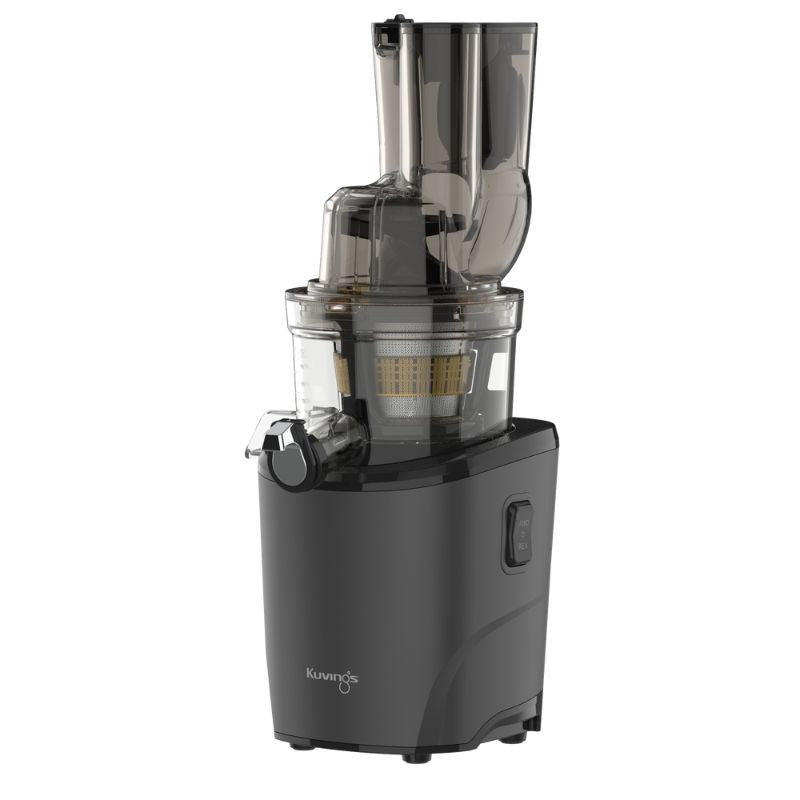 Kuvings REVO830 Cold Press Juicer
Description

Specifications

Reviews

Shipping & Returns
The Revolution Has Begun: Unveiling the Kuvings REVO830 Cold Press Juicer
The juicing landscape has been forever changed with the introduction of the Kuvings REVO830 Cold Press Juicer. This is a revolution in the world of juicing especially if you enjoy juicing carrots and celery. The REVO830 boasts the driest pulp among all juicers in the market. With its multiple feeding chutes, you can save time and feed more fruit and veg and make pulp free juice quicker and fresher. If you're looking for a premium and affordable juicing solution, your search ends here.
What Sets the Kuvings REVO830 Cold Press Juicer Apart from the Rest?
The REVO830 is a complete juicing system that comes with a plethora of features to make your juicing experience as smooth as possible. This latest model includes:
A 400ml juicing bowl: Perfect for making a large glass of juice or multiple servings in one go
A wide 88mm self-feeding lid: Ideal for juicing whole fruits and large chunks of vegetables without the need for pre-cutting
Multiple feeding chutes: The REV080 has a specialised 43mm feeding chute for celery and carrots, which is designed to handle fibrous and hard vegetables with ease. And a 88mm feeding chute – for juicing whole fruits and cut vegetables
A commercial-grade screw (Auger) with a self-cutting top: This ensures that your produce is cut and juiced efficiently, maximising juice yield
Stainless steel juice strainer and rotation wipers: These components are easy to clean and are built to last
Newly designed juice and pulp jugs: These jugs are not only stylish but also functional, with easy-grip handles for convenient pouring
Dual cleaning brushes: These brushes are designed to clean every nook and cranny of your juicer.
A Kuvings recipe book: This book is filled with delicious and nutritious recipes to kickstart your juicing journey.
Kuvings REVO830: Dual Feed Chutes For Faster Juicing
The REVO830 is unique for its dual feed chutes, designed to make your juicing process as efficient as possible. The 88mm feeding chute is perfect for juicing whole fruits and cut vegetables. This means you can juice an entire apple or orange without cutting it into smaller pieces. The 43mm feeding chute is specifically engineered for juicing celery, carrots, leafy greens, and cucumbers. This dual-chute system not only saves you preparation time but also ensures that you extract the maximum juice from your produce.
Kuvings REVO830 Auto-Cutting Technology: Revolutionising the Juicing Process
Kuvings has always been a leader in juicing technology, and the REVO830 is a testament to that. The juicer features a bladeless blade, which maintains the integrity of cold press juicing. The instant auto-cutting screw (augur) now includes a chopping mechanism on the upper part of the screw. This means that as you drop carrots, celery, or cucumbers into the feeding chute, the screw automatically chops the ingredients before pressing. This innovative feature makes your juicing process even more efficient, ensuring that you get the most out of your produce.
Kuvings REVO830 Motor: Engineered for High Performance
The REVO830 is equipped with a stronger, more powerful motor that can handle volume juicing with ease. The torque of the gearbox connected to the motor has increased by 13%, and the durability of the gearbox has increased by 35% compared to previous models. This ensures that your Kuvings REVO830 Cold Press Juicer will stand the test of time, even with regular use. The motor is also quieter compared to other models, allowing you to enjoy your juicing experience without any noise disturbance.
Kuvings REVO830 Smart Cap: Super Convenient
The Smart Cap has been redesigned for easier opening and closing. You can use this feature to mix your juice in the bowl, stop drips, and even do a pre-rinse before cleaning. The Smart Cap also allows you to make mixed fruit and vegetable juices easily. Simply close the Smart Cap, juice your favorite fruits and vegetables, open the Smart Cap, and enjoy a delicious mixed juice.
Easy Storage and Cleaning: The Kuvings REVO830 Advantage
The REVO830 is designed with your convenience in mind. The juice and pulp jugs are square-shaped for easy storage and come with an easy-grip design. The wider pulp outlet ensures maximum pulp ejection and effortless cleaning. The juicer also comes with a patented cleaning tool, making it easy to rinse under the tap. The components are also dishwasher-safe, making cleanup a breeze.
Frequently Asked Questions About the Kuvings REVO830
Q. What is the warranty on the Kuvings REVO830?
A. The REVO830 comes with a 5-year warranty on parts and a 20-year warranty on the motor.
Q. Can I juice leafy greens with the Kuvings REVO830?
A. Yes, the 43mm feeding chute is designed for juicing leafy greens as well as celery and carrots.
Q. How easy is it to clean the Kuvings REVO830?
A. The REVO830 is very easy to clean. It comes with a patented cleaning tool and has a wider pulp outlet for easy cleaning.
Q. Can I use the Kuvings REVO830 for continuous juicing?
A. Yes, the REVO830 is designed for continuous use for up to 1 hour.
Q. Is the Kuvings REVO830 juicer bowl BPA-free?
A. Yes, the juicer bowl is made of food-grade plastic that is BPA-free.
Q. Is the Kuvings REVO830 easy to assemble?
A. Yes, the Kuvings REVO830 is designed for easy assembly and disassembly. Each part clicks into place effortlessly, making it convenient for everyday use and cleaning.
Are replacement parts available for the Kuvings REVO830?
A. Yes, replacement parts for the Kuvings REVO830 are readily available, if a part isn't listed on our site just let us know and we'll be happy to assist you in finding it.
Can I make nut milk with the Kuvings REVO830?
A. Yes, the Kuvings REVO830 is versatile enough to make nut milk. Simply soak your nuts of choice, like almonds or cashews, and run them through the juicer to make your own homemade nut milk.
Join the juicing revolution today with the Kuvings REVO830 Cold Press Juicer. Order yours now and experience the future of juicing!
Kuvings REVO830 Specifications: At a Glance
Model: REVO830

Color: Matt Red

Feeder Tube: Multiple feeding chutes – 88mm & 43mm

Size: 256 x 210 x 480

Weight: 7.5 kg

Cleaning: Easy to clean, patented cleaning tool included

Juicer Bowl Material: Food Grade Plastic (BPA Free)

Juicer Bowl Size: 400 ml

Jug Size: 1000 ml

Motor: 200 watt

Speed: 50 RPM

Usage: Continuous use for up to 1 hour

Warranty on Parts: 5 years

Warranty on Motor: 20 years
Model: REVO830

Color: Matt Red

Feeder Tube: Multiple feeding chutes – 88mm & 43mm

Size: 256 x 210 x 480

Weight: 7.5 kg

Cleaning: Easy to clean, patented cleaning tool included

Juicer Bowl Material: Food Grade Plastic (BPA Free)

Juicer Bowl Size: 400 ml

Jug Size: 1000 ml

Motor: 200 watt

Speed: 50 RPM

Usage: Continuous use for up to 1 hour

Warranty on Parts: 5 years

Warranty on Motor: 20 years