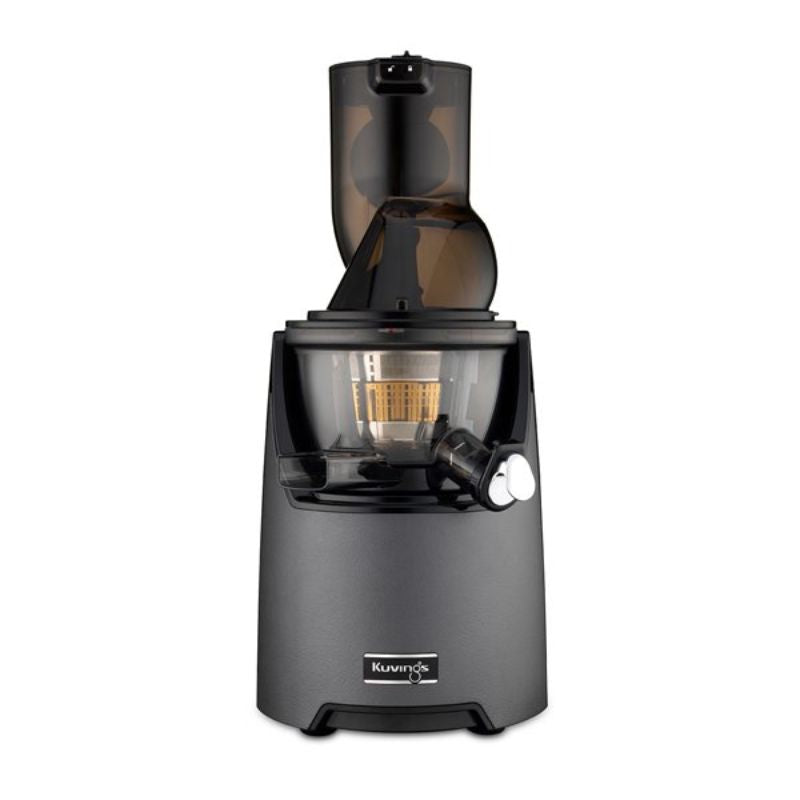 Kuvings EVO820 Evolution Cold Press Juicer
Description

Reviews

Shipping & Returns
Kuvings EVO820 Evolution Cold Press Juicer: The Ideal Domestic and Commercial Juice Maker
Voted "Best Juicer" by the BBC Good Food magazine!
When it comes to cold press juicing, the Kuvings EVO820 Evolution stands out as a high performance and durable juicer. The EVO820 is designed for both domestic and commercial use. With stylish looks, premium performance, enhanced safety feature, and pulp free juice, every time, it's easy to why this is a top selling machine. Read more below to see why we believe this a must-have juicer for juice enthusiasts. 
Key Features of the Kuvings EVO820 Evolution Cold Press Juicer. 
5th Generation Drum Set: A Blend of Innovation and Safety
The Kuvings EVO820 boasts a 5th generation drum set, which is a testament to the brand's commitment to innovation. This drum features a flap gate feeding chute, a patented technology by Kuvings, ensuring that you get the most out of your fruits and vegetables.

Kuvings EVO820 Juicer is
BPA Free
The health of consumers is paramount, and that's why the EVO820 is BPA free. This ensures that the juice you drink is free from harmful chemicals.
Convenient Handle: Designed for Ease
The EVO820 is designed with the user in mind. The handle is not just an afterthought; it's an integral part of the design. Integrated seamlessly into the juicer's body, it ensures the device maintains a slim profile, making it perfect for tight spaces.
Dual Safety Lock: Safety Above All
Safety is a priority with the EVO820. The dual safety lock ensures that the juicer only operates when all its parts are correctly assembled. This feature provides peace of mind, especially for households with children.
Power Juice Cap: For the Perfect Blend
The power juice cap is a game-changer. It allows for mixing different ingredients, ensuring you get a perfectly blended juice every time. And when you're done? Quick rinsing is all it takes to clean it up.
Kuvings EVO820's
Powerful Motor: Quiet Yet Robust
At the heart of the EVO820 is a powerful 240W motor. Produced in-house to ensure quality, it offers durability and operates quietly. And with a 20-year warranty for domestic use (and 5 years for commercial use), it's clear that Kuvings stands behind their product.
Feeding Made Easy with the New Flip Gate Lid
The 5th generation O shape flip gate is wider than its predecessors, making juicing a breeze. It's designed with safety in mind, preventing small hands from entering the feeding chute. Plus, the 82mm wide feeding chute means you can juice larger ingredients without the need for cutting, saving you time and effort.
Pulp-Free Juice Every Time With the Kuvings EVO820
Maxi-Strainer: For the Purest Juice
The 5th generation maxi-strainer ensures that your juice is of the highest quality, with minimal to no pulp.
Detachable Gear and Easy Washing Pulp Outlet
Cleaning is a breeze with the EVO820. The detachable gear cap allows for thorough cleaning, and the redesigned pulp outlet ensures that residues are easily washed away.
Enhanced Durability with the Juicing Drum
The EVO820 features a stronger drum lid, reinforced for added durability. The holder shaft has been redesigned for smoother juicing, and the metal clamps have been strengthened to ensure the drum remains stable during operation.
EVO820 Specifications
Model: EVO820

Use: Domestic, Commercial

Colours Available: Red, Silver, Grey, Black, White, Gold, Rose

Type: Vertical low-speed masticating

Speed: 50 RPM

Wattage: 240W

Voltage: AC220-240V, 50/60Hz

Dimensions: 201 x 239 x 490 (mm)

Weight: 7.1kg

Maximum Use: 60 minutes continuous

Materials: Ultem, Tritan, ABS, PC
Frequently Asked Questions 
Is the Kuvings EVO820 suitable for commercial use?

Yes, the EVO820 is designed for both domestic and commercial use. It comes with a 20-year warranty on the motor and 5 years on parts for domestic  use.

What materials are used in the construction of the EVO820?

The EVO820 is made from Ultem, Tritan, ABS, and PC.

How often do I need to clean the juicer?

It's recommended to clean the juicer after each use to ensure its longevity and maintain the quality of the juice.

Is the feeding chute wide enough for whole fruits?

The 82mm wide feeding chute allows for larger ingredients to be juiced without cutting, reducing preparation time.

How long can I continuously use the EVO820?

The juicer can be used continuously for up to 60 minutes.
Choose the Kuvings EVO820 Evolution Cold Press Juicer for a seamless and efficient juicing experience. It's not just a juicer; it's an investment in your health and well-being.