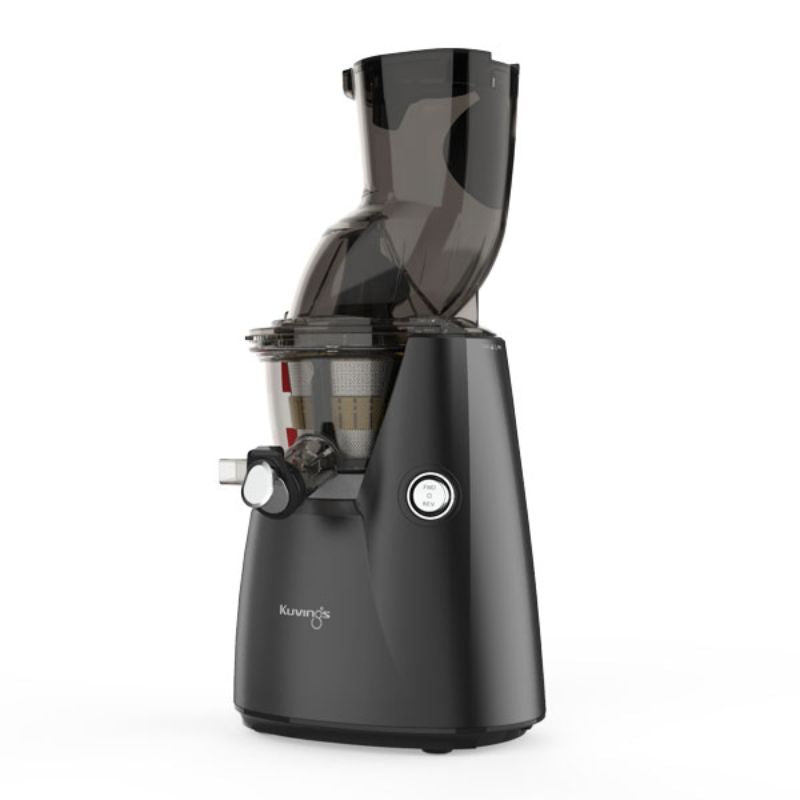 Kuvings E8000 Professional Cold Press Juicer
Description

Reviews

Shipping & Returns
The Ultimate Choice for Juicing Enthusiasts
For people who are seriously into juicing, the Kuvings E8000 Professional Cold Press Juicer is one of the most recommended models for home use. This juicer is a culmination of expert craftsmanship and intelligent design, tailored for those who are really passionate about their juicing. If you're a juicer looking for a machine that seamlessly marries efficiency with innovation and durability, the Kuvings E8000 is definitely the answer. If you're on the hunt for a juicer that promises a richer, more flavourful juice with every extraction, then look no further.
Why Choose the Kuvings E8000 Cold Press Juicer?
When it comes to selecting the ideal juicing companion, the Kuvings E8000 Cold Press Juicer stands out as a top-tier choice for both novices and aficionados alike. Engineered with cutting-edge technology, this juicer ensures maximum nutrient retention, delivering a richer and more flavorful juice with every extraction. Its user-centric design, combined with unparalleled efficiency, positions it as a market leader in the world of juicing.
Dive Deep into the Features of the Kuvings E8000 Juicer
Upgraded Juicing Bowl 
At the core of the Kuvings E8000 lies its state-of-the-art mechanism. With an upgraded juicing screw and bowl, it stands head and shoulders above many other models in its category. This enhancement not only ensures a smoother juicing experience but also guarantees that users can effortlessly assemble and disassemble the topset, making the cleaning process a breeze.

82mm Wide Flip Gate Chute Lid: A Game-Changer in Juicing
The days of tediously pre-cutting your fruits and vegetables are long gone with the Kuvings E8000. This marvel boasts an 82mm wide flip gate lid, a feature that allows even larger ingredients to be juiced in their entirety. This not only conserves time but also ensures that every drop of nutrient from your produce is extracted.
Superior Juice Extraction with the Upgraded Screw
Designed with the user's needs in mind, the Kuvings E8000 guarantees the most juice yield possible. The strategically placed deep hole at the bottom of its screw ensures minimal pulp in the juice and maximizes extraction. This design ensures that users get a smoother, richer, and more nutritious juice with every use.
Simplified Cleaning with the All-in-One Juicing Bowl
The Kuvings E8000 has revolutionized the cleaning process. Its all-in-one juicing bowl design eliminates the cumbersome steps often associated with juicer cleaning. Users no longer need to separate silicone rings or open press silicone. This not only simplifies the cleaning process but also ensures a longer lifespan for your juicer, giving you more value for your money.
The Smart Cap: Where Elegance Meets Functionality
The Smart Cap of the Kuvings E8000 is more than just a functional component; it's a statement of sophistication and elegance. With a chrome handle that offers a firm grip and an improved design, users can be assured of zero spillage, ensuring a cleaner and more efficient juicing process.
Kuvings E8000 Specifications: Everything You Need to Know
For those who appreciate the technical intricacies of their appliances, understanding the Kuvings E8000's specifications can offer deeper insight into its prowess:
Model: E8000

Intended Use: Professional

Available Colors: Silver, Red, White, Black, Matt Black

Type: Vertical low-speed masticating

Speed: 50 RPM

Power Consumption: 240W

Voltage: AC220-240V, 50/60Hz

Dimensions: 228W x 208L x 450H (mm)

Weight: 6.6kg

Capacity: 400ml

Maximum Usage: 45 minutes continuous

Materials Used: Ultem, Tritan, ABS, PC

Manufacturer: NUC Electronics Co., Ltd.

Country of Origin: South Korea
Color Options to Complement Your Kitchen Decor
Beyond performance, the Kuvings E8000 is also a statement piece for your kitchen. With its sleek design, it is available in five elegant colors, ensuring that it complements any kitchen decor:
Matt Black

Black

Red

Silver

White
Why the Kuvings E8000 is a Market Leader
When you're in the market for a cold press juicer, you want an appliance that offers unparalleled value for your investment. The Kuvings E8000 stands out for several reasons:
Efficiency: Its wide chute and upgraded screw ensure maximum juice extraction in minimal time.

Durability: Crafted with high-quality materials, this juicer promises longevity.

Ease of Use: Features like the O shape flip gate and the all-in-one juicing bowl make the juicing process enjoyable.

Elegance: Its sleek design and range of color options ensure it's not just an appliance but a stylish addition to your kitchen.
FAQs About the Kuvings E8000
How often should I clean the Kuvings E8000 juicer?
For optimal performance and to ensure the longevity of your juicer, it's recommended to clean the Kuvings E8000 after each use.
What sets the Kuvings E8000 apart from other models?
The E8000 boasts a plethora of upgrades, including an enhanced juicing screw, a wider feeding chute, and a user-centric design, making it a top choice for those serious about their juicing.
Can the Kuvings E8000 handle leafy greens?
Absolutely! The Kuvings E8000 is versatile and robust, capable of juicing a wide variety of ingredients, including leafy greens, ensuring you get a nutrient-rich juice every time.
What's the continuous usage time for the Kuvings E8000?
The Kuvings E8000 is designed for extended use and can run continuously for up to 45 minutes.
Where is the Kuvings E8000 manufactured?
Proudly carrying forward the legacy of quality, the Kuvings E8000 is manufactured in South Korea.
Conclusion
In conclusion, the Kuvings E8000 Professional Cold Press Juicer is not just an appliance; it's an investment in your health and well-being. With its blend of innovative features, durability, and style, it promises to be a cherished addition to your kitchen for years to come.