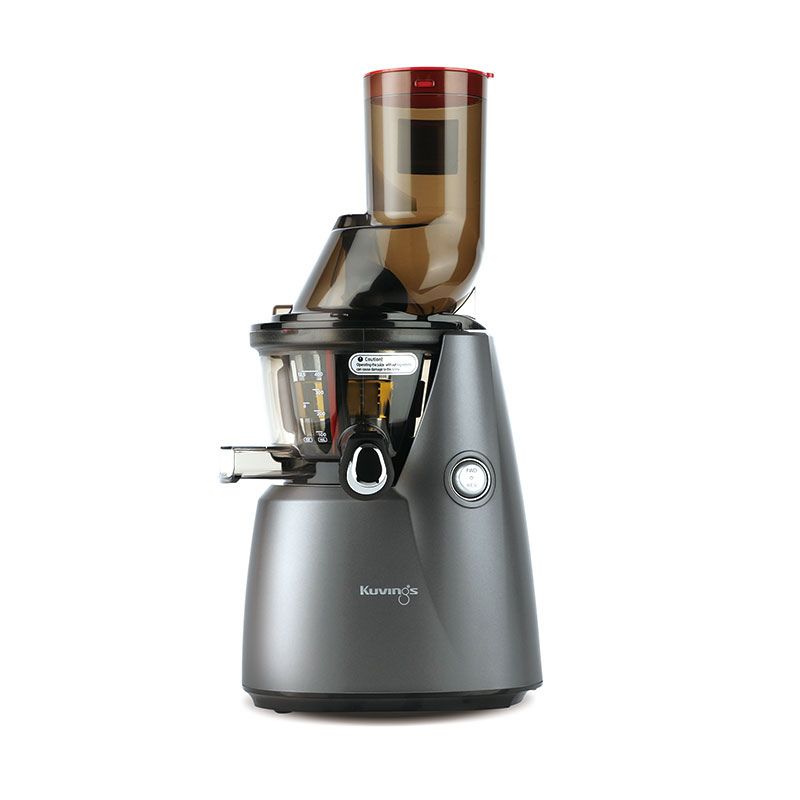 Kuvings C8000 Professional Cold Press Juicer with Bonus Sorbet Maker
Description

Specifications

Reviews

Shipping & Returns
Kuvings C8000 Professional Cold Press Juicer: Elevate Your Juicing Experience
The world of juicing has seen many innovations, but few are as groundbreaking as the Kuvings C8000 Professional Cold Press Juicer. This isn't just another juicer; it's a testament to what happens when design meets functionality, and innovation meets passion.
Introducing the Sleek and Compact Kuvings C8000
The Kuvings C8000 is designed to make a statement, not just on your health but with with good looks and sleek design. Compact and stylish so it fits seamlessly into any kitchen, regardless of the decor. This professional juicer is packed with features that make it stand out in the crowded marketplace of kitchen appliances and juicers.
Upgraded Features: From B8000 to the Kuvings C8000
The journey from the B8000 to the C8000 wasn't just about making a new product; it was about refining an experience. Every feature has been meticulously thought out, ensuring that the new C8000 isn't just an upgrade but a complete remake for people who take their juicing seriously.
Key Upgrades of the Kuvings C8000 Professional Cold Press Juicer
When we talk about upgrades, we're not just talking about minor tweaks here or there. We're talking about a complete overhaul. and the Kuvings C8000 has been redesigned from the ground up. So what's been upgraded? Let's dive in and take a look.
New Drum Set: Enhanced Assembly and Cleaning
Gone are the days of struggling with assembly and cleaning. The new drum set not only prevents leakage during juicing but also ensures a hassle-free cleaning experience. The removal of two rubber sets in the center and the introduction of a round edge design are absolute game-changers.
New Maxi-Strainer: Simplified Assembly and Leak Prevention
The modified structure at the bottom of the filter and the relocation of the rubber to the center of the filter are not just design changes; they're functional upgrades. With an additional locking point, wobbling during operation is a thing of the past.
New Scraper: For Better Juice Blending
The redesigned scraper ensures that every drop of juice is perfectly extracted and blended, giving you a consistent flavour with every sip.
New Smart Cap: Reinforced with Metal
Durability meets design with the new smart cap. Reinforced with metal, it's built to last while ensuring zero spillage. This juicer is built to last.
New Screw (Auger): Optimised for Greens and Finer Juice
Most juicers know the benefits of green juice and the improved edge is a dream come true for green vegetable juice lovers. The empty hole design not only ensures finer juice but also reduces the overall weight of the unit, making the juicing process smoother and easier.
Why Choose the Kuvings C8000 Professional Cold Press Juicer?
We get it, the market is flooded with juicers but the Kuvings C8000 stands out, not just because of its features but because of the premium build quality and the nutriant filled juice it produces.
Effortless Assembly and Cleaning
Say goodbye to complicated assembly processes and tedious cleaning routines. The Kuvings C8000 is designed to be user-friendly, ensuring that you spend more time enjoying your juice and less time setting up or cleaning.
Wide Feeding Chute: Synonymous with Kuvings Quality
The wide feeding chute is more than just a feature; it's a promise. A promise that you can juice whole fruits and vegetables without the hassle of cutting, saving you time and effort.
Delivering Nutrient-Rich Cold Press Juice with Ease
The slow extraction process of the Kuvings C8000 ensures that every drop of juice retains the natural flavors and nutrients of the fruits and vegetables, giving you a health-packed beverage with every use.
Versatility of the Kuvings C8000: Beyond Just Juicing
The Kuvings C8000 is not just a juicer; it's a juicing powerhouse. Whether you're in the mood for a refreshing fruit juice, a nutrient-packed vegetable blend, or a health-boosting wheatgrass shot, this juicer has got you covered.
Bonus Sorbet Maker: Unlocking Culinary Delights
The included sorbet maker transforms the Kuvings C8000 from a juicer to a versatile kitchen appliance. Whether you're in the mood for a refreshing sorbet on a hot summer day or a creamy smoothie, the Kuvings C8000 has you covered.
Key Features of the Kuvings C8000 Professional Cold Press Juicer with Bonus Sorbet Maker
The Kuvings C8000 Professional Cold Press Juicer is not just another kitchen appliance; it's a culmination of innovation, design, and functionality. Every feature has been meticulously crafted to provide users with an unparalleled juicing experience. Let's delve deep into the standout features that make this juicer a cut above the rest:
Sleek and Compact Design: The Kuvings C8000 boasts a modern and elegant design that complements any kitchen decor. Its compact footprint ensures it doesn't hog counter space, making it ideal for both spacious and smaller kitchens.

Wide Mouth Feeding Chute: One of the most notable features is its wide feeding chute. This design eliminates the need for extensive pre-cutting of fruits and vegetables, saving time and reducing oxidation during the juicing process.

Super-Fine Strainer: The inclusion of a super-fine strainer ensures that your juices are smooth and pulp-free. This feature is especially beneficial for those who enjoy nut and oat milks, providing a silky texture without any grittiness.

Quiet Operation: The Kuvings C8000 operates with minimal noise, allowing you to juice at any time of the day or night without disturbing your household or neighbors.

Easy Cleaning Mechanism: Cleaning can often be a deterrent when it comes to juicing, but not with the Kuvings C8000. Its design facilitates easy cleaning, and the provided cleaning tools ensure that you can maintain the juicer in pristine condition with minimal effort.

Incredible Warranty: A testament to its quality and durability, the juicer comes with a 20-year warranty on the motor and a 5-year warranty on parts. This ensures peace of mind with every purchase.

Versatile Strainer Options: Beyond juicing, the Kuvings C8000 is a culinary delight. The bonus sorbet strainer transforms frozen fruits into creamy, refreshing sorbets. Additionally, with optional accessories, you can venture into making ice creams, smoothies, sauces, and dips, making this juicer a versatile addition to your kitchen.

Energy Efficient: With a wattage of 248W, the juicer is designed to be energy efficient without compromising on performance. This ensures that you can enjoy fresh juices without worrying about a spike in your electricity bill.

Durable Construction: Made with high-quality materials like Ultem, Tritan, ABS, and PC, the juicer is built to withstand regular use, ensuring longevity and consistent performance.
Unboxing the Kuvings C8000: What's Included?
Sorbet Maker (Value $49)
Cleaning Tool
Cleaning Brushes
Food Pusher
Juice Jug

Pulp Jug

Instruction Book

Kuvings Whole Slow Juicer Recipe Book
Every component, from the base to the cleaning tools, has been designed with the user in mind. And with bonus inclusions like the sorbet strainer and an online juicing course, the Kuvings C8000 offers unparalleled value.
Technical Specifications of the Kuvings C8000 Professional Cold Press Juicer
The Kuvings C8000 isn't just about looks; it's a technical marvel. With a speed of 50 RPM and a wattage of 248W, it's designed for efficiency. Its compact dimensions ensure it fits into any kitchen, while its weight of 6.4kg makes it easy to move around.
In conclusion, the Kuvings C8000 Professional Cold Press Juicer isn't just a product; it's an experience. An experience of taste, health, and convenience. So, why wait? Elevate your juicing experience with the Kuvings C8000 today.
Model                                                                        C8000
Color                                                                         Grey
Type                                                                           Vertical low-speed masticating
Speed                                                                        50 RPM
Wattage                                                                    248W
Voltage                                                                     240V
Dimensions                                                             228 x 208 x 448mm
Weight                                                                      6.4kg
Capacity                                                                    400ml
Usage                                                                        45 minutes continuous juicing
Materials                                                                  Ultem, Tritan, ABS, PC
Manufacture                                                           South Korea