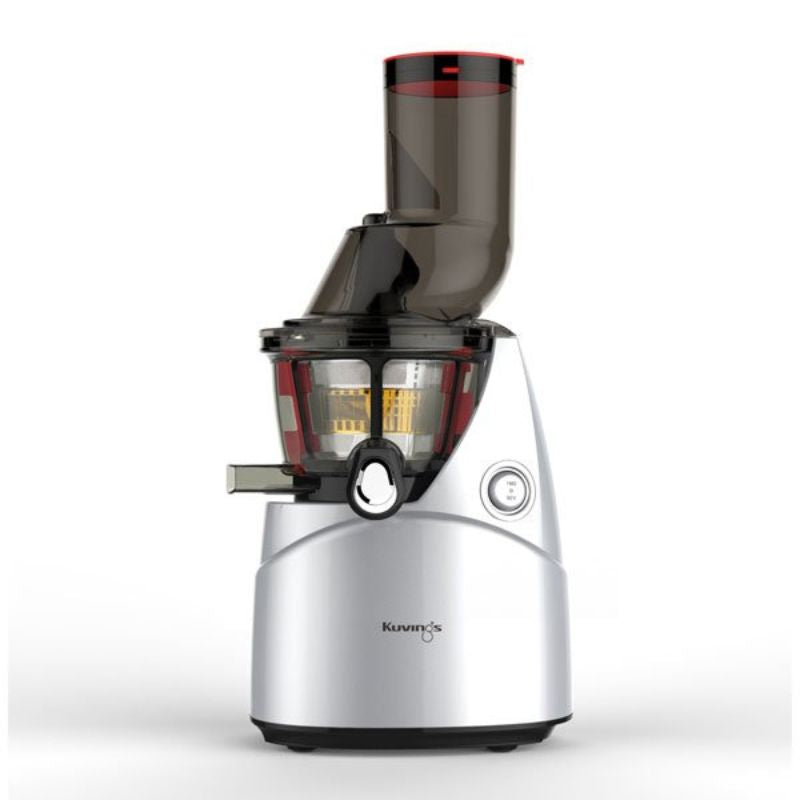 Kuvings C6500 Professional Cold Press Juicer
Description

Reviews

Shipping & Returns
Introducing the Kuvings C6500 Professional Cold Press Juicer
A world where sleekness meets professionalism is precisely where the Kuvings C6500 belongs. As a prominent member of Kuvings' elite line-up of juicers, the C6500 is more than just an appliance; it's a testament to the blend of design and functionality. For those familiar with the entry-level B8000, the C6500 is not just a step, but a leap ahead, offering enhanced features for a marginally higher price tag. Dive deep into the universe of the C6500, and uncover the gems that make it an unparalleled choice for cold press juicing.
Why Choose the Kuvings C6500 Cold Press Juicer?
If you're searching for reasons, there are plenty. Starting with its user-friendly design, the C6500 boasts an intuitive assembly process, ensuring you spend more time enjoying your juice than setting up. The cleaning process, often a deterrent for many, is a breeze with this model. And let's not forget the wide feeding chute - a signature of Kuvings - which makes juicing a smooth experience, eliminating the tedious task of chopping fruits and vegetables. But beyond the mechanics, imagine waking up every morning, pouring yourself a glass of fresh, nutrient-packed juice, and knowing that it's been extracted by the finest - your very own C6500 Professional Cold Press Juicer.
Versatility of the Kuvings Cold Press Juicer
The versatility of the C6500 is simply staggering. From fresh fruit juices like apple, orange, grape, and watermelon, savor the natural flavors and rich nutrients that are often lost in traditional juicers. Vegetables? Think beyond carrot and celery. Venture into kale, spinach, beets, and bell peppers, and witness the magic as this machine retains every drop of goodness. And for those keen on amplifying their health quotient, the green juices, combining leafy greens with fruits, are a nutritional powerhouse.
Nut milks, often purchased from stores with added preservatives, can now be crafted at home. Almonds, cashews, or even oats - soak them, blend them, and have your fresh milk ready, minus the additives. And for the wheatgrass aficionados, the C6500 ensures that you get that concentrated shot of health every single time.
Expand Your Culinary Horizons with Optional Strainers
Your juicing journey doesn't end with juices. With the optional sorbet and smoothie strainers, the C6500 transforms into a multi-functional culinary tool. Imagine turning frozen fruits into creamy sorbets, or blending a mix of fruits, veggies, and nuts into a rich smoothie. These strainers ensure that whether you're in the mood for a chilled summer delight or a fibrous drink, the C6500 has you covered.
Key Features of the Kuvings C6500 Juicer
Dive into the details, and you'll realize why the C6500 stands out. Its compact design ensures it snugly fits into any kitchen without consuming much space. The wide mouth, a standout feature, allows whole fruits and vegetables to be juiced, simplifying the process manifold. The strainer, designed to perfection, ensures juices are clear, and plant-based milks are devoid of any residual bits. And if you're an early bird or a night owl, the quiet operation ensures your household remains undisturbed. Cleaning, usually a concern, becomes the least of worries, especially with the tools provided. The product also boasts an impressive warranty span - 20 years on the motor and 5 years on parts. And for those looking to explore more, the optional accessories are a gateway to a realm of culinary adventures.
Unboxing the Kuvings C6500 Cold Pres Juicer
Every component of the C6500 is crafted with precision. From the robust base that ensures 45 minutes of continuous juicing, to the upgraded juice bowl and lid, each part has its significance. The juice strainer, improved from the B8000, promises super fine juice with minimal pulp. Accompanied by pulp and juice jugs, a pusher, a lid opener, a detailed recipe book, and cleaning tools, the package is comprehensive. And as a cherry on top, Kuvings offers valued customers access to Level 1 of their Online Juicing Course, absolutely free!
Technical Specifications of the Kuvings C6500
Delving into the technicalities, the C6500 is not just a marvel in design but also in engineering. With a GTIN of 8809039109867 and a unique silver color, it's visually appealing. As a vertical low-speed masticating juicer, it operates at a speed of 50 RPM, consuming 248W of power at 240V. Measuring at 228 x 208 x 448mm and weighing 6.4kg, it's compact yet robust. With a 400ml capacity and materials like Ultem, Tritan, ABS, and PC, durability is guaranteed.
With this in-depth look, it's evident that the Kuvings C6500 Professional Cold Press Juicer is not just a product, but an experience, promising not just juice, but a lifestyle of health, flavor, and vitality.