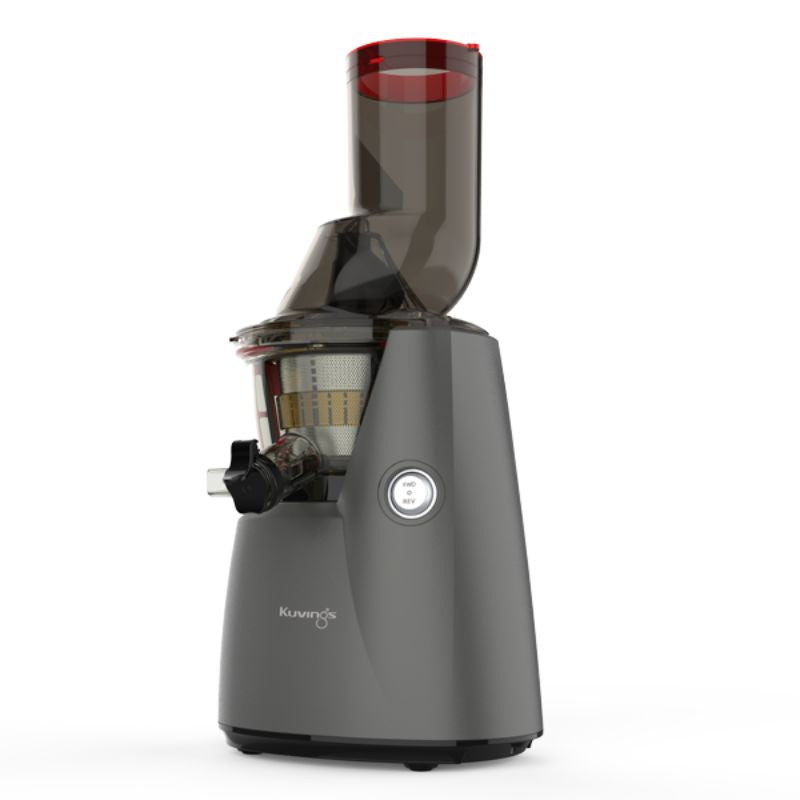 Kuvings B8000 Domestic Cold Press Juicer
Description

Specifications

Reviews

Shipping & Returns
Meet the 
Kuvings B8000 Domestic Cold Press Juicer
Kuvings design and manufacture their products with precision, durability and easy of use in mind and their entry level B8000 model is no exception. This juicer is the perfect fit for newcomers just getting into juicing or budget-conscious shoppers who do not wish to compromise on quality. While it might be an introduction to the Kuvings range, the B8000 is crafted with the brand's signature expertise and craftmanship. Whether you're starting your juicing journey or looking for an affordable upgrade, this juicer promises to deliver nutrient rich juices and sorbets without burning a hole in your pocket. Dive in below to see why the Kuvings B8000 is the smart choice for the discerning, yet budget-aware juicer.
Kuvings B8000 Features: Elevate Your Juicing Experience
Superior ULTEM Screw and Strainer
The Kuvings B8000 boasts of an ULTEM juicing screw and strainer. ULTEM isn't just any material. It's an eco-friendly and incredibly robust substance trusted by sectors like aerospace and medical equipment. In fact, this material is so exclusive that it's not commonly found in most juicers. Using this top-notch material gives the Kuvings B8000 a significant advantage in quality and performance.
Eco-Conscious Tritan Juicing Drum
Safety and environmental consciousness are at the forefront with the Kuvings B8000's juicing drum made of TRITAN. This BPA-free material is endorsed by global health authorities, ensuring that your juice is as clean as the environment the juicer supports.
Advanced Low-Speed Masticating Technology
The Juicer Module Comprising System (J.M.C.S), a unique technology from Kuvings patented across 50 nations, is the heart of the B8000. This technology ensures:
Gentle squeezing of fruits to produce natural and pure juice.
A systematic squeeze-through, from a narrow section guiding the ingredients to a broader section pushing the ingredients for efficient juice extraction.
Coupled with a powerful motor, this design promises maximum juice yield.
In-House Manufactured Motor
Kuvings doesn't rely on third parties for their motors. The 240W AC induction motor, manufactured in-house, guarantees consistent high-quality performance. It's not just powerful, but also impressively quiet.
Multi-Functional Smart Cap
The Smart Cap on the B8000 enhances the juicing experience by providing:
Drip-free juicing to keep your kitchen spotless.
Juice blending capabilities for diverse juice combinations.
Effortless rinsing by simply running water through the juicer.
User-Friendly Wide Feed Chute
Thanks to the 7.6cm wide feed chute, the B8000 allows users to juice whole fruits and vegetables. This design element significantly trims the preparation time, making the juicing process up to 40% faster.
Bonus Features
The juicer isn't limited to just juicing. It comes equipped with a sorbet maker, letting you indulge in delectable sorbets and frozen desserts.
Emphasis on Safety
The B8000 ensures user safety with features like:
A 2-Step Fail-Safe Operation mechanism ensuring the juicer only works when assembled correctly.
An efficient heat control system with strategically placed heat vents for prolonged operation and an automatic shutdown feature to prevent overheating.
Rubber feet to provide stability during operation.
Who is the Kuvings B8000 Cold Press Juicer For?
This CHOICE awarded juicer is perfect for those new to juicing or on a budget, yet wish to relish top-notch cold-pressed juice. The B8000 Juicer is a match for individuals who:
Just beginning their juicing journey or operating on a budget.

Comfortable with a little bit of prep work. Though the B8000 Juicer boasts a wide 7.6cm feeding chute for whole fruits like apples, pears, and oranges, certain tougher produce such as carrots and beetroots might need pre-juicing cuts.

Capable of using the included pusher to guide whole fruits past the 'safety fin.'

Like a little bit of pulp in their juice, though a strainer easily remove this for a smoother juice.

Don't mind feeding the juicer a little slower, being an entry-level model it prefers to not have too many items fed in all at once.

In search of an exceptional cold-pressed juicing experience without a hefty price tag.

Keen to make sorbets, ice creams, nut milks, baby foods, as well as freshly pressed juice.
What's in the Box?
Your Kuvings B8000 comes loaded with:
Bonus Sorbet Maker Strainer
Continuous juicing enabled Base (Motor)
Juice Bowl and Lid with a silicone plug
A Pusher to guide your produce
Ultem press (auger) for efficient juice extraction
Cleaning tools, including a patented Green Cleaning Tool and a White Cleaning Brush
Jugs for juice and pulp collection
A comprehensive Kuvings Recipe Book with a plethora of recipes.
What Makes the Kuvings B8000 Domestic Juicer Stand Out?
From the delicious fresh juices, included sorbet maker to create tasty frozen treats to its wide feeding chute for whole fruit juicing, the B8000 is packed with features. Its super quiet operation ensures a serene juicing atmosphere. Designed to yield nutrient-rich juice with minimal oxidation and equipped with an eco-friendly auger, this juicer is a blend of efficiency and care. With a 3.5HP Motor capable of a 30-minute continuous run, the B8000 ensures longevity and reliability.
Model: Kuvings B8000 Grey
Colour: Gunmetal Grey
Type: Vertical low-speed masticating
Speed: 50 RPM
Wattage: 248W
Voltage: 240V
Dimensions: 228 x 208 x 448mm
Weight: 6.4kg
Capacity: 400ml
Usage: 30 minutes continuous juicing
Materials: Ultem, Tritan, ABS, PC
Country of Manufacture: South Korea