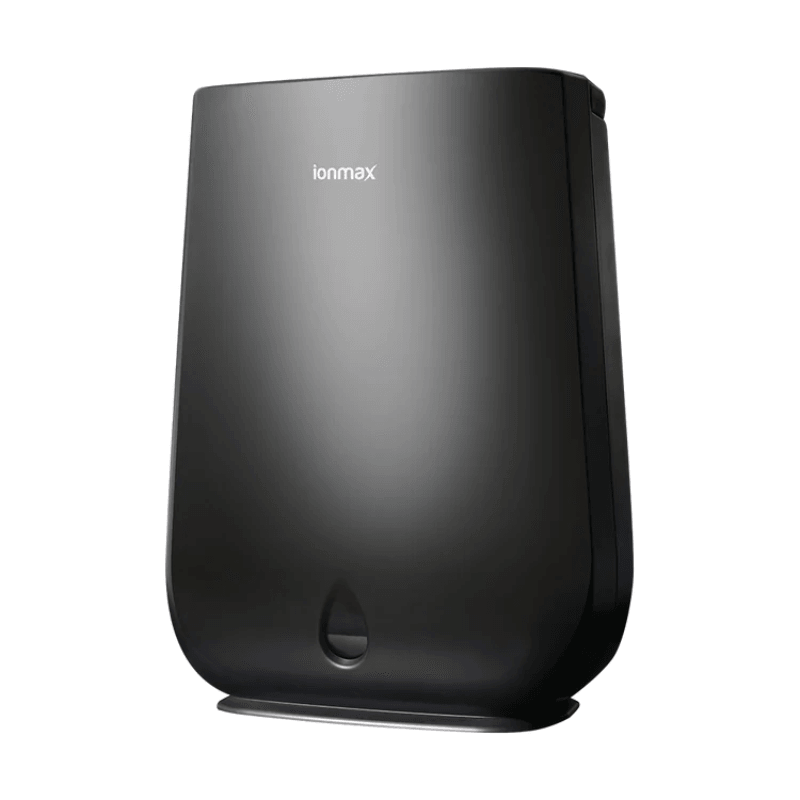 Ionmax Vienne 10L Desiccant Dehumidifier - ION630
Description

Reviews

Shipping & Returns
Ionmax Vienne 10L Desiccant Dehumidifier ION630: The Perfect Desiccant Dehumidifier to Combat Humidity, Mould and Excess Moisture 
When it comes to maintaining a comfortable and healthy indoor environment, the Ionmax Vienne 10L Desiccant Dehumidifier ION630 stands out as one of the best choices. With its advanced features and efficient performance, this desiccant dehumidifier ensures that your home or workplace remains free from excess moisture, humidity and mould, protecting you and your belongings and ensuring a fresh, dry indoor environment. Being a desiccant model, it is suitable for any season and can operate in temperature from 1 – 40°C.
Ionmax Vienne, Excellent Dehumidification for Large Spaces
The Ionmax ION630 Vienne Desiccant Dehumidifier is designed to impress. With a daily dehumidification rate of up to 10L, it's perfect for larger areas, covering up to 42m2. Whether you live in a spacious apartment or a sizable home, this dehumidifier is your answer to persistent humidity issues.
What sets the Ionmax Vienne apart is its self-regenerating Zeolite desiccant. This means you won't have to worry about replacing parts. It also comes with a built in air filter that captures larger airborne particles like dust and pet hair which helps keeps your air not only dry but clean as well. 
Features That Make the Vienne 10L Desiccant Dehumidifier Standout
Extraction Rate:

Efficiently removes up to 10 Liters of moisture per day.

Timer Functionality:

Set it between 1 to 12 hours based on your needs.

Tank Capacity:

A large 4.2L tank ensures longer operation times.

Continuous Drainage:

For those who prefer a hands-off approach.

Laundry Mode:

Speed up the drying of your wet clothes.

Minimal Maintenance:

Only requires a vacuum of the filter every now and then.

Optimal Performance in Cool Climates:

Works efficiency in cold temperatures down to 1

°C right up to 40°C.

Built-In Ioniser:

Purifies the air for that extra touch of freshness in your home.
Protecting Your Home and Belongings
Excessive humidity can be considerably troublesome. From causing mould and mildew to grow, damaging wooden floors, carpets, furniture and clothing, the effects of high humidity can be quite destructive. The Ionmax ION630 actively works to maintain an optimal indoor humidity level, ensuring the longevity of your home and its contents.
The Perfect Companion for Indoor Laundry
Rainy days or limited outdoor space shouldn't stop you from having dry clothes. The Ionmax ION630's laundry mode is designed to efficiently dry wet laundry indoors. It's a lifesaver, especially for those who do not use a tumble dryer.
Desiccant Dehumidifiers: A Choice for All Seasons
Whether it's the peak of summer or the depths of winter, the ION630 provides consistent performance. Its ability to reduce humidity to as low as 40%RH makes it a standout choice.
Easily Control Humidity Levels
With the Ionmax Vienne, you're in control. The digital display provides a clear view of the current indoor RH levels. Plus, with its built-in ioniser, you're not just controlling humidity; you're also revitalising the indoor air.
Relative Humidity Levels:
Set between 40% to 60%RH in 5%RH increments.

60% for energy-saving and quiet operation.

50-55% to inhibit mould and bacteria growth.

40-45% for super dry mode to prevent condensation.
Power Levels:
Auto: For automatic operation.

Low: Energy-saving with minimal noise.

High: Rapid dehumidification.

Laundry (Continuous): For faster clothes drying in winter.
Large Water Tank
The ION630's water tank is designed with the user in mind. With a 4.2-liter capacity, you won't be emptying it frequently. And if you prefer continuous drainage, there's a provision for that too.
Ionmax Vienne 10L Desiccant Dehumidifier
Additional Features
Low Noise Levels: Operates between 35 to 46 dB.

Eco-Friendly: No greenhouse gas emissions.

Timer: Up to 12 hours for your convenience.

Portability: Comes with a carry handle for easy movement.
Extended Warranty for Peace of Mind
Ionmax believes in the quality of their products. Register your ION630 within 30 days of purchase and enjoy an extended warranty of 4 years. To register you unit, click here.
Ionmax Vienna Frequently Asked Questions (FAQ)
Q. How often should I clean the air filter?
A. It's recommended to vacuum the air filter regularly to ensure optimal performance.
Q. Can I use the ION630 in cooler climates?
A. Absolutely! The Ionmax Vienne is designed to work efficiently in both warm and cool climates.
Q. Is there a continuous drainage option?
A. Yes, the ION630 supports continuous drainage. Simply connect the provided hose to the water tank.
Q. What is the warranty period?
A. The standard warranty is 2 years. However, by registering your appliance within 30 days of purchase, you can extend it to 4 years.
Q. How does the built-in ioniser work?
A. The ioniser emits negative ions to refresh and revitalise the indoor air. Simply press the "ION" button to turn it ON or OFF.
To see our full range of dehumidifiers click HERE
Specifications
Coverage Area: Up to 42m2

Moisture Removal: 10 Litres a Day (at 20°C RH60%)

Noise Level: 35 - 46 dB

Tank Capacity: 4.2 Liters

Power Consumption: 420 - 740W

Dimensions: 37.9 x 23.9 x 52.0 cm

Weight: 7.5 kg

Warranty: 4 Years upon Registration