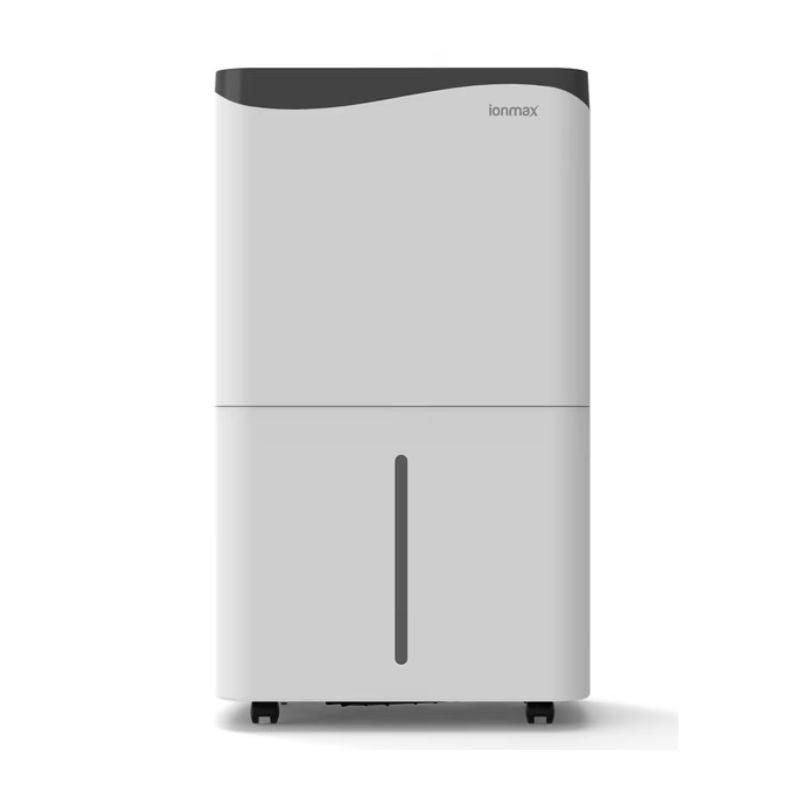 Ionmax Rhine 50L Dehumidifier
Description

Specifications

Reviews

Shipping & Returns
Say goodbye to mould, humidity and excess moisture with the Ionmax Rhine ION650 50L Dehumidifier.
The Ionmax Rhine Dehumidifier quickly eradicates mould growth with it's large 50 litre per day moisture removal capacity. Ideal for large areas of up to 260m³, this dehumidifier can dry your room fast and keep it dry for as long as you need.
Ionmax Rhine Dehumidifier Standout Features
 FULL CONTROL OVER HUMIDITY LEVELS
Adjust the relative humidity and power levels for energy-saving operation or quick laundry drying.
 SAFE TO USE UNATTENDED
Auto mode with built-in humidistat. Switches off automatically when the tank is full and restarts after a power cut.
 REMOTE MONITORING
Monitor indoor relative humidity and adjust settings remotely via the app.
COVERAGE OF UP TO 260M³
Move it around your home using the integrated carry handle and four castor wheels underneath.
 WASHABLE AIR FILTER
Removes larger airborne particles from your air like dust and hair.
 HIGH PERFORMANCE COMPRESSOR
Large coverage area with low energy consumption. CFC-free R134a refrigerant.
 LARGE WATER TANK AND CONTINOUS DRAINAGE
5.1 Litre water tank for large collection and included drainage hose for continuous drainage use.
Ionmax Rhine Dehumidifier Usages
The Rhine 50L Dehumidifier is perfect for people who have been affected by water ingress from floods or heavy rain. The quickest, safe way to dry a space is with a large capacity dehumidifier. With the 50L capacity you will soon have your home dry and back to a comfortable living environment.
Stop mould, mildew and dust mites from growing and breeding. Mould, mildew and mites love humidity and will quickly spread if your indoor humidity is high. By bringing your relative humidity down to 50-55% will ensure mould, mites and mildew cannot grow, spread or breed. 
Dry clothes quicker without the need for a clothes dryer. When hanging your clothes near the Rhine Dehumidifier, they will dry much faster than air drying alone. Also the evaporating moisture from the clothes will be removed from your air instead of adding to your moisture issues.
Designed for warmer climates or heated environments, the Rhine works best when used in temperatures 20C or above.
Smart app connectivity and operation
The Rhine 50L Dehumidifier comes with smart app technology. Download the app on IOS or Android so you can view and monitor your dehumidifier and room conditions. Via the app you can see the relative humidity of your room and adjust any setting you need remotely from the apps interface.
This simple to use app runs on Wi-Fi so as long as your room has signal, you can monitor and control your Rhine Dehumidifier from anywhere in the world. Super handy if you are travelling or on holidays.
Easy to move from room to room
The Rhine comes with solid and durable castor wheels which makes moving it around your home or office simple and hassle free. It also has built in carry handles making it much easier to carry up stairs or into areas where wheels won't allow.
All Ionmax Rhine Dehumidifier Features
Compressor dehumidifier

 

- suitable for warm climates
Environmentally friendly

 

- uses eco-friendly R290 refrigerant
Moisture removal

 

- 50 litres/day (30°C RH80%)
Water tank capacity

 

- 5.1 litres
Digital humidity display

 

- set and view relative humidity levels with ease
Up to 24-hour timer

 

- for added convenience
Continuous mode

 

- dry laundry faster indoors
Temperature range for use

 

- 5°C to 35°C
Ergonomic carry handle and universal wheels for easy portability
Removable water tank
Auto pause and restart function to save energy -

 

pauses dehumidification once the desired humidity level has been reached and restarts on previous settings if the humidity level increases
Washable pre-filter -

 

removes large particles such as dust and hair from dehumidified air
Continuous drainage option -

 

drainage hose provided
WiFi app control

 

- remote monitoring and settings via mobile app
Model: Ionmax Rhine ION650
Voltage: AC 220V 50Hz
Power consumption: 793W
Net weight: 19kg
Dimensions (W x D x H): 368 x 256 x 620mm