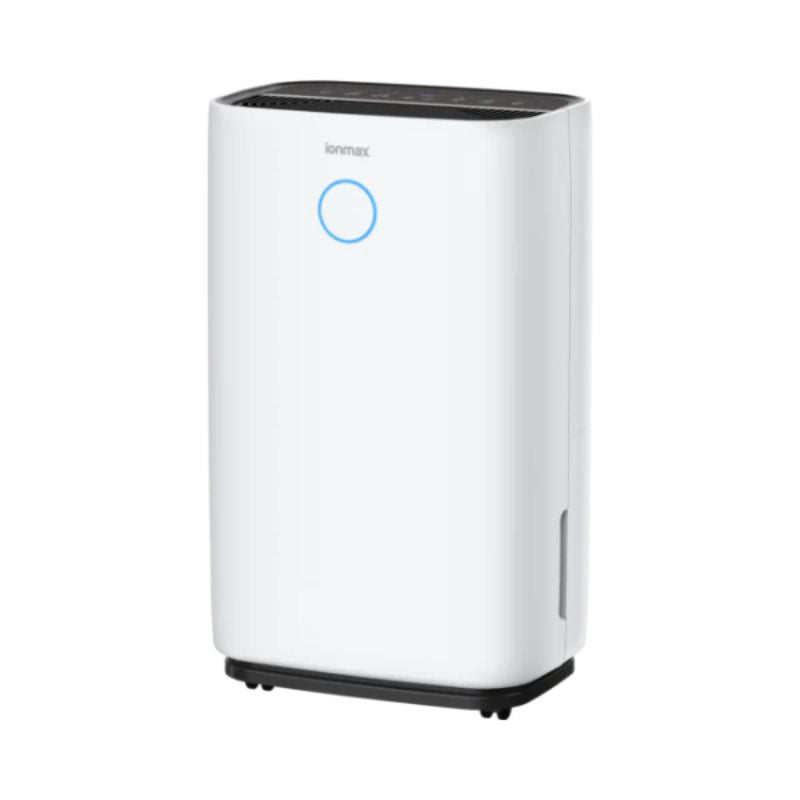 Ionmax Leone 25L Compressor Dehumidifier - ION625
Description

Specifications

Reviews

Shipping & Returns
If you're looking for an effective and eco-friendly solution to protect your home or office from moisture damage, the Ionmax Leone ION625 Compressor Dehumidifier is the perfect choice. With its high-performance compressor, this unit can remove up to 25 litres of moisture from the air every day, making it ideal for rooms of up to 95m³.
The Ionmax Leone is designed for convenience, with a large 4-litre water tank and a hose provided for continuous drainage. It's also easy to monitor and control through the Ionmax app, which allows you to adjust settings or check on its performance from anywhere.
Invest in the Ionmax Leone ION625 Compressor Dehumidifier today for healthier indoor air and foolproof moisture damage protection.
Key features of the ION625 dehumidifier
Full control over humidity levels
Adjust the relative humidity and power levels for energy saving operation or quick laundry drying
Easy to move 
Built in castor wheels and carry handle make moving the ION625 very easy
Smart technology 
With Wi-Fi included you can monitor your humidity levels as well as adjust settings remotely via the Ionamx app for remote monitoring and setting adjustment
Large 4L water tank 
This large 4L litre tank you won't need to empty the unit too often
Air filter 
Included with the unit is a large particle air filter that traps particles like dust and hair before they go into the unit. giving you cleaner air in your home
Continuous drainage function 
With the supplied hose you can set the unit to drain continuously
Safe to use unattended
Auto mode with built-in humidistat. Switches off automatically when the tank is full and restarts after a power cut
Ionmax 2+2 year Australian warranty
Get an extra 2 year warranty at no cost and have peace of mind, knowing you are covered for a full 48 months from date of purchase. All you have to do to receive the extra 2 years warranty is register your purchase within 30 days of your order. Click HERE to register.
If you're looking for an effective solution to protect your home or office from excess moisture, the Ionmax Ion622 25L dehumidifier is a great investment.
Coverage Area
Up to 95m³
Daily dehumidifying rate                                                                      
25L (30°C, 80% RH)
Temperature range for use                                                                  
5 - 35°C (Optimal temp +20°C )
Tank Capacity                                                                                        
4 Liters
Input voltage                                                                                          
220-240V, 50Hz
Power Consumption                                                                              
395W
Weight                                                                                                    
14.5 kg
Dimensions                                                                                            
57 x 23.7 x 34.3 cm
Warranty                                                                                                 
4 Years Warranty In Registration