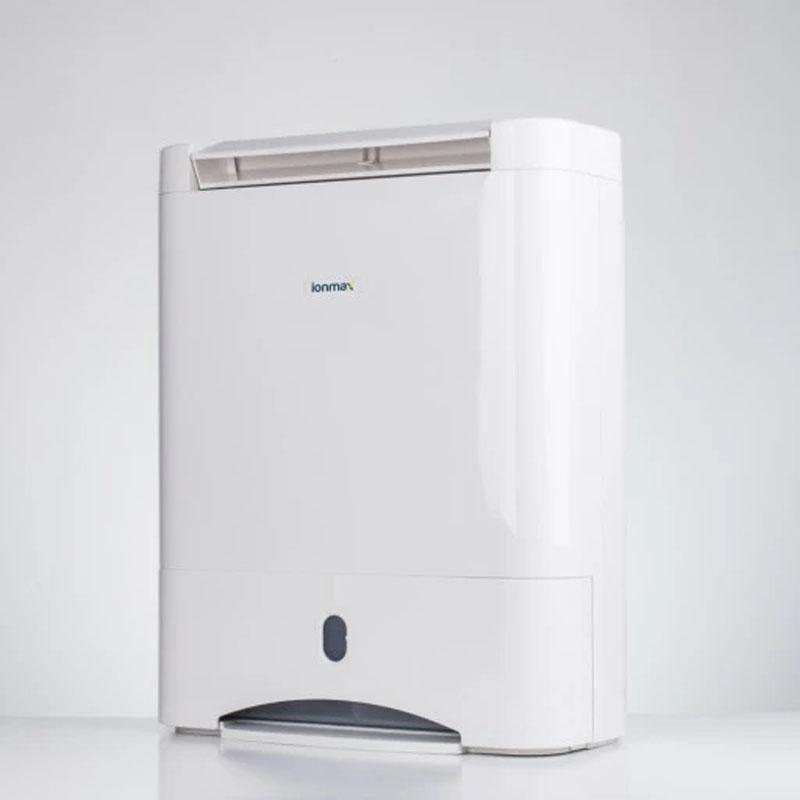 Ionmax ION632 10L Desiccant Dehumidifier
Description

Specifications

Reviews

Shipping & Returns
The Ionmax ION632 Desiccant Dehumidifier is a great choice for open planned spaces in you home or office. Suitable for up to 50m², it will quickly reduce moisture and protect you from mould and mildew.
The Ionmax ION632 10L/day Desiccant Dehumidifier helps you to maintain an optimum level of humidity in your home or office. It helps to reduce common problems such as the growth of mould and mildew, sinuses, asthma, skin problems, rotting furniture, and bacteria that are caused by air that's too humid or damp.
The CHOICE recommended Ionmax ION632 Desiccant Dehumidifier ION632
This is a versatile unit with some handy features to help keep your space, clean and dry. By using the ION632 you can stop issues caused from excess moisture build up such as mould on your clothes and furniture, condensation build up on windows and help improve repertory conditions like asthma.
Laundry Mode
This smart dehumidifier also features a Laundry Mode that will help you efficiently dry out damp clothes indoors.
Built-in Heater and Air Filter
Versatile as well, the ION632 has a built-in heater and air filter that helps to warm and clean the air at the same time.
Removable tank
The ION632′s removable 3.5L water tank comes with carry handles for your convenience. You can also opt for continuous drainage with the supplied 1m hose.
Easy-to-use humidistat
The built-in humidistat lets you precisely set the relative humidity you wish in the house.

Highly rated and recommended by CHOICE
Reviewed and highly recommended for excellent water removal, the ION632 has been one of the Top Recommended dehumidifiers by CHOICE.
Excellent humidity control
Efficiently dehumidify your home or office with the ION632. Offering powerful performance and fast dehumidification for large areas up to 50sqm, our dehumidifier is perfect for large homes and offices.
Improved humidity controls
4 RH LEVELS
60% - For maximum energy saving and quiet operation
50% - Inhibit mould and bacteria growth
40% - Super dry mode to prevent condensation
Laundry (Continuous) - Dry clothes faster during winter
3 POWER LEVELS
 Auto - Convenient automatic operation
Low (Quiet) - Power saving and low noise daily use
High - For rapid dehumidification
Large area coverage
Covers large areas from 30 to 50 m2 and provides thorough room coverage with its automatic louvre and three-directional adjustment
SAVE COSTS BY RETURNING ENERGY TO YOUR HOME
Additionally, much of the energy used by the dehumidifier is returned to the room as soothing warmth, cutting down your heating bill especially during winter months
Energy efficient
Removes high volumes of moisture in a shorter amount of time compared to other types of dehumidifiers
Silver nano technology filter
Prevents the growth of bacteria on the filter, improving the quality of air in your home
Low maintenance 
Simply vacuum the filter regularly to keep the ION632 working in top condition. Plus there are no parts to replace, thanks to the Zeolite (used as desiccant in the ION632), which regenerates itself!
Protects your home
By lowering and helping to maintain an optimal humidity level indoors, the ION632 dehumidifier can help prevent mould and mildew, protect leather, wood flooring and furniture, delicate instruments and equipment, and prevent walls and ceilings from rotting or peeling due to excessive moisture.
Dry indoor air efficiently
Pulls excess moisture from the air and helps to dry damp rooms, clothes or laundry more efficiently indoors. This is especially during cold winter months when ventilation is poor and indoor areas take longer to dry, causing humidity problems.
User friendly water tank

A cleverly designed water tank makes checking and emptying the tank easy every time
Large 3.5L water tank
Water level viewer
Carry handle
Hand grip to pull water tank out
Continuous drainage option (a hose is provided)
Returns
Please choose carefully as this item cannot be exchanged or refunded if you simply change your mind or if you made an incorrect purchase. 
To learn more about Dehumidifiers have a look our Ultimate Dehumidifier Guide HERE
| | |
| --- | --- |
| MODEL NO. | ION632 |
| INPUT VOLTAGE | 220-240V AC ~50Hz |
| POWER CONSUMPTION | 420 – 740W |
| COVERAGE AREA | 30 - 50 sqm |
| DAILY DEHUMIDIFYING RATE | 10L (20°C, 60% RH) |
| TANK CAPACITY | 3.5L |
| NOISE LEVEL | 51 dB High / 44 dB Low |
| PRODUCT WEIGHT | 7.8kg |
| DIMENSIONS | H: 520mm, W: 416mm, D: 186mm |
| WARRANTY | 2 year |
Great dehumidifier
We purchased this dehumidifier as we already had one of this model and have been happy with it, although needed one for the other end of our house. It does a wonderful job of removing excess moisture in the air and we would never buy any other brand of dehumidifier.
Mould and smell gone.
Ran the dehumidifier in two bedrooms for a few hours a day over several days and the amount of water collected was amazing. When my son visited he commented on the fresh smell immediately.