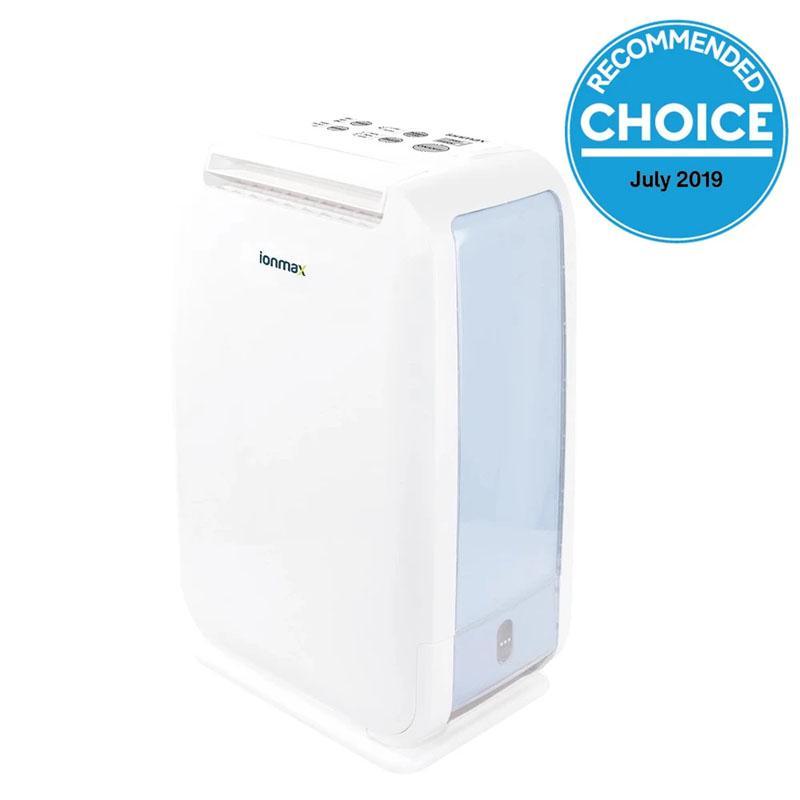 Ionmax 6L Cool Season Desiccant Dehumidifier
Description

Specifications

Reviews

Shipping & Returns
The Ionmax ION610 desiccant dehumidifier is an effective and user-friendly device that helps control humidity in your home. With the capacity to remove up to 6 litres of moisture daily, this dehumidifier is suitable for areas up to 25m2.
ION610 6L desiccant dehumidifier standout features
Precise humidity control
The ION610 comes with four relative humidity settings that let you have full control on your humidity levels. These include:
60% for maximum energy-saving and quiet operation
50% to inhibit mould and bacteria growth
40% for super-dry mode to prevent condensation
Laundry (Continuous) to dry clothes faster during winter.
3 power level settings
Auto - for hassle free operation
Low (Quiet) - for power saving and minimal noise for regular daily use
High - for rapid dehumidification
Antibacterial dust filter
At the back of the ION610 has an antibacterial dust filter that captures larger particles such as hair and dust before they enter the machine. This helps improve your indoor air as well as prevent bacteria from growing in the filter and unit
Zeolite desiccant
The Ionmax 610 uses a Zeolite desiccant to remove unwanted moisture from your air. Being a desiccant unit the Zeolite doesn't require replacing, as it regenerates itself to continue dehumidifying when you need it to. 
Excellent air circulation
The ION 610 has built in auto swing electronic louvres that help disperse dry air back into your room more efficiently. This compact unit can cover large areas of up to 25m² and with the inbuilt carry handle it is easy to move to other rooms.

Ideal for cold and warm climates
Desiccant dehumidifiers are versatile appliances that are effective in both cool and warm weather conditions. In contrast, compressor type dehumidifiers are best suited for use in warm climates and may not function optimally in colder environments. The ION610 desiccant dehumidifier, for example, is engineered to deliver consistent performance in a broad temperature range of 1°C to 40°C. Additionally, it has the capability to reduce humidity levels to as low as 35% RH.
Safe operation
The Ionmax ION610 desiccant dehumidifier comes equipped with several safety features that make it safe to use even when unattended. These features include adaptive control, fall-down shut off, water-full shut off and abnormal temperature detection, as well as an auto-restart function that ensures seamless operation even after a power cut. Additionally, the appliance has a function retrieval feature that restores its settings to the previous state, further enhancing its safety and convenience.
Other features
Large 1.8L water tank with a water level indicator
Continuous drainage option
Extended Warranty for Peace of Mind
Rest easy with Ionmax's 2+2 year Australian warranty. To get the additional 2-year coverage, ensure you register your purchase within 30 days. Click HERE to register.
Summary
The Ionmax ION610 desiccant dehumidifier is a high-performance appliance that effectively eliminates moisture from the air, making it ideal for use in various environments. With its energy efficient operation, versatile temperature range, and multiple safety features, it provides users with a convenient and reliable solution for controlling humidity levels.
It's important to note that the device will increase the room temperature by approximately 2-3 degrees during operation, depending on the room size.
Dimensions       
Height: 44.5 cm
Width: 26.9 cm
Depth: 17.4 cm
Weight                                                                                                 
5.1 kgs
Room Size                                                                                           
15-25 m2
Input Voltage                                                                                      
220-240V AC ~50Hz
Power Usage                                                                                      
280 - 460 watts
Noise Level                                                                                         
Low: 34 dB(A)
High: 45 dB(A)
Daily Dehumidifying Rate                                                                  
6L (20°C, 60% RH)
Tank Capacity                                                                                     
1.8L
Warranty                                                                                             
4 Years Warranty In Registration