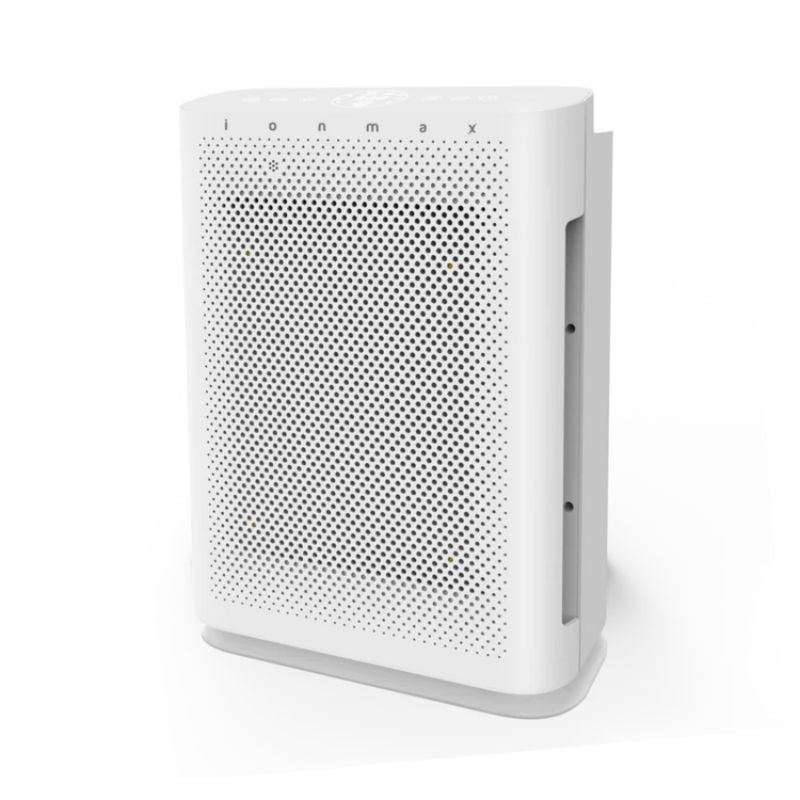 Ionmax Breeze Plus 5-Stage Air Purifier - ION422
Description

Reviews

Shipping & Returns
Ionmax Breeze Plus 5 Stage Air Purifier: The Compact Powerhouse for Clean Indoor Air
The Ionmax Breeze Plus Air Purifier is a powerful and compact smart air purifier. Designed for small to large areas of up to 66m², it meticulously combats indoor air pollutants such as allergens, pollen, mould, bacteria, viruses, dust, smoke, odours, pet hair and dander, and all other airborne pollution. With its advanced five-stage air purification system, which includes a Hospital Grade H13 HEPA filter and UV-C light, you're guaranteed fresh and clean air 24/7. If you suffer from allergies, respiratory irritations, or simply desire cleaner indoor air, the Breeze Plus 5 Stage Air Purifier is an excellent and affordable choice.

Why Choose Ionmax Breeze Plus 5 Stage Air Purifier?
Comprehensive 5-Stage Purification
Pre-filter:

Acting as the first line of defence, the pre-filter captures larger airborne particles such as pet hair and dust, ensuring the subsequent filters can focus on the finer pollutants.
HEPA H13 Filter:

The antiviral, hospital grade HEPA H13 filter is the highest grade of HEPA filter for residential purifiers. It traps an impressive 99.97% of airborne particles as small as 0.3 microns.
Activated Carbon Filter:

Removes unpleasant odours such as cooking smells, smoke, VOCs, chemical fumes and vapours, ensuring a cleaner smelling air.
Germicidal UV-C Light:

This UV-C light is a silent germ fighter, inactivating harmful viruses and bacteria, ensuring they don't become airborne threats
Ioniser:

Elevating the overall air quality, the ioniser releases negative ions to assist in the removal of airborne particles. This feature can be turned on or off via the control panel as needed.
Ionmax Breeze Plus User-Friendly Operation
Wi-Fi Connectivity (Optional)


While the Ionmax ION 422 Breeze Plus offers Wi-Fi connectivity for those who prefer a smart home setup, it's not a necessity. The unit operates seamlessly with or without an internet connection, ensuring you're always in control.
Smart App Wireless Control


If you choose to connect the unit to the internet, the IONMAX app offers unparalleled convenience. Monitor indoor air quality, including PM2.5 dust particle levels, and adjust settings remotely. As mentioned above, using the internet and the app is optional, the purifier works perfectly without the need for an internet connection.
Inbuilt Air Quality Display


Stay informed with the intuitive four-colour LED display that provides real-time feedback on your indoor air quality. From blue (good) to red (very poor), you're never left guessing.
Sleep Mode:

With Sleep Mode turned on, the display lights will turn off and the unit will run on a whisper quiet setting for minimal nighttime sound.
Auto Mode


Embrace simplicity with the auto mode. The ION 422's inbuilt air pollution sensor detects changes in air quality and adjusts fan speeds accordingly, ensuring optimal air quality without any manual intervention.
Breeze Plus Air Purifier Room Size
The Ion 422 Breeze Plus is a versatile model, ideal for spaces ranging from cosy bedrooms to spacious living areas, covering up to 66m². With a CADR rating of 255m³, it is an efficient and powerful air purifier. Its lightweight design and built-in carry handle make moving it from room to room a breeze.
Extended Warranty for Peace of Mind
Rest easy with Ionmax's 2+2 year Australian warranty. To get the additional 2-year coverage, ensure you register your purchase within 30 days. Click HERE to register.
Key Features at a Glance
5-stage filtration system

Optional Wi-Fi connectivity

H123 HEPA Filter

Auto mode with air quality sensor

Sleep mode

Digital air quality monitor

UV-C Light for germicidal action

Ioniser

Timer functionality (up to 9 hours)

Child lock feature for safety

Coverage up to 66m² (NRCC standard) with a CADR of 255m³
Ionmax  Breeze Plus 5-Stage Air Purifier Frequently Asked Questions (FAQ)
Q. Wi-Fi necessary to operate the Ionmax Breeze Plus?
A. No, the Ionmax ION 422 Breeze Plus operates efficiently with or without Wi-Fi. The connectivity is an added feature for those who prefer remote control via the app.

Q. How often should I replace the filters?
A. For typical usage, the filter life is approximately 12 months. However, always refer to the filter replacement indicator on the device.

Q. What does the 2+2 year warranty cover?
A. The warranty covers any manufacturing defects for up to 4 years.
Q. Is the Ioniser safe?
A. Absolutely. The Ioniser releases negative ions to improve air quality, and you have the option to turn it on or off as needed
For those seeking a comprehensive solution to indoor air pollution, the Ionmax Breeze Plus 5-Stage Air Purifier stands out. With its advanced features, user-friendly design, and optional smart connectivity, it's a valuable addition to any home. For more air purifier options, click here to explore our range.