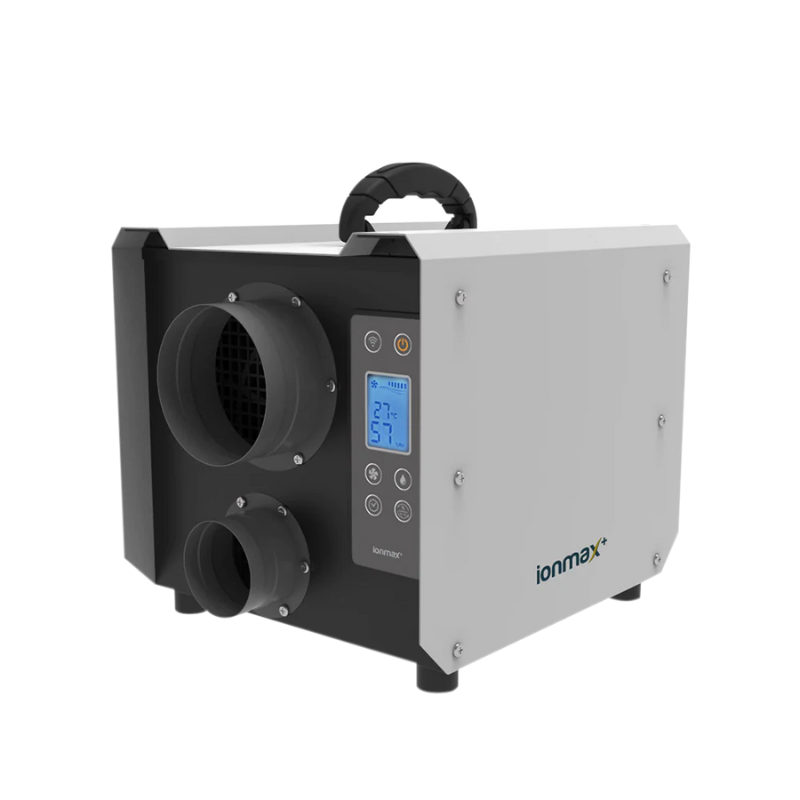 Description

specifications

Reviews

Shipping & Returns
Dry and purify the air in your entire building with the Ionmax Ion+ ED18 dehumidifier/air purifier
The ED18 is an Industrial-grade desiccant dehumidifier that can dry an entire building as well as purify your indoor air. It has an impressive 19L/day heavy moisture removal capacity and works equally well in cold weather as it does hot. In fact it will still work at temperatures as low as -20C, making it perfect for year round use anywhere in Australia.
Ion+ED18 standout Features
Continuous 24/7 operation
The dehumidifier is designed to operate non-stop, 24 hours a day, 7 days a week. This means it can effectively reduce humidity levels in your space all day and night, year-round. Unlike other dehumidifiers, there is no need to empty the tank periodically, making it a low-maintenance solution for keeping your space dry.
Large coverage
Doubles as a HEPA Air Purifier
The ED18 comes standard with a washable antibacterial pre-filter included, which helps to remove airborne particles such as dust and pet dander. If you want to boost your air purification, optional standard HEPA or deodorising HEPA filters available as optional extras. This means you can easily customise the unit to meet your specific air quality needs.
Remote monitoring & setting via app
You can conveniently adjust and monitor the dehumidifier's settings from anywhere using the mobile app. This means you don't need to be physically present to make changes to the unit's settings. Additionally, there is no need for an external humidistat control installation, saving you time and money.
Customisable installation
The dehumidifier is designed to be versatile and can be used as is or mounted using suitable screws. This means you can choose the installation method that works best for your space. Ducts and screws can be sourced from local hardware stores.
How does the Ion+ ED18 dehumidifier work?
Air suction and filtration: The air to be processed is drawn into the cabinet through a filter by a centrifugal fan.

Moisture removal: The pressured air passes through a desiccant rotor, which removes moisture from the air and leaves it dry. The dry air is then released through the main outlet.

Rotor regeneration: A motor slowly drives the rotor through a heater-collector portion, where the moisture on the rotor evaporates out and is directed to the wet air outlet. This process regenerates the rotor for later moisture absorption.

Wet air removal: A small portion of the pressured air, called wet air, passes through a heater to be heated up and then passes through the rotor to release moisture. Compared to conventional 25L dehumidifiers that work efficiently at temperatures below 25°C, this dehumidifier works 4-6 times mor efficiently.
Optional HEPA Filters
The Ionmax+ ED18 Dehumidifier offers the option to use HEPA filters for enhanced air purification. By default, the dehumidifier comes with a washable antibacterial pre-filter that captures larger particles, but if you want to further improve the air quality in your space, you can purchase the optional and compatible HEPA or Deodorising HEPA ED18 filters.
For optimal air treatment performance, it is recommended to replace your HEPA or Deodorising HEPA filter every 6 months. This will ensure that the filter continues to effectively capture small particles and pollutants in the air.
If you are using the Ionmax+ ED18 Dehumidifier with a HEPA filter, the Ionmax+ ED18 HEPA Replacement Filter is recommended for replacement every 6 months. This will help to ensure that your dehumidifier continues to perform at its best and provide you with clean, dry air.
Ionmax smart app
Makes it easy for you to control and manage your compatible Ionmax  products. With the app, you can adjust the settings of your dehumidifier remotely, without needing to install a humidistat control.
To use the Ionmax app, simply download it from Google Play or the App Store. Once you've installed the app on your phone, you'll be able to access the following information and settings:
Ambient temperature display
Ambient humidity display
Fan speed selection
Run schedule
Humidity setting
Auto-off timer
To ensure a strong Wi-Fi signal, make sure that your phone is connected to your 2.4G Wi-Fi network and that the dehumidifier is placed close to your router. The pairing process can be completed in two ways: EZ and AP mode. For detailed pairing instructions, please refer to the user manual.
2 year Australian warranty.
Model
ION+ED18
Daily dehumidifying rate           
19L/day17L/day with HEPA filter
Filters                                          
Washable antibacterial pre-filter (default)
HEPA filter (optional)
Deodorising HEPA filter (optional)
Duct connector                          
Humid air: Ø73 x L48mm (Max 3m length)
Dried air: Ø115 x L56mm (Max 5m length)
Input air: Ø115 x L56mm (Max 5m length)
Working temperature                
-15°C - 40°C
Input voltage                              
220-240V, 50Hz
Power consumption                   
850W
Weight                                        
13kg
Dimensions                                 
H: 318mm, D: 463mm, W: 312mm
Warranty                                    
2 years