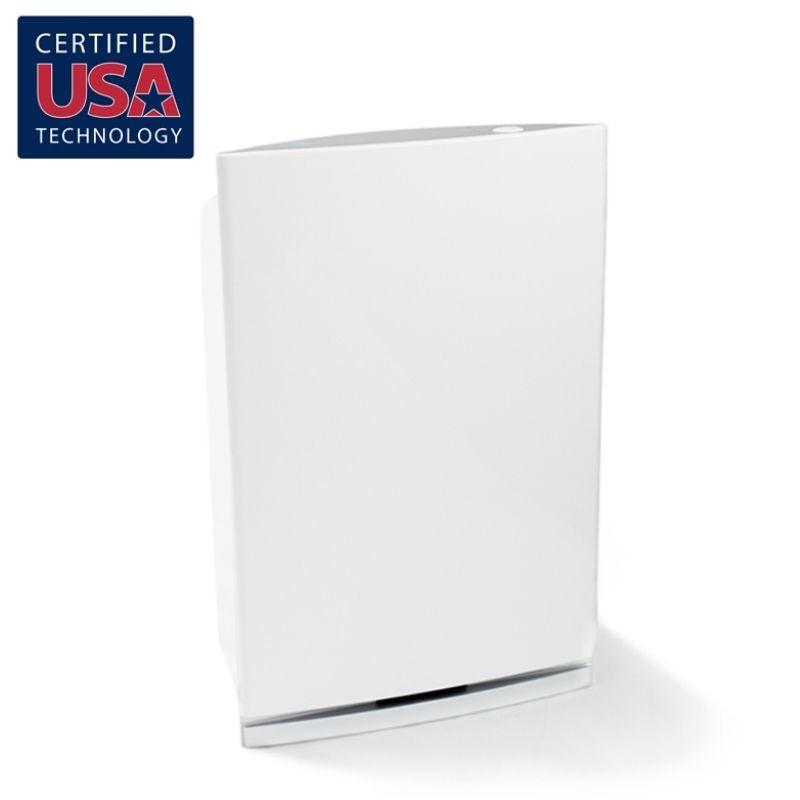 Intellipure Compact Air Purifier by WellcoPure
Description

Specifications

Reviews

Shipping & Returns
The Intellipure Compact Air Purifier by WellcoPure is truly in a league of it's of it's own. With its patented DFS technology, it can filter out airborne particles down to 0.007 microns.
Perfect for Homes, Schools, Offices and Retail Outlets, this is the ideal air purifier for medium to large spaces of up to 46m². The intellipure Compact uses an H13 Hospital Grade HEPA Filter. Coupled with Intellipure's DFS technology, ultra small particles as small as .007 microns are filtered out of your air.
Standout Features of the Intellipure Compact Air Purifier
Particle efficiency - The Intellipure Compact removes 99.99% of airborne particle and pollutants down to 0.007 microns
Remove gases, fumes and odours - 6-stage VOC adsorption filter for heavy duty removal of harmful gases and odours
Filter out germs and microorganisms - Unique to to Intellipure air purifiers, patented DFS technology efficiently removes up to 99% of airborne mold, bacteria and viruses passing through the system
Certified Quality - Each machine is independently tested and certified to guarantee better than HEPA efficiency, ensuring quality and efficiency. 
Intellipure Compact Air Purifier Features

Substantial reduction in airborne microorganisms, chemicals, offensive gases odors and smoke
Less dust and dander, pollen, dust mite waste, bacteria, mold, fungi and virus protection
Slim, compact, ultra slim design
Easy to maintain a clean and fresh smelling environment
Revolutionary DFS technology - reduces bioburden and inhibits microorganism growth passing into the system through Microbiostasis condition.
Effective at capturing 40x smaller size ultrafine particles than HEPA efficiently removing 99.99% of particulates @ 0.007 micron. Making Intellipure the most efficient air purifier
Wall-mounted option.
APPLICATIONS

Industry-leading & built to serve.
The Intellipure Compact is perfect for homes, small offices, classrooms, and small conference rooms. Since the start of the coronavirus pandemic in February 2020, the Intellipure Compact has served in mission critical settings.
When it came to reopening in 2020, NYC Schools and Chicago Public Schools chose
the Intellipure Compact unit and DFS technology to provide clean air for students and teachers.
Click here to view all of our Air Purifiers 
Audio Sound Power Level

Low: 40dB
Medium: 50dB
High: 60dB
Dimensions

L: 220mm, W: 330mm, H: 508mm

Weight

7.7kg

Functions And Features

VOC Adsorption Pre-Filter: Yes
DFS Main Filter: Yes

Filter Life Expectancy

Pre-Filter: 6 months (Replace)
Main Filter: Every 12 months (Replace)
Operating Mode
Low, Medium, High, Turbo

Performance

Pollen - 246 m3/h (145 CFM)
Dust - 246 m3/h (145 CFM)
Smoke - 246 m3/h (145 CFM)
Filtration Efficiency: 99.99% of all airborne particles down to .007 μm
Operating Area
Up to 46 sqm

Power
Power Supply 220-240V, 50-60Hz

Rated Power
Low: 9W | Medium: 15W | High: 25W | Turbo: 65W

Warranty
5 Years Limited Manufacturer Warranty 5 Years on motor and blower.
1 Year on electronic components
*Note, we ship this product directly from our suppliers warehouse. Change of mind returns are not accepted for this product.