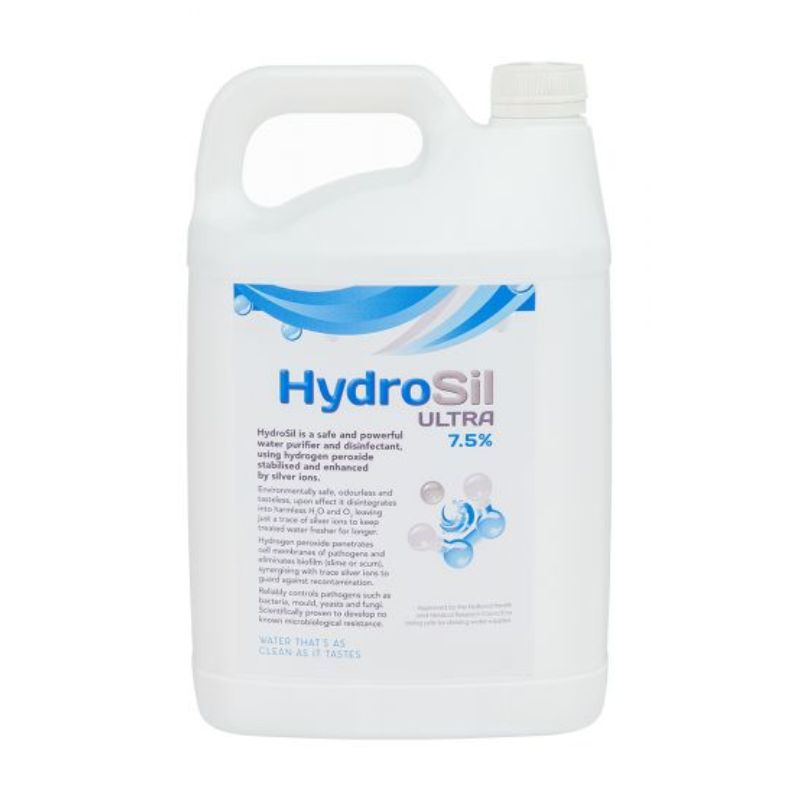 Hydrosil-Ultra 5lt Bottle | Silver Stabilised Hydrogen Peroxide Water Sanitiser 7.5%
Description

Reviews

Shipping & Returns
The Importance of Water Sanitization with HydroSil-ULTRA
Rainwater can gather contaminants like bacteria and droppings from birds and animals as it passes over surfaces like gutterings, rooftops, and downpipes. These pollutants get carried along with the water into the storage tanks or devices, where they can colonize in stagnant water. Such a situation can result in illnesses when this water is consumed, including dangerous diseases like E.coli.
HydroSil-ULTRA: A Silver Activated Sanitizer
To tackle this problem, HydroSil-ULTRA is a brilliant solution. A sanitizer activated by silver and based on hydrogen peroxide, HydroSil-ULTRA effectively oxidizes bacteria without leaving any harmful residues behind. By sanitizing and protecting your tanks and water storage devices, it ensures that the water is safe and suitable for human consumption. It's a non-toxic alternative to the chlorine-based chemicals that many sterilizers currently use, making it safe for your home and family.
Applications of HydroSil-ULTRA
HydroSil-ULTRA is versatile and can be used in a variety of settings:
Drinking Water Tanks
Cattle Troughs
Water Filtration Systems
Water Storage Containers
Bore Holes
Caravan Tanks
Moreover, it's applicable in different environments like homes, caravans, farms, orchards, dairy farms, laboratories, fish handling industry, and meat works.
HydroSil-ULTRA in Insect Control
HydroSil-ULTRA also plays a vital role in controlling insect larvae such as mosquitoes, preventing their breeding and colonization. With changes in weather patterns and drought conditions, homeowners are encouraged to install rainwater tanks, which unfortunately provide an ideal breeding environment for mosquitoes.
However, HydroSil-ULTRA effectively controls larvae, thus preventing outbreaks. This is especially crucial in a country like Australia where the risk of dengue fever and other mosquito-borne diseases is high.
Usage of HydroSil-ULTRA
Previously known as HydraSil, the introduction of HydroSil-ULTRA into wells or mains water can be best achieved using a metering device for a more constant and thorough application, although manual application is feasible.
Dosage can be maintained using a proportional feeder. To accurately measure the amount of oxygen in the water post-application, it's advisable to use peroxide test strips specifically designed for this purpose.
Recommended Dosage
For the initial treatment, 20ml of HydroSil-ULTRA is required per 100 litres of water. Following this, a maintenance dosage of 10ml per 100 litres is recommended.