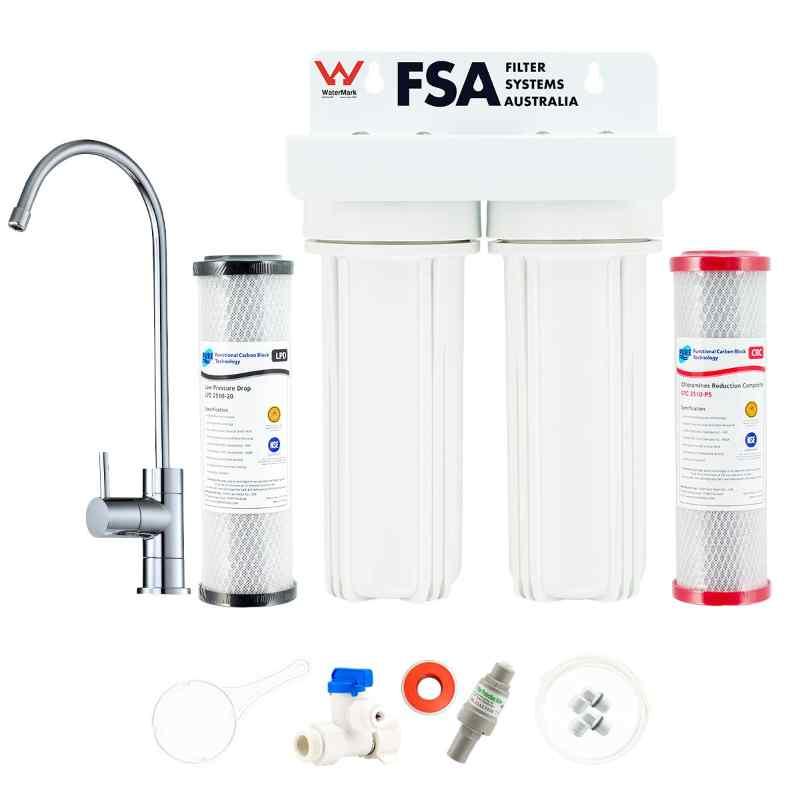 Twin Undersink Water Filter Chloramine Reduction | Maximum Chemical Reduction 1-46Wm
Description

Reviews

Shipping & Returns
Introducing the Maximum Chemical Reduction Twin Undersink Chloramine & Chlorine Water Filter for Mains Water (GT1-46WM), a premium quality, Watermark Certified water purification system. This water filter, with its compact design and affordability, produces pure filtered water whenever you you need it.
The GT1-46WM Undersink Water Filter, adeptly designed to eliminate chloramine and chlorine from mains water, is your home's ultimate line of defense against these harmful chemicals. Chloramine and chlorine are commonly used in water treatment processes for their disinfecting properties. However, prolonged exposure to these chemicals may lead to adverse health effects. This is where our top-tier water filter steps in, assuring the consistent provision of water that is not only safe to consume but also possesses a refreshing taste.
Featuring a dual-stage filtration system, the GT1-46WM achieves maximum chemical reduction with unparalleled efficiency. Depending on your water quality, these can last up to 12 months before needing to be replaced.
Stage 1: 20 Micron Low-Pressure Drop Coconut Carbon Filter - For Effective Carbon Filtration Without Compromising Water Pressure
The Low-Pressure Drop Carbon filter serves as an exceptional Pre-Filter when used in conjunction with carbons rated for finer micron levels. Its purpose is to augment filtration effectiveness and lengthen the lifespan of your specialized carbon blocks, all while sustaining suitable pressure.
The phenomenon of low water pressure is often considered a significant hindrance in water filtration. Still, the 20uM Low-Pressure Drop Carbon is expertly designed to circumvent this issue. It features a notably low density, specifically engineered to ensure the smooth flow of water, without compromising on the effectiveness of chlorine removal.
This unique blend of hydrophilic coconut carbon aids in achieving this balance. The carbon is structured to allow for a shorter contact time, yet it's capable of eliminating similar levels of chlorine and other chemicals as competing coconut carbon filters of equivalent size. In essence, this filter effectively navigates the tightrope between efficient water flow and superior chemical removal.
0.5 Micron Chloramine Reduction Composite Coconut Carbon (Reduces BOTH Chlorine and Chloramines For Maximum Chemical Reduction on Mains Water)
This Composite Catalytic Coconut Carbon-based Chloramine Reduction Cartridge is like giving a superpower boost to activated carbon! This distinct and highly potent medium filters out a larger spectrum of disinfection chemicals, disinfection by-products, Volatile Organic Compounds, Trihalomethanes, Herbicides, Pesticides, and various other chemicals/contaminants than traditional carbon alone can handle. It also effectively removes chlorine taste and odor, an area where standard activated carbon tends to fall short, particularly when it comes to chloramine removal.
This cartridge is the perfect partner to the 20 Micron Low Pressure Drop Carbon Cartridge (as described above), creating a formidable duo for Maximum Chemical Reduction in mains-treated water.
The 0.5 Micron Chloramine Reduction Carbon Block filter, with a nominal rating of 0.5uM, features a vast, ultra-reactive surface area of Composite Catalytic Carbon. This advanced surface is meticulously designed to deactivate and neutralize chloramine in minimal contact time. As water navigates through the chloramine filter, chloramine and other chemicals interact with the carbon block's surface. This interaction leads to the formation of neutral compounds that are reabsorbed by the carbon, effectively nullifying the chloramine and chlorine molecules.
Full Australian WaterMark Certification
 In addition to its impressive performance, the GT1-46WM is Watermark Certified, meaning it complies with stringent Australian standards for plumbing and drainage products. This certification serves as an assurance of the filter's quality, performance, and safety, making it a trusted choice for households and commercial establishments alike. FSA's WaterMark filtration systems are hand assembled here in Australia and are batch tested to ensure quality and workmanship for your filtration products.
Whether you're looking for a way to enhance the taste of your tap water, safeguard your family's health, or contribute to environmental sustainability by reducing plastic bottle usage, the GT1-46WM Undersink Chloramine & Chlorine Water Filter is your go-to solution.
Kit Contains:
GT1-22W - Twin Water Filter System with 1/4" Ports
GT4-6LPD - Low Pressure Drop Carbon Block
GT4-6CRC - Chloramine Reduction Carbon Block
GT17-0S - Plastic Opening Spanner
GT14-14S - Inlet Tee Valve
GT20-16GW - 2 Metres 1/4" Tubing (White)
GT9-2S - Modern Faucet
GT10-23LS - 1/4" Elbow Fittings
GT18-13 - 500 kPa WaterMark Certified Pressure Limiting Valve
Comprehensive Instructions
1 x Roll Thread Tape
Entry Tee Compliant to NSF/ANSI 61
Gone are the days of struggling to get the right amount of thread tape onto your fittings (such as the feed water block and brass ball valve). Now, thanks to this handy combination fitting, it's simply a matter of interrupting your cold-water line with this tee and plugging in the 1/4" tubing to the filtration system.
The other benefit of this fitting is that by having the built-in isolation switch you can easily turn the water on and off for cartridge changes.