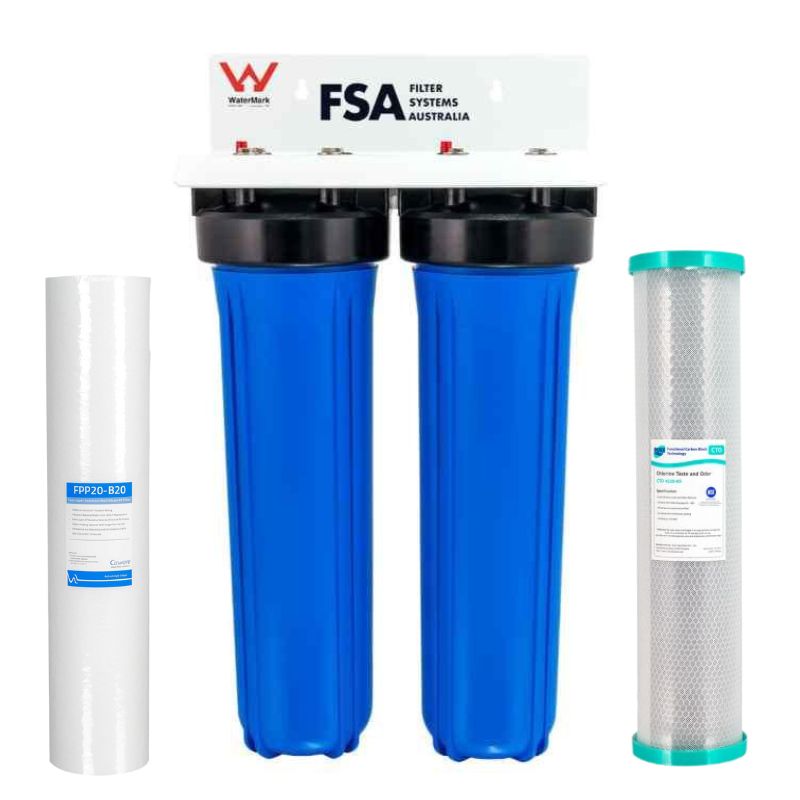 Twin Whole House Water Filter System 20" X 4.5" Big Blue
Description

Reviews

Shipping & Returns
Twin Whole House Water Filter System 20" X 4.5" Big Blue 
Introducing our cost effective Whole House Water Filter System 20" x 4.5" Big Blue, a powerful, comprehensive water purification solution specifically designed to remove sediment, chlorine and other chemicals from mains water. This system is perfect for smaller homes and townhouses to give you and you soft and safe water from every tap or shower in your house. The Twin House Water Filter not only enhances the taste and quality of your home's water supply, but it also provides a series of significant benefits. 
Firstly, this system provides universal filtration for your entire home, ensuring that every tap delivers pure, fresh water. Whether it's the water you drink, the water you cook with, or the water you bathe in, our Whole House Water Filter ensures consistent quality.
Secondly, this system uses a WaterMark Certified Kit, which guarantees it meets the stringent AS/NZS 3497 standards for water filter systems. This certification gives you peace of mind knowing that your filter system complies with Australian plumbing codes, ensuring safety, reliability, and performance.
Thirdly, with the powerful 5 Micron Certified Poly Spun Sediment Filter, harmful contaminants are effectively removed. This filter, made from 100% virgin Polypropylene, delivers a highly efficient dirt holding capacity and filtration performance, providing you with cleaner and safer water.
Additionally, our 5 Micron Coconut Carbon Block filter delivers superior taste and odour control. Using 100% coconut carbon, this filter enhances the palatability of your water by reducing chlorine and other chemicals that can negatively impact taste and odour.
Lastly, our Whole House Water Filter System is built for longevity and easy maintenance, with hand-assembled components and a robust construction designed to withstand daily use.
The whole House Water Filter System 20" x 4.5" Big Blue delivers comprehensive water purification, improved taste, and odour control, as well as peace of mind with its WaterMark certification. Invest in your household's health and comfort by choosing our state-of-the-art water filter system.
Twin Whole House Water Filtration Stages
First Filtration Stage: 5 Micron Certified Poly Spun Sediment Filter (GT2-28N)
Compliant with NSF/ANSI 42 material requirements, this polypropylene spun sediment filter sets the benchmark for filtration standards. With its high flow and low pressure drop, it ensures minimal bacteria accumulation and is effective across all applications. Ideally suited for high-quality bore or town water, or as a precursor to RO systems, this 5-micron filter comprises 100% virgin polypropylene material compatible with our Watermark Certified Systems.
This filter is made using a singular nozzle manufacturing process. This unique method creates a gradient density in the filter, enabling higher dirt holding capacity and superior filtration efficiency compared to standard melt blown filters.
Second Filtration Stage: 5 Micron Coconut Carbon Block (GT4-19P)
This 100% pure coconut carbon block water filter is rolled by experienced Thai manufacturers with over 30 years in the industry. This is a high-quality, trade-grade 100% coconut carbon filter, fitting all 20" x 4.5" Big Blue Housings, irrespective of brand or colour.
Unlike the market's lower-priced filters, which blend coconut carbon with coal-based carbon, our filter is 100% coconut carbon, providing a longer life and more palatable taste. These premium filters are perfect for resolving taste and odour issues and excellent for complete extraction of town water chemicals.
 Crafted from 100% Coconut Shell Carbon, this filter is reputed for delivering the sweetest tasting water. Its unique pore structure is highly effective for chemical absorption, including VOC's, while reducing chlorine and chemicals that impact taste and odour. Experience superior water quality with our efficient, SEO-optimized Under-the-sink RO System.
WaterMark Certified Kit
Our robust Whole House Water Filter System 20" x 4.5" Big Blue - a WaterMark Certified Kit, exclusively designed to meet the highest Australian plumbing standards (AS/NZS 3497). Certified under number 23247, this water filter kit fulfils all the prerequisites for lawful installation by a licensed plumber in Australia.
Kit Includes
The comprehensive kit includes:

Twin Whole House Filter System (with pre-installed bracket)
Opening Spanner
Two 1/4" Pressure Gauge Hole Plugs
Instruction/Warranty Sheet
First Stage Filter: 5 Micron Certified Poly Spun Sediment Filter | GT2-28N
Second Stage Filter: 5 Micron Coconut Carbon Block | GT4-19P
If you live in a larger home then we highly recommend clicking here for our Triple Whole Home Water Filter System
Download instructions and warranty information
HERE