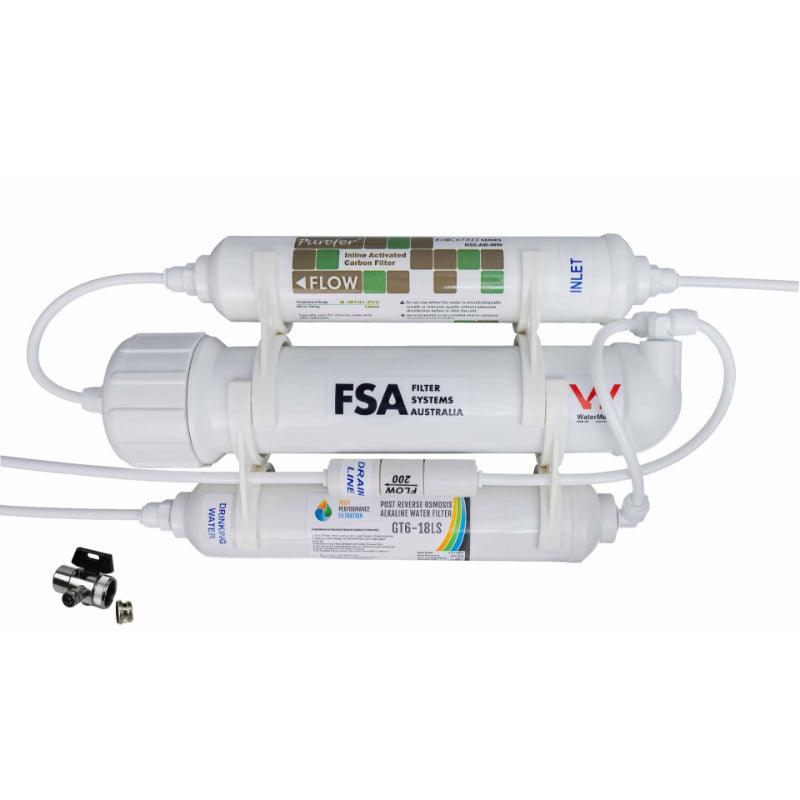 Portable Reverse Osmosis Drinking Water Filter | Ph Neutralising (GT1-70CC)
Description

Reviews

Shipping & Returns
Portable Reverse Osmosis Drinking Water Filter | pH Neutralising (GT1-70CC)
Introducing our advanced pH Balancing Under-the-sink Reverse Osmosis (RO) System – a must-have water purification solution, perfectly tailored to offer unmatched quality, affordability, and convenience. This unique under-sink water filter efficiently incorporates a carbon pre-filter, not only eliminating particulates, chemicals, unwanted tastes, and odours, but also dramatically improving the overall water quality.
At the core of our RO system lies an exceptionally efficient 192-litre daily RO membrane. This powerful component works relentlessly to decrease heavy metals, fluorides, and salts by up to an impressive 98%. Paired with our Activated Coconut Carbon/Calcium Alkalising Post-Filter, the result is a refreshing, sweet-tasting drinking water boasting a perfect pH balance between 7-8.
Conveniently designed for discrete under-the-sink storage, this RO system effortlessly provides purified water whenever you need it. Use it overnight to restore filtered water reserves, then simply store it away until it's needed again.
What's more, our RO system installation and detachment process is remarkably easy and takes as little as 30 seconds! It's an ideal water filtration solution for renters who cannot accommodate permanent installations, caravan owners, and travellers who want clean and safe drinking water wherever their journey takes them. With our portable RO system, you can always be confident in the quality of your drinking water, no matter where you are. Guarantee your family's hydration safety with our top-ranking, highly efficient pH Balancing Under-the-sink RO System.
pH Neutral Water | The 3 Stages of Filtration
Stage 1: 100% Activated Coconut Carbon Filter (GT6-21) (Replace every 12 Months)
Introducing the first stage of our advanced Under-the-sink RO System: the 5 Micron (uM) Coconut Carbon Sediment cartridge. This pre-filter protects the RO membrane from both physical and chemical damage, effectively eliminating common issues like reduced water flow and compromised filtration efficiency found in most municipal water supplies.
Designed with a broad surface area for maximum contact time, this cartridge proficiently adsorbs harmful chemicals, including chlorine, and other organic contaminants. Regular maintenance, ideally every six months, will significantly enhance the performance and lifespan of the subsequent filters, providing you with consistently pure water. Experience optimal water filtration with our top-ranking Under-the-sink RO System.
Stage 2: 0.0001 Micron Asprinn 50 GPD Reverse Osmosis Membrane (GT36-59) (Replace every 1-4 years depending on water quality)
Think of the RO membrane in our top-ranking Under-the-sink RO System as the heart of the operation. With its impressive 0.0001 Micron rating, this central component is where the essential filtration action takes place. All other filters preceding the membrane function primarily to safeguard this vital membrane, ensuring its longevity and performance.
Capable of generating an impressive 192 litres (50 gallons) of pure water daily, the RO membrane stands as the powerhouse of our water purification system. Optimize your water filtration experience with our highly-efficient, SEO-optimized Under-the-sink RO System.
Stage 3: Dual Finishing Cartridge: Activated Coconut Carbon/Calcium Alkalising Post-Filter (GT6-18LS) - (Replace Every 12 Months)
The final stage of our high-ranking Under-the-sink RO System incorporates premium activated coconut carbon, known for imparting a naturally sweet flavor to your water. This refined water then undergoes further enhancement with calcite (CaCO³) alkalising media, elevating and stabilizing the final pH between 7-8 without inducing hardness.
It's worth noting that a new Calcium Alkalising cartridge may initially exhibit a pH above 8 upon installation. However, rest assured this level will swiftly equilibrate, ensuring consistently balanced and high-quality water. Experience the difference in taste and quality with our top-tier, SEO-optimized Under-the-sink RO System.
How to Measure Your Tap Thread Size to Check Compatibility
This system comes with a standard 22mm Female Thread / 24mm Male Thread tap diverter adaptor per the picture below:
***If you are not sure whether the tap adaptor that comes with this system will fit your tap, please follow the above instructions to take a picture of your tap thread measurement, and email the picture to us at support@healthyhabitats.com.au so our team can help double-check the compatibility for you!***
IMPORTANT INFORMATION ON THE LIMITATIONS OF PORTABLE RO SYSTEMS
It's important to understand that our top-ranking Portable RO Systems are not intended for permanent installations, and they do not come equipped with components needed for plumbing in, implying they do not produce water "on tap". These Portable RO Units are exclusively designed to connect to water pressure when needed and disconnect once the filtration is complete.
Typically, a Portable RO System operates at a slower pace compared to conventional tap water, with most RO membranes producing water at a rate of about 8 litres per hour. Moreover, these systems generate wastewater at a ratio of 1L filtered water to 1-1.5L of wastewater. Hence, it's advisable to produce water as per your requirements and store the filtered water in an appropriate container.
A useful tip to avoid kitchen flooding: Place your water container in the sink while filling it and set a reminder – 1 hour for every 8 litres of water. This way, if there's an overflow, the excess water drains away instead of you having to mop it from your countertop. Enjoy hassle-free water purification with our highly efficient Portable RO Systems.
floor! 
Do You Want Filtered RO Water On Tap?
Consider an Undersink RO System, which comes with all of the components required to be fully plumbed in and will automatically produce RO-filtered water on demand. 
 please click here to see our range of Undersink RO Systems. Trust our personal experience - if you have the option to install an under-sink RO system, the convenience of having filtered water on tap will pay for itself!
Looking for the Under Sink version of this filter system? Click here to check it out!
Our Thoughts On Fluoride
Concerns surrounding Fluoride in drinking water are gaining traction worldwide. From Australia to numerous other global locations, this issue is capturing the attention of consumers who want to understand and control what they consume. Whether you are for or against the fluoridation of drinking water, one fact remains: Fluoride is a common component of our drinking water, which can be a cause for concern.
Why is this an issue? Fluoride, as proven by numerous credible and authoritative studies conducted in the US and globally, is classified as a neurotoxin. While proponents of water fluoridation point to its potential dental health benefits, the broader health implications paint a worrying picture. Evidence is mounting that there is a significant correlation between the ingestion of fluoridated water and the prevalence of Chronic Disease. The potential damage to health outweighs any potential dental health benefits, making it an important topic to address.
So, what's the solution? Enter Reverse Osmosis Water Filtration. This technology is considered one of the most effective and safe methods to eliminate Fluoride from your drinking water. Not all water filtration methods are created equal. Standard filtration systems may not be efficient against mineral salts like Fluoride. They often allow these substances to pass through, leaving your water less pure than you might assume.
Reverse Osmosis, on the other hand, utilizes innovative filtration technology to tackle this issue head-on. Its sophisticated 0.0001 Micron RO membranes work diligently to filter out these mineral salts. Fluoride, along with various other impurities found in water, is effectively removed. The result? Cleaner, safer drinking water for you and your family.
In conclusion, if Fluoride in your drinking water is a matter of concern, turning to Reverse Osmosis Water Filtration could be your best bet. It offers a reliable solution to reduce Fluoride levels, helping you achieve greater peace of mind about what you consume. With growing health concerns linked to fluoridated water, investing in such a filtration system could be a valuable step towards healthier living.