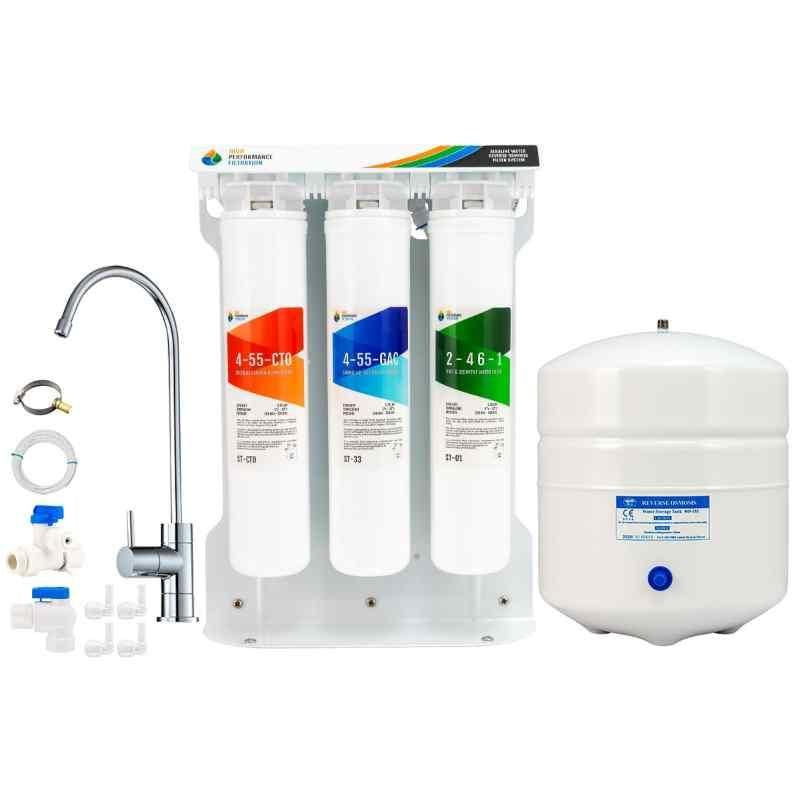 HPF 5 Stage Quick Change Alkaline Undersink Reverse Osmosis System (H1-EQ5AN)
Description

Specifications

Reviews

Shipping & Returns
The Filter Systems Australia HPF 5 Stage Quick Change Alkaline Undersink Reverse Osmosis System H
1-EQ5AN is a compact and affordable RO filter perfect for the home or office.
The High Performance 5 Stage Quick Change Alkaline RO Water Filter is a small and compact quick-change reverse osmosis system featuring a full 5-stage filter configuration that creates pure ph Neutral (pH 7) to alkaline water (pH 8). The quick-change system simplifies filter changes allowing almost anyone to do their own filter changes – no more expensive call-out fees as you simply twist the filters to remove and install - it's that easy!
Standout Features of the 

H

1-EQ5AN HPF 5 Stage Water Filter
5 stages of filtration - Watermark Certified
Quick-Change Filter Technology
NEW 50GPD Quick Change Membrane - Filmtec
DM Fit Entry Tee Valve - Self Locking
Inline Check Valve + 4 Way Shut Off
Colour Coded Tubing for Easy Installation
The H
1-EQ5AN HPF 5 Stage Water Filter's 

Alkaline Water - 5 Stage Filtration - Quick Change - Explained
Stage 1: The 1 Micron Sediment Cartridge (2-46-1 ST-01) (Replace Every 6 Months)
The first stage is a 1 Micron (uM) Sediment filter composed of 100% melt-blown polypropylene fibre. This cartridge helps to protect the carbon pre-filters and reverse osmosis membrane from physical damage caused by particulate matter such as sand, dirt, silt, plant spores, and pollen. Physical contaminants such as these (which can surprisingly be found in most municipal water supplies), tend to clog up filter system components causing reduced water flow, lower osmotic pressure, diminished filtration efficiency, and ultimately, inferior water quality. Changing this filter every 6 months is vital!
Stage 2: The Granular Activated Carbon (GAC) Pre-Filter Cartridge (4-55-GAC ST-33) (Replace Every 6 Months)
The second stage is a high-grade granular activated carbon pre-filter. This type of loosely-packed carbon enables a high level of water flow through the system, whilst "taking the first hit" to absorb harmful organic chemicals and contaminants. Keeping up with regular maintenance of this pre-filter (changing it every 6 months) helps to extend the life of all filters that come after it, including the reverse osmosis membrane.
Stage 3: The 5 Micron Coconut Carbon QC Cartridge (4-55-CTO ST-CTO) (Replace Every 12 Months)
The third stage is a 5-micron high-grade coconut carbon block pre-filter. Similar to the GAC filter, but with a unique carbon block matrix for maximum surface area and contact time, this special carbon cartridge takes the biggest load of contaminant removal, prior to the membrane. Replace every 12 months. 
Stage 4: The Reverse Osmosis (RO) Membrane Cartridge (50GPD Filmtec) (13-RO50 ST-RO50) (Replace every 2-4 Years)
The RO membrane is the "engine room" of this high-performance system, where all the hard work of removing ultra-fine micro-particles, metal ions, and dissolved mineral salts takes place to achieve the maximum level of chemical and contaminant reduction, down to 0.0001 of a micron. Because Reverse Osmosis is such a fine level of filtration, it requires high osmotic pressure, which also explains why we use three pre-filters to help protect the membrane from getting clogged or internally damaged by fine particulate matter.
Stage 5: Dual Finishing Cartridge: Japanese Activated Coconut Carbon/Calcium Alkalising Post-Filter (4-55-ALK ST-34ALK) - (Replace Every 12 Months)
The last stage features the finest grade of Japanese activated coconut carbon to ensure the purest taste, which then passes through calcite (CaCO³) alkalising media to raise and buffer the final pH to between 7-8, without causing hardness. Note that upon installation, a new Calcium Alkalising cartridge may register an initial pH higher than 8, but it will quickly balance out.
New Features Include
5 stages of filtration
Quick Change Filter Technology
NEW 50GPD Quick Change Membrane -Filmtec
DM Fit Entry Tee Valve - Self Locking
Modern Goose Neck Faucet
Inline Check Valve + 4 Way Shut Off
Colour Coded Tubing for Easy Installation
Kit Contains
5 Stage Watermark Certified RO System
Filters Included
12L Storage Tank
2m White Tubing
2m Black Tubing
2m Blue Tubing
Inlet Water Valve
4 x Stem Elbow Fittings
Pressure Limiting Valve
Goose Neck Faucet
50mm Adjustable Drain Saddle 
Before You Purchase Please note the Following
The system requires specific working conditions be met before installation. If these conditions are not met, the system may not be suitable for the application and may not function as specified.
Feed Water Conditions                                 Min                      Max
Inlet Pressure                                                400 kPa*              700 kPa
Temperature                                                  4.5°C                    38°C
pH Level                                                         2                          11
TDS                                                                0 mg/L                 2,000 mg/L
Iron                                                                0 mg/L                 0.3 mg/L
Manganese                                                    0 mg/L                 0.1 mg/L
Hardness                                                        0 mg/L                 200 mg/L
*Minimum inlet pressure is 400 kPa for the system to function correctly. Running the system lower than 500 kPa will cause the rejection rate to decrease. If you are not able to supply 500 kPa to the system, it is suggested to purchase the H1-302B system which includes a booster pump.
pH: 7-7.5 when filter stabilises 
Flow: 8-10L/Hour
Drain Flow: 12-16L/Hour
System Weight
Dry - 3Kg
System Dimensions (Approx):
Height: 37cm Width: 21cm Length: 26cm
Tank Dimensions/Capacity
Height : 42cm Width: 29cm / 12 Litre