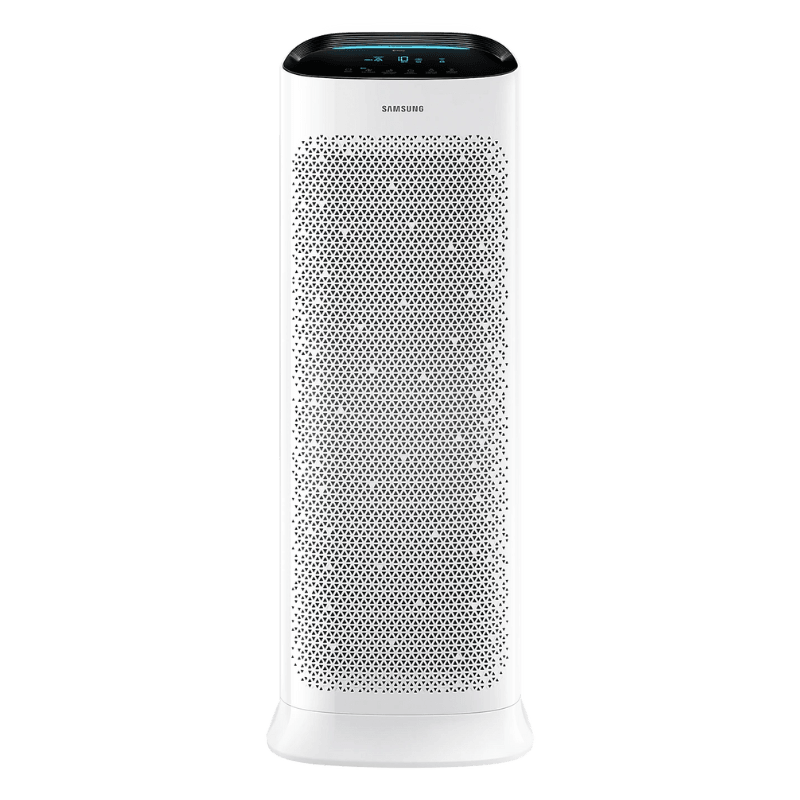 Damaged Packaging Sale - Samsung AX90 Air Purifier
Description

Specifications

Reviews

Shipping & Returns
Damaged Packaging Sale Samsung AX90 Air Purifier

We have a few AX90's available that have some packaging wear and tear. The air purifiers are brand new, completely undamaged and fully backed by Samsung Australia's warranty. If you are someone who doesn't mind imperfect packaging then save even more by purchasing one of these units.
Clean your indoor air quickly, even if you are not home, with the Samsung Ultimate Air Purifier AX90 with Wi-Fi connectivity.
It's true that the air inside our homes and at work can be up to 5 times more polluted than the air outside. This can be due to pollen, dust, mould and bacteria or fumes from things like paint, furnishings and floorings as well smoke, odours and VOCs. The best way to remove these unwanted pollutants is with a quality air purifier such as the Samsung AX90. Give you and your family clean filtered air all year round.
Designed for larger rooms up to 90m², the Ax90, also known as AX7000, is perfect for open planned homes or office areas. 
Samsung AX90 Air Purifier Key Features
3 Way Air Flow for Faster and Wider Filtration
The AX90 air purifier use a 3 way air flow system to quickly clean and distribute fresh air into all corners of your room. The dual powered fan circulates air in multiple directions at the same time, making the AX90 prefect for large, open planned rooms. With it's unique design the unit can even placed against a wall without interrupting the air flow.
 3 Stage Filtration with High Efficiency HEPA Filter
The Samsung AX90 breathes in the things that you shouldn't. Have fresh, clean air, all year round with its powerful 3 stage filtration system.
Trap large particles like hair and dust in the washable pre filter. 
Remove odours and harmful gasses with the Activated Carbon filter.*
Remove microscopic particles down to 0.3 microns** with the bacteria inhibiting HEPA Filter.*** 
Wi-Fi Connectivity
With the Samsung SmartThings App you can now monitor and control your AX90 air purifier remotely, regardless of where you are. 
Give your room a turbo blast of fresh air before you come home from work. Check how clean your air is before the kids get home from school and change any settings from your smart device. Make adjustments with a touch of your screen or if your hands are full, use voice activation to control your AX90. So smart, so easy. 
*Note, The Samsung AX90 Air Purifier does not require Wi-Fi to operate, you can use it with or without connecting it to the internet.
In Built Air Quality Sensors 
These super sensitive Dust PM 1.0/2.5/10 and Gas Laser Sensors detect when dust or gasses are in your air and the unit will automatically adjust its fan speeds in real time to keep your air quality pristine.* 
4 Colour LED Air Quality Indicator with Digital Numerical Display
Knowing the quality of your air has never been easier. The 4 Coloured LED light display lets you see from a distance what your air is like. The digital numerical display on top of the unit gives you a more accurate picture of just how good or bad your air is. Of course with the SmartThings app installed on your phone, you can also monitor your purifier while you are on the go.
Fast and Easy Filter Replacement
Changing the filters on your Samsung AX90 air purifier couldn't be easier. Its clever 2-in-1 filter design makes swapping filters fast and simple. Just pop open the cover and swap them over, no fuss or mess. Another great feature is the filter change indicator. When it's time to swap your filter the AX90 air purifier the indicator will start to blink on your display. Filter life is typically between 6-12 months depending on your air quality.
Note: This model requires 2 x filter sets.
Whisper Quiet Sleep Mode
This handy mode helps reduce disturbance when sleeping. When selected, the device slows the air flow down to a whisper quite 21dBA. As well as being quieter, the display lights are automatically turned off. This mode is ideal if you have young children or if you are sensitive to light and sound. 
Smart Reactive Auto Mode
This feature is no doubt going to be your favourite mode to run your AX90 Air Purifier on. It takes all the work out of operating your unit. As the air quality sensors detect any change in your air quality, your AX90 reacts in real time to filter your air accordingly. It doesn't get any easier than that. 
Choice Recommended and Sensitive Choice Approved
Recommended by CHOICE and awarded the National Asthma Council's Sensitive Choice logo, the Samsung AX90 is an excellent choice for asthma and allergy sufferers, as it may assist in reducing symptom causing airborne allergens.
Samsung AX90 Air Purifier Summary
If you are looking for a slimline air purifier for large open spaces and one that easy to move from room to room then the AX90 Air Purifier is a great choice. Packed with quality features and smart technology, this robust purifier is sure to impress.
Click here to shop our range of Air Purifiers
# A Wi-Fi connection and compatible phone is required. Voice control supported in 8 languages (UK English, US English, Korean, Chinese, German, French, Spanish, Italian).
CADR > 701m³/h. Tested in the KACA (Korea Air Cleaning Association).
*Tested on the AX80K7580WFD for toluene, xylene, benzene, ethylbenzene, styrene & formaldehyde gases in the National Test Institute of Korea.
**The filter media has over 99.97% dust collection efficiency, based on a particle size of 0.26㎛, as specified by 42 CFR part 84. Tested in the National Test Institute of Korea.
***Tested on the filter media of the dust collecting filter in the National Test Institute of Korea.
Model details - 
Global model number - AX7000 (showen on packaging)
Australia and NZ model number - AX90T7080WD/SA (showen on product label)
Noise - Lowest (Sleep mode) - 21dBA
Room Coverage - 90m²
Clean Air Delivery Rate - 

701m³/hr
Control Input - Touch | Wi-Fi | Voice
Filter Change Alarm - Yes
Timer - Yes
Connectivity - Wi-Fi
Physical specification
Gross Weight (kg) - 18.4kg

Top Panel Colour - Black

Gross Dimension (WxHxD) - 457mm x 1110mm x 377mm

Net Dimension (WxHxD) - mm360 x 1054mm x 284mm

Net Weight (kg) - 15kg

Color - Airy White
Air Flow
Air Flow Control - 3 STEP(H-M-L)

Air Flow - 3 Way Air Flow + Dual Fans
Air Purification
Filter 1 - Large Particles

Washable pre filter for large particles

Filter 2 - Gas and Odours

Activated carbon deodorisation filter

Filter 3 - Ultra-Fine Dust

HEPA filtration with ultra-fine dust filter

HEPA Filter ultra-fine dust removal rate*

99.97% of 0.3㎛ ultra-fine dust and inhibits bacteria.
Convenience
Sensor (Gas)

Gas (odour)

Integrated Cleanliness Display

Dust+Gas - 4 Colour LED

PM Digital Display

PM1.0 | PM2.5 | PM10

Sensor (Dust)

PM1.0 | PM2.5 | PM10

Gas/Odour Display

4 Colour LED
Operating Mode
Operating Modes - Auto | Sleep
Electrical Data
Power Consumption(W) - 90 W
Smart Technology
WiFi Embedded

Wi-Fi | SmartThings
*Change of mind returns 7 days from delivery, T's & C's apply.