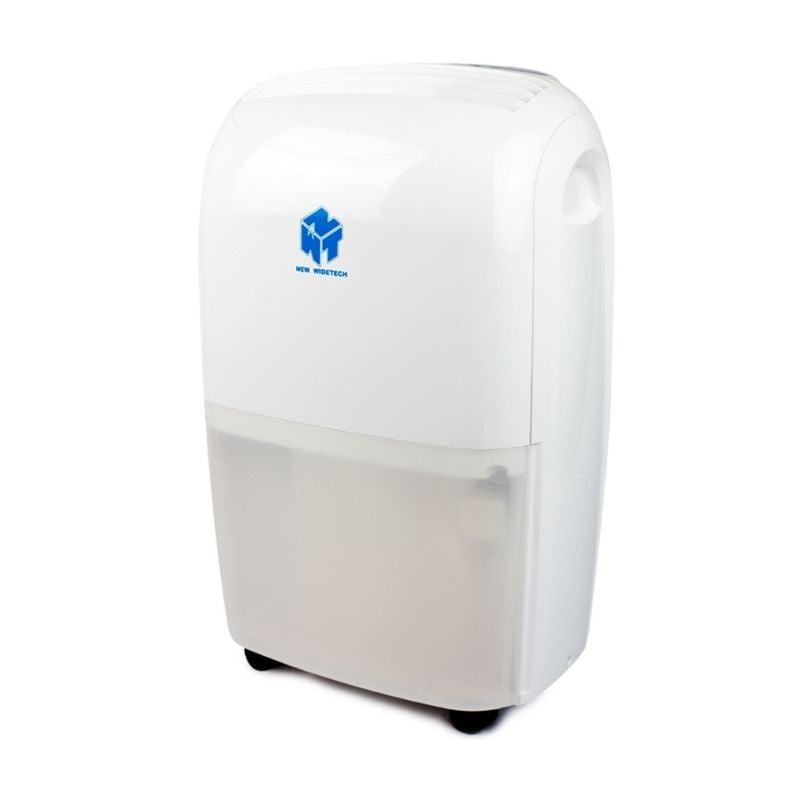 Ausclimate NWT Medium 20L Dehumidifier
Description

Specifications

Reviews

Shipping & Returns
Live in dry comfort with the Ausclimate NWT Medium 20L Dehumidifier
If you are looking for an affordable dehumidifier to improve the air quality in your home or office then the Ausclimate NWT Medium 20L Dehumidifier is a great choice. It is compact, efficient and suitable for rooms of up to 30 m² or 75 m³.

With the touch of a button, you can have cleaner, dryer, healthier air, day in day out.
Cleaner indoor air quality
Experience fresher, drier air with the Ausclimate NWT Medium 20L Dehumidifier. It reduces humidity in any room of your house or office, quickly and quietly.
It is able to pull large amounts of water from the air, up to 20L a day, and runs quietly, so you can run it during the night while you sleep. No more condensation on your windows, musky odors or mouldy rooms. 
Get rid of dampness and stop mould growth fast
If you want to get rid of damp and mould as soon as possible, then the Ausclimate NWT Medium 20L dehumidifier is an excellent choice. Stop your clothes, towels and rugs getting mouldy. Quickly dry any room in your home with the push of a button.
Healthy air
Even if there's no visual evidence of dampness in your home, dehumidifying can make a massive difference if you suffer from a respiratory condition. This machine absorbs and traps the moisture from you air, giving you a dryer, cleaner quality of air inside your home. It doesn't take long to feel the difference in air quality.
Strong castor wheels for easy positioning
Being on wheels, it is very easy to move your dehumidifier from room to room. Enjoy clean dry air wherever you are in your home or office. 
Auto shut-off when full
You never need to worry about reminding yourself when you need to empty the tank. The unit will shut off automatically when the tank is full and will automatically turn back on when you empty the tank.
If you prefer, you can connect the supplied drainage hose for continual drainage without ever needing to empty the water tank.
Restarts itself after power failure

In the event of a power outage, the machine will automatically turn itself back on and continue dehumidifying as soon as the power comes back on. This is a very handy feature if you have a blackout. 
Domestic warranty within 2 years
Buy with confidence with our 2 year Australian warranty. Any issues in the first 2 years and we'll get you back up and running in no time.

 FEATURES
Free Shipping Australia Wide
20L of moisture extraction per day
suitable for room sizes up to 30 m² or 75 m³ (deep down drying)
full electronic controls with LCD display
- room temperature/humidity/12 hour timer
- variable humidity settings
medium 3.5L water tank
auto restart after power failure
full water tank auto shut-off
dual fan speed & auto defrost
easy mobility-sturdy castor wheels/handles
continuous drainage feature*
operates as an economical clothes dryer
full 2 year domestic replacement warranty / 6 month non-domestic warranty 
The Ausclimate NWT Medium 20L Dehumidifier is a popular choice for medium-sized homes and living spaces. Live with comfort in a moist-free environment.
VIEW THE AUSCLIMATE COMPARISON CHART HERE
To learn more about Dehumidifiers have a look our Ultimate Dehumidifier Guide HERE
| | |
| --- | --- |
| Model | WDH-716DE |
| Voltage/Frequency | 220-240V, 50HZ |
| Power Input | 355W |
| Noise Level | 39dBA |
| Refrigerant | R-410a (CFC FREE) |
| Moisture Removal | 20 litres/day (30°C @ 80% RH) |
| Recommended Room Size | 30m², or 75m³ |
| Water Tank Capacity | 3.5 litres |
| Compressor | Rotary |
| Dimensions (w x d x h) | 36cm x 27cm x 58cm |
| Weight | 13.4 kg |
| Power Control | Electronic |
| Running Temperature | 5-32˚C |
| Warranty Information | |
| --- | --- |
| Warranty (domestic) | 2 years |
| Warranty (non-domestic) | 6 months |
| | |
| --- | --- |
| Change of mind returns    |  7 days     |
Great dehumidifier for a 2 bedroom apartment
It is very efficient and easy to operate, and it does the job. It has a timer too which you can set from an hour to 8++. It can extract quite a lot of water in just 1-2 hours and bring the humidity down from about 80+% to 40%. It is more efficient if the room temperature is above 20 degrees though. If you want efficiency during winter and your home is super cold, you should get the cool season dehumidifier instead.
Great thanks
Works well. Reduces humidity
Ausclimate NWT medium 20L dehumidifierGreat
Great Job has reduced mould in wardrobe
Machine works well as promised
I only took off a star because the delivery communication side of things could probably have been done a little better in hindsight, and cost me an extra trip to pick up from depot, but the machine itself is fine and the staff at this company were helpful. Other than that, lots of liquid has been sucked up by the machine, which is great. I have yet to assess the electricity cost side of things.
Hello Rosie,
Thanks very much for your review and feedback. We have passed this onto the courier so they too are aware that the delivery communications could have been better. We really appreciate you taking the time to let us know.
Heaven Sent
It came highly recommended and it didn't disappoint! Amazing product and I couldn't believe the amount of water that it collected. Our house is quite old and after all the hard rain in Melbourne is was hard to ventilate the rooms. This unit is heaven sent