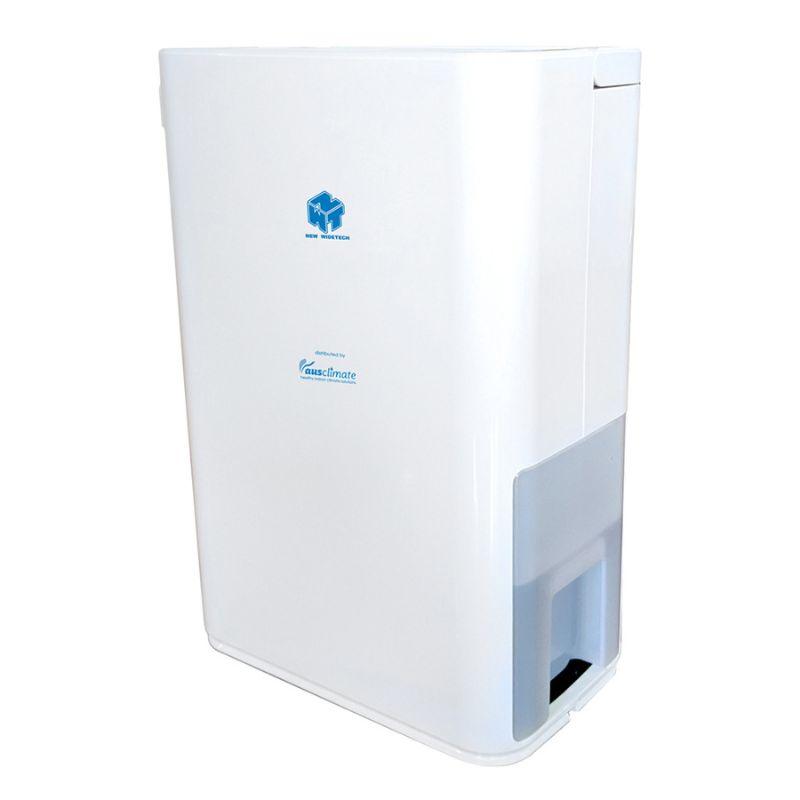 Ausclimate NWT compact 12L dehumidifier
Description

Reviews

Shipping & Returns
NEW 2022/23 UPDATED MODEL
The NWT compact 12L dehumidifier is powerful, yet conveniently compact and light-weight. This sleek model is ideal for boats, caravans/mobile homes, as well as storage rooms & other small rooms such as laundries, ensuites and walk-in-robes.
If you are looking for the best compact dehumidifier in Australia then the Ausclimate NWT Compact 12L Dehumidifier is what you need. This little power horse will effortlessly remove up to 12 litres a day from your home.
Powerful and non intrusive, it is ideal for spaces up to 20 m².  Take control of your humidity and moisture related issues with this sleek and easy to use machine. 
Standout Features of the Ausclimate NWT Compact 12L Dehumidifier
Compact & lightweight design - 

 

Designed to fit smaller spaces, the NWT Compact fits well into any small area without taking up valuable floor space. It is easily moved from your home to your boat, caravan or mobile home.
12 litre moisture removal - 

 

Quickly removes excess moisture from your air, up to 12L a day. 
Auto shut-off feature - When the tank fills up the unit automatically turns off until you empty the tank. Meaning it will never overflow when full. As soon you empty the tank it will automatically restart and continue to remove moisture from your air.
 Continuous drainage feature - This handy feature allows you to connect a drainage hose, so you do not have to empty the waste water tank each time it fills up.
How will the NWT Compact 12L Help?
The NWT Compact Dehumidifier will help eradicate mould and mildew growth. By reducing the relative humidity in your space, you remove the environment that mould and mildew can grow in. This is also the case for dust mites, as they like to breed in similar conditions as mould and mildew. By reducing the humidity, dust musts can not breed.
Stop condensation build up on your windows. This is a common cause of rot and mould, by running a dehumidifier in the cooler months, excess moisture that would normally condense on your windows will be removed. Leaving you with clean, dry windows and much healthier air.
What is the Ausclimate NWT compact 12L dehumidifier best suited for?
The NWT Compact is ideal for:
boats*
caravans/mobile-homes
storage-rooms
laundries
ensuites
walk-in-robes
studies
bedrooms
FEATURES
12 litres of moisture extraction per day
Compact, light weight & portable with easy carry handle
2.4L water tank capacity
Suitable for areas up to 20 m² / 50 m³
Low centre of gravity with sturdy base
Continuous drainage feature**
- easy hose attachment / full water tank shut-off
Variable humidity settings / low running costs
Restarts after power supply disruption / suits timer
Operates as an economical dryer for clothes & boating gear
full 2 year domestic replacement warranty / 6 month non-domestic warranty
*For boating moisture control we recommend use in conjunction with independent timers, rather than running the unit unattended 24/7
**Drainage hose not included