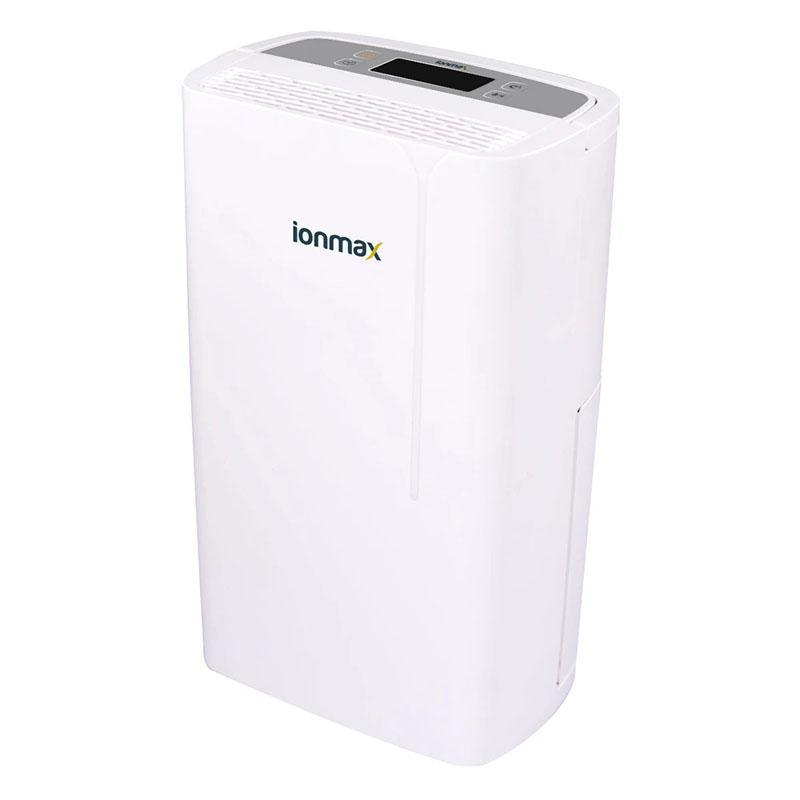 Ionmax ION622 12L Compressor Dehumidifier
Description

Specifications

Reviews

Shipping & Returns
The Ionmax ION622 Compressor Dehumidifier is designed for warmer climates where humidity and excess internal moisture is a concern. It is suited for large areas up to 50sqm and removes up to 12L of moisture a day.
If you live in a humid climate you well know how annoying excess moisture in your home or office can be. Mouldy clothes and furniture, washing not drying, cupboard doors and draws sticking to due swelling.
With the Ionmax ION622 Compressor Dehumidifier you can quickly get control of excess moisture and create a dryer, cleaner and healthier environment.
IONMAX ION622 DEHUMIDIFIER FEATURES
Adjustable Humidity Controls - 

The Ionmax ION622 dehumidifier has an built in adjustable humidistat. This feature allows you to set your desired humidity level from 40% to 70% RH (relative humidity). As well as this setting, you can even set it to run on continuous mode when humidity levels are very high.
Adjustable Display Brightness - With it's 5 levels of adjustable brightness, you can set the LCD display to the optimum brightness level for your environment. When using it in the bedroom you can dim it right down so your aren't disturbed during your sleep.
24 Hour Timer - You can set and forget the ION622 Dehumidifier from 1 to 24 hours.  
Washable Filter - Capture larger particle like pet hair and dust before it enters the system with the washable filter.
Carry Handle and Wheels - Easily move the IONMAX ION622 from room to room with the built in carry handle. It also has built in caster wheels for easy mobility.
Easy Empty Water Tank -  The 1.8L water tank in the ION622 is easy to remove and empty and has a built in float to ensure it won't overfill when full.
Continuous Drainage Option - With the included drainage hose, you can plumb the unit up so it can continuously drain. This means never having to empty the tank manually.
The IONMAX622 Dehumidifier is best suited for temperatures 20C and above. As this unit can add a few degrees to your room temperature, we recommend using it in conjunction with your A/C or cooling system. 
| | |
| --- | --- |
| MODEL NO. | ION622 |
| INPUT VOLTAGE | 220-240V AC ~50Hz |
| POWER CONSUMPTION | 230W |
| COVERAGE AREA | 50 sqm |
| DAILY DEHUMIDIFYING RATE | 12 L (30°C, 80% RH) |
| TEMPERATURE RANGE FOR USE | 5°C ~ 35°C |
| TANK CAPACITY | 1.8L |
| NOISE LEVEL | 45dB |
| PRODUCT WEIGHT | 9.9kg |
| DIMENSIONS | H: 465mm, W: 278mm, D: 180mm |
| WARRANTY | 2 year |