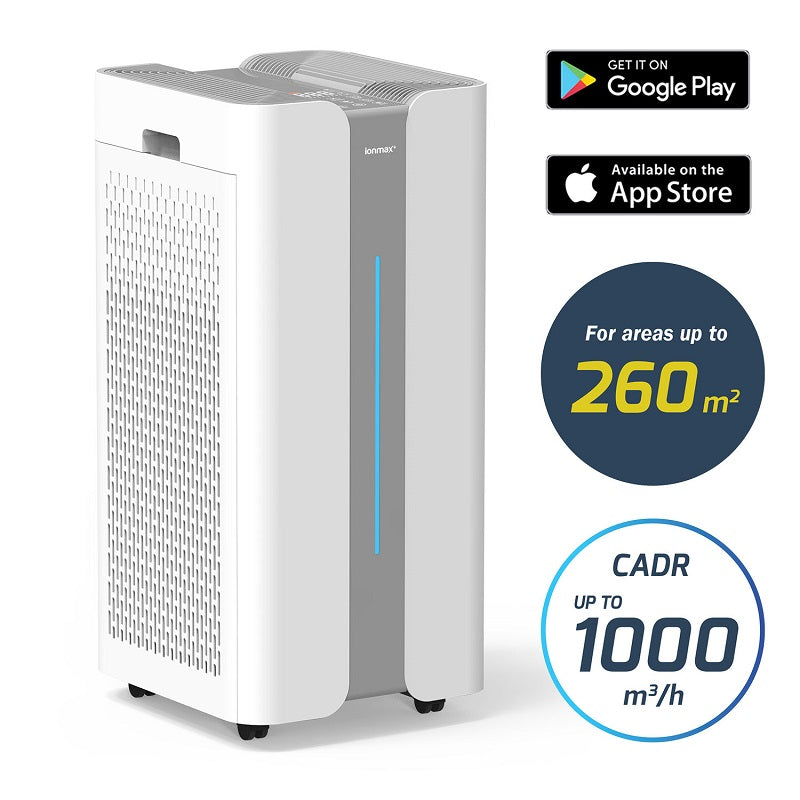 Ionmax+ Aire X 6-Stage Air Purifier - ION1000 with Wi-Fi
Description

Specifications

Reviews

Shipping & Returns
The Ionmax+ Aire X ION1000 Air Purifier is made for EXTRA BIG spaces and boasts 6 stages of filtration
This air purifier is a game-changer with its massive coverage area of up to 260m2 and an impressive clean air delivery rate of 1,000 m3/h. It's the perfect solution for extra large spaces, providing fresh and healthy air for you and your loved ones. Breathe easy and keep your surroundings safe with the Ionmax+ ION 1000 Pro Aire X HEPA Air Purifier. 
Ionmax ION 1000 Pro Aire X key features
6 stages of air purification 
Pre-Filter: Traps larger airborne particles like hair, dust, and pet dander
Antibacterial H13 HEPA Filter: Captures 99.97% of microscopic particles as small as 0.3 microns from the air you breathe
Activated Carbon Filter: Removes unwanted odors caused by smoke, chemical fumes, and VOCs
TiO2 Photo Catalyst Filter: Breaks down organic compounds, such as VOCs, to remove unpleasant odors from the air through an oxidation process
UVX-Shield: Uses direct UV-C light exposure to inactivate viruses and bacteria
IonX-Shield: Releases negative ions into the surrounding air to help remove airborne particles
Two-Way directional ventilation

The Ionmax+ AIRE X uses a powerful dynamic two-way ventilation system, allowing it to clean extra large volumes of air quickly and efficiently.  
SmartSens air quality monitor
The Ionmax Smartsens air quality sensor is a feature designed to monitor the air quality in your home or office. It detects and measures the levels of fine (PM2.5) particles in your air which is displayed on LCD screen and in the form of coloured LED lights that indicate your current air quality.
SmartSens allows you to operate the unit on auto-mode. This set and forget mode takes any guess work out of cleaning your air. When in auto mode, the unit automatically adjusts its fan speed and filtration settings to adapt to your air quality in real time. 
 ION 1000 Pro Aire X smart app
Remotely monitor your air quality in real time while on the go. You can also change settings and make adjustments as required via your smart phone. 
2+2 year Australian warranty
Ionmax are offering a huge 2+2 year warranty on select models and the Ion 1000 Pro is one of them. Having a 4 year warranty offers extra peace of mind, knowing you are covered for a full 48 months from date of purchase. All you have to do to receive the extra 2 years warranty is register your purchase within 30 days of your order. Click HERE to register.
Ionmax ION 1000 Pro Aire X HEPA Air Purifier benefits
Extra large coverage of up to 260m²
Advanced 6 stage Filtration System: The 6-stage filtration system of the Ionmax+ Aire air purifier ensures that harmful particles are removed from your air, providing you with clean and fresh air
The Ionmax 1000 Pro Aire utilises advanced technology to eliminate living germs, microorganisms, and unpleasant odors
Protection against bacteria and viruses is provided by the air purifier's advanced UV-C light technology, which eliminates 99.9% of airborne pathogens, providing an additional layer of illness protection
The HEPA filter in the air purifier effectively captures allergens like dust, pollen, pet dander, and other particles, helping relieve allergy and asthma symptoms
The Ionmax+ Aire 1000 operates quietly, ensuring that it won't disturb your sleep or work
The air purifier consumes low energy, making it an energy-efficient and cost-effective solution for your air cleaning needs
Ion 1000 Pro features
Coverage                                                            up to 260m2                                           
CADR (m3/h)                                                      100m3/h                                               
Airflow                                                                Top
HEPA Filter                                                          H13 Medical Grade
Ion-X Shield Ioniser                                            ✔
UVX-Shield Germicidal UV Light                       ✔
SmartSens Air Quality Monitor                         ✔
Air Filter Replacement Alert                              ✔
WiFi App Control                                                ✔
Fan Speeds                                                           4
Noise Level (dB max)                                          35 - 66
Power Consumption Max (W)                            95
Dimensions (cm)                                                  37.0 x 40.0 x 79.6cm
Weight (kg)                                                          15                                                   
Warranty                                                               2 Years +2 extra years    
Ionmax Aire x 1000 Pro air purifier FAQ
Q: What is the Ionmax Aire X ION 1000 Pro air purifier?
A: The Ionmax Aire X ION 1000 Pro air purifier is a high-performance air purification device that removes harmful pollutants from the air, including dust, allergens, and other airborne contaminants.
Q: How often do I need to replace the HEPA filter in the Ionmax Aire X ION 1000 Pro air purifier?
A: The HEPA filter in the Ionmax Aire X ION 1000 Pro air purifier should be replaced every 6-12 months, depending on usage and the quality of the air in your environment.
Q: Is the Ionmax Aire X ION 1000 Pro air purifier noisy?
A: No, the Ionmax Aire X ION 1000 Pro features quiet operation, making it ideal for use in bedrooms and other quiet spaces.
Q: Does the Ionmax Aire X ION 1000 Pro use a lot of power?
A: The Ionmax Aire X ION 1000 Pro air purifier is very energy-efficient and cost-effective to run. With a max rating of 90w it does not consume a lot of electricity when in operation.
Q: Is the Ionmax Aire X ION 1000 Pro air purifier easy to use?
A: Yes, the Ionmax Aire X ION 1000 Pro features an easy-to-use control panel and filter replacement indicator, making it simple to operate and maintain over time.
Cleaning and maintenance

To ensure efficient operation and extend the life of the unit, proper use and regular maintenance are necessary. Always turn off the unit and unplug it from the power supply before cleaning. It is recommended to clean the unit at least once a month.
Avoid putting the unit into water or using water to wash it directly. Also, do not use corrosive or flammable detergents such as alcohol, oil, or benzene to clean the unit. Instead, use a soft cloth with mild detergent and ensure the unit is completely dry after cleaning. Regular cleaning of the inside and outer surface can prevent dust from accumulating.
Storing your Ionmax Aire100 Pro
When the unit will not be in use for an extended period, it should be packed and stored properly.
Unplug the unit's power supply and clean the pre-filter. Use a soft cloth to clean the air intake and air outlet. Finally, pack and store the unit away from moisture and direct sunlight.
Who are Ionmax?
Ionmax designs quality products to promote a healthy and comfortable lifestyle. Whether you're awake or asleep, Ionmax works to ensure that you breathe the best air possible. Ionmax provides air purification solutions for your surroundings to keep you energized for life.
Coverage Area - Filters area up to 260m²
HEPA Filter  - Yes - HEPA H13 Filter
Carbon Filter - Yes - Activated Carbon Filter
Other Filters - Pre-Filter
Timer - Yes
Controls - 4 fan speeds, Auto mode, Sleep mode
Wifi - Yes - smart app remote operation and monitoring
Dimensions - 37.0 x 39.6 x 69.1 cm
Weight - 15kb
Manufacturer's Warranty - 2 + 2  Years Warranty In Registration