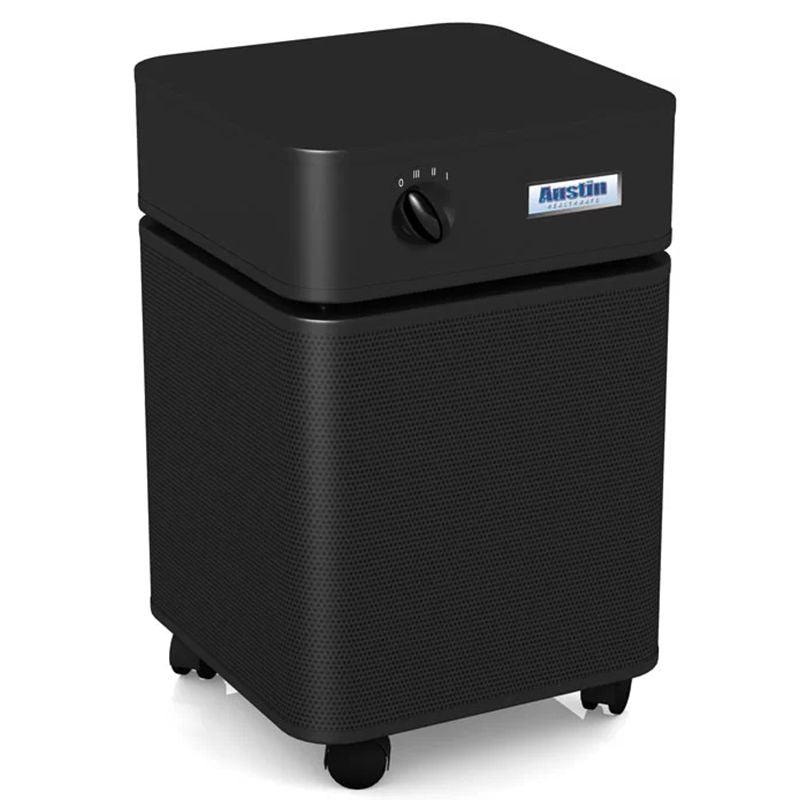 Austin Air HM400 Healthmate® Air Purifier
Description

 Specifications

Reviews

Shipping & Returns
The Austin Air HealthMate® was designed to address your air quality concerns. It removes airborne particles, chemicals, gases and odors and will significantly improve the quality of air in your home. Suitable for large spaces of up to 140m²
Austin Air Purifiers are 100% made in the USA, have a whopping 5 year warranty and require no filter replacements for 5 years, making them one of the most economical purifiers on the market!
Who should consider the HealthMate®?
Individuals with indoor air quality concerns

Those with sensitivities to airborne particles, chemicals and gases

Families looking for protection from indoor air pollutants
Health Benefits using HealthMate®?
Lessens night time allergies and asthma attacks

Strengthened immune system

Eases coughing, wheezing and sneezing

Reduces dry mouth and runny nose

Sounder sleep

Reduced snoring
Why is the HealthMate® the best choice for me?
Efficiently removes a wide range of airborne pollutants and allergens, including dust, pollen, chemicals and gases

Filters viruses and bacteria
Product Details
Manufactured in the USA

Recommended for:

Allergies, asthma, odours, gases, and chemicals

Benefits:

Large amount of carbon and zeolite (15 lbs./6.8kg.) for chemical and odour removal

Filter Makeup:

Carbon/Zeolite and True Medical HEPA

Filter Life:

Up to five years in a residential setting

Coverage:

Up to 1,500 square feet (140 square meters)

Warranty:

5 years on unit, 5-year pro-rated warranty on filter cartridge
*5-Year Mechanical Warranty
Your Austin Air cleaner is warranted to be free from defects in material and workmanship for a period of 5-years from the date of purchase; provided your Austin air purifier was operated under normal residential use and that

 

you have completed and returned your warranty registration

 

to Austin Air Systems.
Click here to view all of our Air Purifiers
The HealthMate® is Austin's original filtration unit. It is still our most popular unit as it addresses a wide variety air quality concerns by removing sub-micron particles, noxious gases and chemicals. Austin Air's 360-degree intake system draws air into all sides of the HealthMate®, passing it through a 4-stage filter.
The result? Your general indoor air quality concerns addressed!


Unit Specifications
Dimensions:

14.5″L x 14.5″W x 23″H (36.8CM L x 36.8CM W x 58.4CM H)

Weight:

47 lbs. (21.3KG)

360° Perforated steel intake housing


Baked on powder coat paint finish

3 speed centrifugal Fan

High efficiency motor rated for continuous use at high RPM

CSA approved
Filter Specifications
Stage 1

Large Particle Pre-filter. Removes particles easily seen by the naked eye (e.g. dust, hair and pet dander)

Stage 2

Medium Particle Pre-filter. Removes small to medium size particles (e.g. molds, spores and pollen)

Stage 3

Over 780 cubic inches (12,782 cubic cm) of Activated Carbon and Zeolite. Removes chemicals, gases and odors.

Stage 4

60 sq. ft. (5.6 sq. meters). of True Medical Grade HEPA. Removes 99.97% of all particles larger than 0.3 microns and 95% of all particles larger than 0.1 microns.