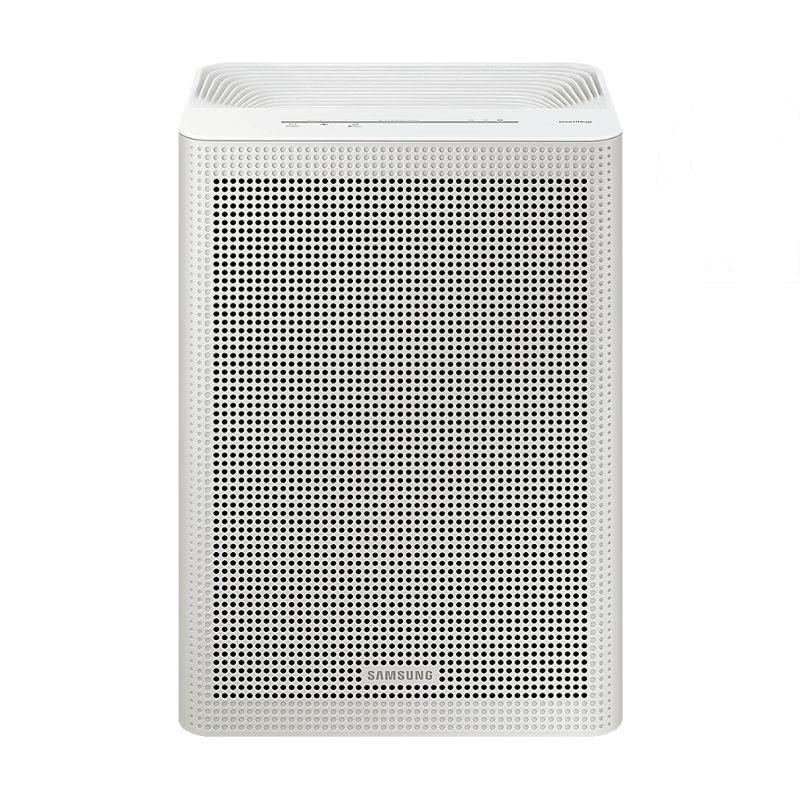 Samsung Essential Air Purifier AX32 with Wi-Fi
Description

Specifications

Reviews

Shipping & Returns
Monitor and control your air quality from anywhere with the Wi-Fi enabled Samsung Essential Air Purifier AX32
Perfect for rooms of up to 42m², the Samsung AX32 Air Purifier lets you quickly remove unwanted pollutants from your air, no matter where you are. With the use of the SmartThings app*** you can control and monitor your air quality and adjust your unit as needed.
Alternatively, set it to Auto Mode and let the Samsung AX32 take charge. With its built in air quality sensors, it will detect any change in the quality of your air and automatically adjust itself to clean your air in real time.
As a Sensitive Choice approved product the AX32 air purifier is Ideal for asthma and allergy sufferers. It can remove ultrafine dust particles, pollen, pet hair and dander, smoke particles, gasses, odours, mould, bacteria and much more. 
Samsung AX32 

Standout Features
Multi-Layer Filtration
Washable pre filter for large particles.
Activated Carbon filter for odours, gasses, VOCs and fumes.
HEPA filter for bacteria, mould, pollen, smoke particles, fine dust particles as small as 0.03 microns.* and more.
Anti-Bacterial Filter
With the use of zinc oxide inside the filter, certain bacterial growth on the filter can be eliminated by up to 99.99%.**
Wi-Fi Connectivity
Monitor your air quality and adjust your settings remotely with the use of the Samsung Smart Things app.***
Sensitive Choice Awarded
The National Asthma Council of Australia select only the best air purifiers to be awarded the Sensitive Choice blue butterfly logo. All Sensitive Choice products have been reviewed and approved by independent experts to help asthma and allergy sufferers easily find products that may be of benefit to them.
Built in Air Quality Monitoring
The AX32 has air quality sensors that detect different types of pollutants in your air. With the 4 colour LED display, you can easily see how clean your air is at a glance. 
Auto Mode 
Using this mode takes any guess work out of using your AX32 air purifier. Any change in your air quality will be detected by the built in sensors and the unit will automatically adjust its fans speeds to clean your air as needed.
Sleep Mode
When selected, this mode reduces air flow for whisper quiet operation and lowers the display lights to reduce any potential disturbance while sleeping. 
Stylish and Compact
Designed to fit virtually anywhere in your home or office, the AX32 has an elegant, modern design. With curved corners and attractive wavy vents, this unit is sure to blend in with your rooms décor seamlessly.
Minimal Maintenance
Designed as a low maintenance machine, the washable pre filter needs only periodic cleaning. The 2 in 1 HEPA and Carbon filter designs makes filter changing quick and easy. This smart purifier will even let you know when it needs a clean or filter change. Based on normal use, filters can last up to 12 months before needing replacement.
Summary
If you are looking for a Wi-Fi enabled, remote app controllable, compact air purifier for your home or office, then the Samsung Essential Air Purifier AX32 might just be the perfect solution for you. 
Click here to shop our 
Air Purifiers on offer
Test Results
*Tested by the Korea Conformity Laboratories on the AX32BG3100Gxxx for formaldehyde, ammonia, acetaldehyde, acetic acid and toluene gases. **Tested by the Korea Conformity Laboratories. The dust collecting filter media has over 99.97% dust collection efficiency, based on a particle size of 0.3㎛.
**Tested on the zinc oxide dust collecting filter media for Staphylococcus aureus (ATCC 6538) and Klebsiella pneumoniae (ATCC 4352) and it reduced the growth of these bacteria up to 99.9% in the FITI Testing & Research Institute of Korea.
****Compatible with Android 11 or later and Samsung Galaxy devices with One UI 3.1 and above or iOS 12.0 or later / iPhone 6 or later / iPad mini2 or later. Each device must be connected to Wi-Fi or other wireless network. For interoperability through SmartThings, all the devices should be registered with a single Samsung Account. Available technology, functions, and features are subject to change without notice. Device and screen images simulated for illustrative purposes. [App requirements]
CADR - 320 ㎥/h
Net Dimension - W x H x D, 349 x 499 x 236mm
Net Weight - 6.9 kg
Power Consumption - 41 W
Noise Level - 51 dB
Physical specifications
Gross Dimensions - W x H x D, 385 x 585 x 290mm
Net Dimensions - W x H x D, 349 x 499 x 236mm
Gross Weight - 8 kg 
Color - Champagne (top) / Beige (Body)
Air Purification
Pre filter - Yes

Activated Carbon Filter - Yes

HEPA Filter - Yes
Convenience

Sensor (Dust) - Yes

Sensor (Gas) - No

Timer - Yes (App Only)

Child-Care Lock - Yes
Operating Mode

Mode (Auto) - Yes

Mode (Sleep) - Yes

Mode (Timer) - Yes (App Only)
Smart Technology
App Connectivity

SmartThings App Support - Yes

Home Care Wizard (SmartThings Service) - Yes